printer friendly version
LAWtrust first African WebTrust and Adobe certificate authority
May 2013
News
South African cryptographic security provider LAWtrust has become the first provider in Africa to be certified by both WebTrust and Adobe. LAWtrust was certified by global certificate authority WebTrust in February, shortly after being added to the Adobe Approved Trust list in December.
LAWtrust has earned the right to carry the WebTrust Seal of Assurance on its website.
The Adobe Approved Trust List (AATL), the company says, is a program that allows users to create digital signatures that are trusted whenever the signed document is opened in Adobe Acrobat or Reader. Any digital signature created with a credential that can trace a relationship ('chain') back to the high-assurance, trustworthy certificates on this list is trusted by Acrobat and Reader.
In order to obtain these certifications LAWtrust had to obtain the ISO21188 certification – public key infrastructure for financial services. LAWtrust is also the only accredited authentication services provider in terms of the Electronic Communications and Transaction (ECT) Act of 2002. In order to achieve that it had to obtain both the ISO and WebTrust certifications. It is thus the only company in the country that can issue Advanced Electronic Signatures (AESign).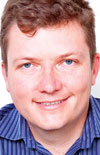 LAWtrust solutions director Maeson Maherry.
This is important, says LAWtrust solutions director Maeson Maherry, "because a signature is the fundamental risk management mechanism for businesses to enforce accountability. Signatures are a fundamental aspect of doing business – you cannot do business without them. Just because signatures are now electronic is no different, you need to be able to rely on them. The most important thing about AES is that it fixes the issues with real world signatures – the cost and logistics of getting documents manually signed by multiple people, the difficulty of identifying or verifying signatures, which leads to fraud. With AES you can quickly and cleanly electronically sign a document without any of the negative drawbacks."
Next, LAWtrust aims to be added to Microsoft's trusted list, which will mean that people can use LAWtrust signatures in all major browsers and mail clients.
"A signature must be a positive act of acceptance – visible, understandable and fair and must identify you and be verifiable," says Maherry, "the last two aspects have huge problems in the physical world with wet signatures. AES have none of the drawbacks and only bring advantages – streamlining processes, reducing the cost of logistics, archiving, searching, copying, and keeping things electronic. And AES satisfies original document requirements in our law."
For more information, contact Christi Peens, MD, LAWtrust, +29 (0)12 676 9240, [email protected]
Further reading:
Johnny Aucamp joins iPulse exco
News
Johnny Aucamp has joined iPulse Systems as its chief sales officer (CSO), adding a massive boost to the executive team.
Read more...
---
From the editor's desk: Security and resilience
Technews Publishing News
It's often said that South Africans are a resilient bunch, and history has proven this correct. When it comes to security, both cyber and physical, resilience is key to an effective defensive plan. ...
Read more...
---
Hikvision aims for solutions
Technews Publishing Hikvision South Africa Editor's Choice CCTV, Surveillance & Remote Monitoring News Integrated Solutions Conferences & Events
Hikvision recently held a roadshow titled Industry X, where the company highlighted its latest products and solutions, supported by partners and distributors.
Read more...
---
Olarm launches PRO 4G communicator
Olarm News Perimeter Security, Alarms & Intruder Detection Products
Olarm has announced an additional 4G/LTE version of its Olarm PRO smart communicator. It is aimed at areas suffering from poor connectivity by providing support for 4G, 2G and Wi-Fi networks.
Read more...
---
ADI Expo returns to South Africa
Technews Publishing ADI Global Distribution News
September saw the return of the ADI Expo to South Africa. The Johannesburg event was held at the Focus Rooms and the Durban event, two days later, at the Southern Sun Elangeni & Maharani.
Read more...
---
Technoswitch Awards dinner for 2022
Technews Publishing News Fire & Safety
Technoswitch hosted its fifth awards dinner at Montecasino in September, where customers and suppliers celebrated a year of success.
Read more...
---
Suprema joins FiRa Consortium
Suprema News Access Control & Identity Management
Suprema recently became a member of the FiRa Consortium, a consultative body that establishes standards for ultra-wideband (UWB) technology, the next generation of wireless communication.
Read more...
---
Reliable, low-maintenance video appliances
Technews Publishing Editor's Choice CCTV, Surveillance & Remote Monitoring News IT infrastructure Products
Symetrix, part of the Agera Group, has added the AES range of video recording servers, storage appliances and workstations to its portfolio.
Read more...
---
ZYTEQ Fire Engineering Summit 2022
ZYTEQ Fire Fire & Safety News
Cape Town-based ZYTEQ Fire hosted its inaugural Engineering Summit at the Commodore Hotel in Cape Town and the Leonardo Hotel in Sandton, Johannesburg.
Read more...
---
Nomad launches early adopter programme
Editor's Choice News Integrated Solutions Smart Home Automation
Participants in Nomad's Early Adopter Programme will receive 10% of their volume order to facilitate testing before the commercial launch later this year.
Read more...
---