printer friendly version
What you see is what you sign
May 2013
News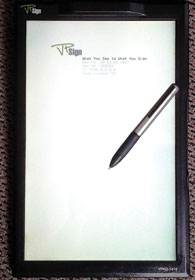 VPSign's VPad is an electronic document product that captures handwritten signatures and is available locally from Brand New Technologies. It is based on a full-sized LCD tablet computer with an integrated electronic pen, enabling it to display multi-page documents in full size and securely capture handwritten signatures and modifications. Customer service agents see on their screens exactly what the customer sees on the VPad Paperless Printer.
The customer signs the document using the medium of the tablet, as if signing a piece of paper using an ink pen. The difference is that the document is not printed but is stored electronically and is tamper proof. VPad stores the signature's encrypted biometric identifiers for authentication purposes.
Documents for signing are delivered electronically to the VPad Paperless Printer, which is configured as a standard USB printing device connected to the customer service agent's station. The documents can be routed to the paperless printer from a central server or generated locally at the service agent's computer using any application that is able to print.
Once the consumer signs the document, the VPad Paperless Printer calculates a hash code for the document with the handwritten signature and seals it using public key infrastructure (PKI) technology. The sealed document is uploaded to the organisational network and routed to the central server in the network for archiving.
VPad is suitable for banks, service providers, insurance companies, government offices, small businesses, healthcare organisations, utilities, telecom companies, tourism and hotels.
Features include:
* Displays documents on high resolution, full page sized colour screen.
* Conforms with electronic signature regulations.
* Handles multi-page forms with multiple signatures generated from any local Windows application or from a central form generator.
* Captures key behaviour biometric signature information.
* Signature Wizard enables perfectly completed forms.
* Is compatible with public key infrastructure .
* Displays customer-specific advertising messages.
* Connects to a local station just like a USB printer.
* Easily integrates into any computer system, including CRM, ERP, or other organisational systems.
Further reading:
Johnny Aucamp joins iPulse exco
News
Johnny Aucamp has joined iPulse Systems as its chief sales officer (CSO), adding a massive boost to the executive team.
Read more...
---
From the editor's desk: Security and resilience
Technews Publishing News
It's often said that South Africans are a resilient bunch, and history has proven this correct. When it comes to security, both cyber and physical, resilience is key to an effective defensive plan. ...
Read more...
---
Hikvision aims for solutions
Technews Publishing Hikvision South Africa Editor's Choice CCTV, Surveillance & Remote Monitoring News Integrated Solutions Conferences & Events
Hikvision recently held a roadshow titled Industry X, where the company highlighted its latest products and solutions, supported by partners and distributors.
Read more...
---
Olarm launches PRO 4G communicator
Olarm News Perimeter Security, Alarms & Intruder Detection Products
Olarm has announced an additional 4G/LTE version of its Olarm PRO smart communicator. It is aimed at areas suffering from poor connectivity by providing support for 4G, 2G and Wi-Fi networks.
Read more...
---
ADI Expo returns to South Africa
Technews Publishing ADI Global Distribution News
September saw the return of the ADI Expo to South Africa. The Johannesburg event was held at the Focus Rooms and the Durban event, two days later, at the Southern Sun Elangeni & Maharani.
Read more...
---
Technoswitch Awards dinner for 2022
Technews Publishing News Fire & Safety
Technoswitch hosted its fifth awards dinner at Montecasino in September, where customers and suppliers celebrated a year of success.
Read more...
---
Suprema joins FiRa Consortium
Suprema News Access Control & Identity Management
Suprema recently became a member of the FiRa Consortium, a consultative body that establishes standards for ultra-wideband (UWB) technology, the next generation of wireless communication.
Read more...
---
Reliable, low-maintenance video appliances
Technews Publishing Editor's Choice CCTV, Surveillance & Remote Monitoring News IT infrastructure Products
Symetrix, part of the Agera Group, has added the AES range of video recording servers, storage appliances and workstations to its portfolio.
Read more...
---
ZYTEQ Fire Engineering Summit 2022
ZYTEQ Fire Fire & Safety News
Cape Town-based ZYTEQ Fire hosted its inaugural Engineering Summit at the Commodore Hotel in Cape Town and the Leonardo Hotel in Sandton, Johannesburg.
Read more...
---
Nomad launches early adopter programme
Editor's Choice News Integrated Solutions Smart Home Automation
Participants in Nomad's Early Adopter Programme will receive 10% of their volume order to facilitate testing before the commercial launch later this year.
Read more...
---