printer friendly version
New foam protection system from G4S
May 2013
News
In line with its strategy to deter and deflect crime, G4S Cash Solutions South Africa is installing a new foam protection system in all of its cash-in-transit vehicles that carry bulk and high value consignments. Based on technology from Penman Engineering, a UK company; this solution makes it nearly impossible for criminals to steal contents from the hold of the cash-in-transit vehicles.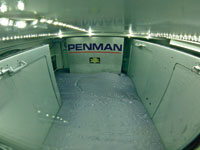 The G4S Denial of Access (DOA) Solution comprises two units that contain a 'mix and dispense pack' of expanding foam. When a trigger event occurs, the foam rapidly expands until it fills the hold of the vehicle and hardens into a hardy material similar in composition to polyurethane fillers.
This material cannot be melted with chemicals or fire, meaning that it will take a would-be robber longer to chip through the foam in order to get to the valuables, than it will take the SAPS or armed response backup to arrive at the scene. The product will be used in vehicles that move from safe location to safe location, especially those transporting bulk currency and precious metals.
The DOA foam protection system is fully integrated with the vehicle's tracking and door locking system. It may be triggered by a panic button held by the driver or remotely by an operator at the G4S National Control Centre (NCC). It can also be triggered if an unauthorised person tries to tamper with the doors of the hold before the vehicle arrives at its destination.
The use of the foam eliminates the need for an armed officer in the back of the vehicle. Furthermore, the driver is not able to open the hold himself – it needs to be opened remotely by the NCC. G4S's South African subsidiary is the second to adopt this innovative technology, behind the security group's UK operations.
Says Hannes Venter, sales director at G4S Cash Solutions South Africa: "The introduction of this foam protection system falls in line with our commitment to using the latest technologies to safeguard our customer's assets as well as the lives of our security officers and members of the public.
"Rather than relying on a lot of people with guns to protect our vehicles, we are instead using the latest technology to deter and deflect criminals. This approach is optimal both from a public safety perspective as well as from the point of view of keeping our clients' currency and high value goods safe."
For more information contact G4S Cash Solutions (SA), +27 (0)11 709 8003, [email protected]
Further reading:
Johnny Aucamp joins iPulse exco
News
Johnny Aucamp has joined iPulse Systems as its chief sales officer (CSO), adding a massive boost to the executive team.
Read more...
---
From the editor's desk: Security and resilience
Technews Publishing News
It's often said that South Africans are a resilient bunch, and history has proven this correct. When it comes to security, both cyber and physical, resilience is key to an effective defensive plan. ...
Read more...
---
Hikvision aims for solutions
Technews Publishing Hikvision South Africa Editor's Choice CCTV, Surveillance & Remote Monitoring News Integrated Solutions Conferences & Events
Hikvision recently held a roadshow titled Industry X, where the company highlighted its latest products and solutions, supported by partners and distributors.
Read more...
---
Olarm launches PRO 4G communicator
Olarm News Perimeter Security, Alarms & Intruder Detection Products
Olarm has announced an additional 4G/LTE version of its Olarm PRO smart communicator. It is aimed at areas suffering from poor connectivity by providing support for 4G, 2G and Wi-Fi networks.
Read more...
---
ADI Expo returns to South Africa
Technews Publishing ADI Global Distribution News
September saw the return of the ADI Expo to South Africa. The Johannesburg event was held at the Focus Rooms and the Durban event, two days later, at the Southern Sun Elangeni & Maharani.
Read more...
---
Technoswitch Awards dinner for 2022
Technews Publishing News Fire & Safety
Technoswitch hosted its fifth awards dinner at Montecasino in September, where customers and suppliers celebrated a year of success.
Read more...
---
Suprema joins FiRa Consortium
Suprema News Access Control & Identity Management
Suprema recently became a member of the FiRa Consortium, a consultative body that establishes standards for ultra-wideband (UWB) technology, the next generation of wireless communication.
Read more...
---
Reliable, low-maintenance video appliances
Technews Publishing Editor's Choice CCTV, Surveillance & Remote Monitoring News IT infrastructure Products
Symetrix, part of the Agera Group, has added the AES range of video recording servers, storage appliances and workstations to its portfolio.
Read more...
---
ZYTEQ Fire Engineering Summit 2022
ZYTEQ Fire Fire & Safety News
Cape Town-based ZYTEQ Fire hosted its inaugural Engineering Summit at the Commodore Hotel in Cape Town and the Leonardo Hotel in Sandton, Johannesburg.
Read more...
---
Nomad launches early adopter programme
Editor's Choice News Integrated Solutions Smart Home Automation
Participants in Nomad's Early Adopter Programme will receive 10% of their volume order to facilitate testing before the commercial launch later this year.
Read more...
---