printer friendly version
Remote e-guarding solution at Airport City
April 2013
CCTV, Surveillance & Remote Monitoring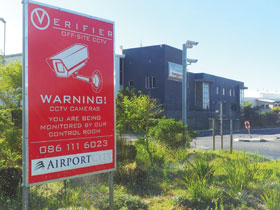 Airport City is an industrial site in Cape Town wedged between the city's international airport and an informal settlement. It houses a number of business operations faced with an escalating security bill they had struggled with for years. The Trustees of Airport City approached Verifier – a local off site monitoring company – to recommend a solution which would enhance site security while reducing the monthly spend .
The Trustees at Airport City had invested in a combination of perimeter protection barriers, alarm technology as well as patrolling guards. However, incidents continued irrespective; management sought a quick solution that pre-empted crime and gave accurate early warning of unusual activity to controllers to reduce the guarding burden.
The most significant challenges they faced included:
1. Early warning of possible incidents at key hotspots while eliminating passers by.
2. Specific detection and classification of vehicle and/or human threats.
3. Reduce costs and dependency on patrolling guards and camera operators for detecting.
4. An off-site monitoring solution that would allow for low bandwidth but instant notification and video verification of incidents.
5. Minimal infrastructure and hardware for local outdoor installation and remote monitoring.
6. All within a limited budget along with quick and simple deployment and maintenance.
Verifier needed a solution that would provide all of the above while also allowing their operators to only respond to exceptional 'rule violations' from Airport City. Verifier already monitors hundreds of VideoIQ systems nationwide and recommended a wireless IP solution with VideoIQ systems to cover the street and entrance areas for Airport City.By using VideoIQ technology operators are freed from unnecessary nuisance alarms and quickly respond in real-time to potential incidents.
Mike Voortman, MD of Verifier, commented, "We are independent, meaning that we monitor multiple systems. However, with other systems we are often plagued with false alarms triggered by the fierce weather conditions we experience in this part of the world, as well as false alarms from passing vehicles or pedestrian traffic. With VideoIQ's self-learning intelligent analytics and smart rules embedded in each device we are able to really hone in on actual events and predict incidents before they occur. This in turn has dramatically reduced the load on our operators as well as our incident volume and bandwidth usage."
The final design included :
1. VideoIQ Outdoor All-in-One SmartGuard Systems with internal intelligent analytics and storage.
2. Local wireless VPN connection to Verifier remote control room.
3. VideoIQ's View VMS software on Control room Windows PCs.
Improved security and reduced guarding costs
Since the implementation of VideoIQ, Airport City has seen a marked decrease in incidents to almost zero. This has led to savings across the board and a huge relief to local businesses. By using VideoIQ at Airport City's public entrance, Verifier's controllers are alerted to each person or vehicle entering the area at odd times or after hours. Verifier can then alert local response teams by radio with accurate information and a description of any potential threat.
VideoIQ's all-in-one design with no local DVR, streaming or cabling means that remote management, maintenance and upgrading of the system is simple and minimises downtime or the need for call-outs or on site work.
Reasons for selecting VideoIQ
Cost and ROI – As VideoIQ requires no servers or other hardware infrastructure the cost of installation and implementation has not just saved overall system costs (such as storage, software licences and expensive networking hardware) but also reduced the indirect costs of extra guards, beams, fences or control room staff to monitor screens. Also, being fully scaleable means that if Airport City wants to change or expand they can simply add more devices without modifying or upgrading existing infrastructure – they can simply add VideoIQ units as and where needed!
Detection – minimising false alarms often caused by rain, animals, vegetation or anything moving that is not a human or vehicle was key for an effective system. Responding to actual events using true intelligent analytics that have proven to be the best available means that guards and controllers have a real tool to ensure proactive surveillance. Also running all the technology inside a single device ensures that the control room is not bombarded by video streams or false alarms.
Network – as each VideoIQ iCVR acts as an independent device with its own rules and storage, there is no need for an over robust network or constant streaming. The solution at Airport City simply involved mounting the units on poles at the perimeter and connecting them back to Verifier's remote control room via the network.
Installation and training – VideoIQ iCVRs install just like any PC on a network so Verifier was able to remotely configure setting and rules without going on site. All that is required for the control room is a Windows PC running VideoIQ's View VMS software system.
Storage and retrieval – as each device manages its own storage there is no requirement for DVRs, NVRs or any special hardware or software licences at the control room, making Verifiers remote off-site design simple and easy to maintain. At any stage a controller can quickly interrogate the system to retrieve video or specific events.
For more information contact VideoIQ Africa, 0861 VIDEOIQ, [email protected], www.videoiq.co.za
Further reading:
Mount Nelson opts for cloud surveillance
CCTV, Surveillance & Remote Monitoring Entertainment and Hospitality (Industry)
IOT Revolution Technologies, in partnership with MeyCom, will be implementing over 250 cloud driven Verkada cameras at the Belmond Mount Nelson Hotel.
Read more...
---
Avoiding human error at ports
LD Africa Transport (Industry) CCTV, Surveillance & Remote Monitoring Products Logistics (Industry)
LD Africa introduced a local port to the AxxonSoft Port Security System ,a solution that helps overcome the element of human error and eliminate paperwork.
Read more...
---
Compact, lightweight bullet cameras with support for analytics
Axis Communications SA Products CCTV, Surveillance & Remote Monitoring
Axis Communications announced two new outdoor-ready bullet-style cameras featuring deep-learning processing units for analytics based on deep learning on the edge.
Read more...
---
Numerous challenges for transport and logistics
Transport (Industry) CCTV, Surveillance & Remote Monitoring Security Services & Risk Management Logistics (Industry)
Operators are making significant investments in automation and digitalisation in order to address security concerns, improve loss prevention as well as efficiency, and reduce unit order costs.
Read more...
---
A key to urban transport challenges
Axis Communications SA Transport (Industry) CCTV, Surveillance & Remote Monitoring Integrated Solutions Logistics (Industry)
There are many enabling technologies that can impact transportation in South Africa, but a good place to start is by considering the applications for smart physical technology with the ability to collect and respond to data.
Read more...
---
Hikvision aims for solutions
Technews Publishing Hikvision South Africa Editor's Choice CCTV, Surveillance & Remote Monitoring News Integrated Solutions Conferences & Events
Hikvision recently held a roadshow titled Industry X, where the company highlighted its latest products and solutions, supported by partners and distributors.
Read more...
---
Reliable, low-maintenance video appliances
Technews Publishing Editor's Choice CCTV, Surveillance & Remote Monitoring News IT infrastructure Products
Symetrix, part of the Agera Group, has added the AES range of video recording servers, storage appliances and workstations to its portfolio.
Read more...
---
A new full-colour era
Dahua Technology South Africa CCTV, Surveillance & Remote Monitoring
Traditionally, there have been two options for using surveillance cameras in the dark: flooding the scene with visible light, or alternatively using infrared (IR) illumination.
Read more...
---
AIoT delivers dynamic digital platforms
Hikvision South Africa CCTV, Surveillance & Remote Monitoring
Many stadiums or venues are seeking new, smart solutions that can help venue operators to stay on top of real-time situations dynamically on digitally driven platforms, and to achieve more efficient and sustainable venue management.
Read more...
---
Upgraded security and AI monitoring at upmarket estate
Watcher Surveillance Solutions Editor's Choice CCTV, Surveillance & Remote Monitoring Integrated Solutions Residential Estate (Industry)
Estate upgrades and enhances its security through a partnership between surveillance specialist Watcher and the incumbent guarding company.
Read more...
---