printer friendly version
Scenic surveillance in Brazil
April 2013
CCTV, Surveillance & Remote Monitoring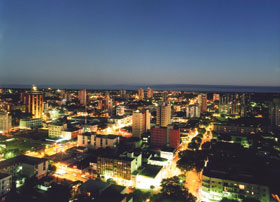 Brazil's Foz do Iguaçu is located in the southwest corner of the state of Paraná. More importantly, it is one the nation's treasures, boasting popular scenic attractions such as Iguaçu Falls, the Iguaçu National Park, and the city's bird park, among many others. Sites such as these ensure Foz do Iguaçu remains one of Brazil's top tourist attractions each year. In fact, Foz do Iguaçu's beauty has achieved such international acclaim that travelers from the Americas, Europe, and Asia already comprise a large percentage of the city's annual tourist percentage.
Unfortunately, with this level of prosperity, there is a downside, as well. Much of Foz do Iguaçu's beauty is a result of its unique geographic position – a location that places it bordering Brazil, Paraguay, and Argentina, as well as next to its Paraguayan sister city of Ciudad del Este and Argentine Puerto Iguazú. Yet, this unique connection also offers the inevitable opportunity for transnational criminals to smuggle illicit contraband between the countries.
Brazil's Hikvision response
Now, with Hikvision's help, Brazil is fighting back. To protect Foz do Iguaçu's roughly 300 000 residents, as well as its vital tourism industry, the city partnered with Hikvision's official Brazilian distributor – Vmi Sistemas de Seguranca (VMI) – to develop a state-of-the-art video surveillance solution to stem the flood of illegal products both entering and leaving the country.
Completed in June, 2012, this project represents VMI's first Brazilian public project using over a hundred Hikvision cameras. Alvaro De Souza, CCTV manager at VMI, stated: "The overall goal of this project is to protect both Brazil and Foz do Iguaçu's tourism-friendly city. For example, our waterfall is internationally famous, and we cannot allow crime to create a negative perception. This is very important, so we chose Hikvision's DS-2DF1-517-B WDR network high-speed dome to accomplish these goals."
120 units of the DS-2DF1-517-B were placed in strategic locations throughout the city and border regions. Specifically, these cameras were placed on two types of poles – one measuring 7 metres and other 15 metres, respectively. Souza noted, "Using heights of 15 metres can pose problems for some cameras, but it is perfect for the DS-2DF1-517-B. Importantly, its vertical range from -5 degrees to 185 degrees allows us to see someone standing directly below, as well as a helicopter flying directly above. Also, the 570 lines in HD, 36x zoom, and 12x digital zoom, give us a great picture of a person or car that is of interest."
Additionally, urban outdoor environments can cause serious challenges. Obviously, outdoor environments force electronics to handle the stress changing weather brings. Also, there are differing lighting conditions from day to night, or car headlights, which can also interfere with the performance of a camera. To combat issues of this nature, the DS-2DF1-517-B's IP66 rating ensures the outdoor longevity of the camera; while an IR cut filter provides true day / night functionality and excellent coverage – regardless of time of day. Additionally, 128x wide dynamic range successfully compensates for artificial light, such as car headlights and illuminated store fronts.
De Souza added, "Since this is a project that requires us to view a variety of subjects, from people to cars, we needed a great deal of technical flexibility. With this camera, we can follow a fast-moving car with 540 degrees of horizontal speed and 400 degrees in vertical speed, and can change our camera presets in 0,5 second. It is not a problem to track anything we might encounter."
Additional technical features that help the DS-2DF1-517-B succeed are a ¼-inch SONY EXVIEW HAD progressive scan CCD, 3D intelligent positioning functionality, 3D digital noise reduction, and a programmable alarm triggering mechanism.
Solution for public projects
In Brazil, government policy states that all public security projects must use software that accepts a wide range of hardware manufacturers. In effect, if a hardware manufacturer's products only work with their own specific software, they will not be allowed in Brazil's public sector.
This is no problem for Hikvision camera lines in general, and the DS-2DF1-517-B in particular; as Hikvision's cameras use open-sourced SDK. Additionally, Hikvision is part of PSIA and ONVIF and integrated with open-source VMS software, as well.
For more information contact Hikvision, +86 571 8700 6060, [email protected], www.hikvision.com
Credit(s)
Further reading:
Avoiding human error at ports
LD Africa Transport (Industry) CCTV, Surveillance & Remote Monitoring Products Logistics (Industry)
LD Africa introduced a local port to the AxxonSoft Port Security System ,a solution that helps overcome the element of human error and eliminate paperwork.
Read more...
---
Compact, lightweight bullet cameras with support for analytics
Axis Communications SA Products CCTV, Surveillance & Remote Monitoring
Axis Communications announced two new outdoor-ready bullet-style cameras featuring deep-learning processing units for analytics based on deep learning on the edge.
Read more...
---
Numerous challenges for transport and logistics
Transport (Industry) CCTV, Surveillance & Remote Monitoring Security Services & Risk Management Logistics (Industry)
Operators are making significant investments in automation and digitalisation in order to address security concerns, improve loss prevention as well as efficiency, and reduce unit order costs.
Read more...
---
A key to urban transport challenges
Axis Communications SA Transport (Industry) CCTV, Surveillance & Remote Monitoring Integrated Solutions Logistics (Industry)
There are many enabling technologies that can impact transportation in South Africa, but a good place to start is by considering the applications for smart physical technology with the ability to collect and respond to data.
Read more...
---
Hikvision aims for solutions
Technews Publishing Hikvision South Africa Editor's Choice CCTV, Surveillance & Remote Monitoring News Integrated Solutions Conferences & Events
Hikvision recently held a roadshow titled Industry X, where the company highlighted its latest products and solutions, supported by partners and distributors.
Read more...
---
Reliable, low-maintenance video appliances
Technews Publishing Editor's Choice CCTV, Surveillance & Remote Monitoring News IT infrastructure Products
Symetrix, part of the Agera Group, has added the AES range of video recording servers, storage appliances and workstations to its portfolio.
Read more...
---
A new full-colour era
Dahua Technology South Africa CCTV, Surveillance & Remote Monitoring
Traditionally, there have been two options for using surveillance cameras in the dark: flooding the scene with visible light, or alternatively using infrared (IR) illumination.
Read more...
---
AIoT delivers dynamic digital platforms
Hikvision South Africa CCTV, Surveillance & Remote Monitoring
Many stadiums or venues are seeking new, smart solutions that can help venue operators to stay on top of real-time situations dynamically on digitally driven platforms, and to achieve more efficient and sustainable venue management.
Read more...
---
Upgraded security and AI monitoring at upmarket estate
Watcher Surveillance Solutions Editor's Choice CCTV, Surveillance & Remote Monitoring Integrated Solutions Residential Estate (Industry)
Estate upgrades and enhances its security through a partnership between surveillance specialist Watcher and the incumbent guarding company.
Read more...
---
Security solutions that go the distance
Avigilon Logistics (Industry) CCTV, Surveillance & Remote Monitoring Asset Management, EAS, RFID Transport (Industry)
Avigilon self-learning video analytics help detect potentially critical events and issue an alert within the ACC dashboard, allowing officers to then verify event alarms.
Read more...
---