printer friendly version
New approach to security
April 2013
Cyber Security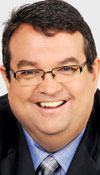 Stephan Le Roux, RSA District Manager Southern Africa
RSA, the security division of EMC, announced the release of RSA Security Analytics, a transformational security monitoring and investigative solution designed to help organisations defend their digital assets against today's sophisticated internal and external threats. Built on the architecture of RSA NetWitness technology, RSA Security Analytics fuses SIEM, network forensics and big data analytics into a security platform that will be the cornerstone of next generation security operations centres.
Any intelligence-driven security program must begin with a comprehensive understanding of risk facing the organisation. Current security technologies, including SIEM tools, often fall short in this area; they cannot provide deep enough visibility into today's threats and often cannot scale to today's analytic needs.
By providing security professionals with the visibility to see and understand vulnerabilities and attacks, RSA Security Analytics is engineered to enable the discovery of risks as they occur, thus significantly cutting the time required for investigations from days to minutes. Furthermore, by helping security professionals understand digital risks originating from both inside and outside their enterprise, organisations can better defend business assets, including intellectual property and other sensitive data, while reducing the time and cost associated with threat management and compliance-focused reporting.
The RSA Security Analytics Unified Platform is designed to deliver:
* Quick Capture and Analysis - Security-relevant data, including full network packets, logs, and threat intelligence, are captured and quickly analysed to speed up the detection of potential threats.
* High Powered Analytics – Enables much larger-scale collection of data and empowers new analysis methods over that of traditional SIEM-based approaches to security.
* Integrated Threat Intelligence – Helps organisations operationalise the use of threat intelligence feeds to accelerate detection and investigations of potential attack tools and techniques targeting the enterprise.
* Context for Threats – Through integrations with the RSA Archer GRC platform and RSA Data Loss Prevention (DLP) suite, and by fusing data produced by other products, analysts can use business context to prioritise and allocate resources to the threats which pose the greatest risk.
* Malware Identification – Using a variety of investigative techniques, the solution identifies a much wider range of malware-based attacks.
* Automates Compliance Reporting – Helps enable compliance as an outcome of good security practices.
The integration of proven Big Data platforms and analytic methods into security tools provides a significant advancement to how security is performed. As built, the RSA Security Analytics platform brings together visibility, leverages Big Data platforms and advanced analytic methods capable of identifying high risk activities, advanced threat mitigation and meeting compliance objectives.
For more information contact EMC South Africa, +27 (0)11 581 0033, [email protected], www.EMC.com
Further reading:
NIST's impact on cybersecurity
Cyber Security
Through its NIST Cybersecurity Framework, the non-regulatory agency empowers organisations to take a proactive approach towards managing and mitigating cyber risks, enabling them to stay resilient against the ever-evolving threat landscape.
Read more...
---
Best practice tips for strengthening data privacy system
Security Services & Risk Management Cyber Security
International cybercriminals are increasingly targeting South African organizations, making data privacy more difficult to maintain. A standardization expert offers insight to help combat this threat.
Read more...
---
AI-powered cyber protection for consumers
IT infrastructure Cyber Security
Acronis Cyber Protect Home Office is designed for the evolving landscape of cyber threats by integrating Acronis' cyber protection and secure backup solutions, combining AI-powered defence mechanisms, robust data backup, remote management tools, and mobile device protection.
Read more...
---
A surge of cybersecurity for the energy sector
Government and Parastatal (Industry) Cyber Security
With a rapid transition towards renewable energy, the energy sector has an increased reliance on technology. This makes it particularly vulnerable with regards to cybersecurity, as it depends on interconnected systems and digital technologies.
Read more...
---
Secure backup strategies imperative for business continuity
IT infrastructure Cyber Security
Cybercrime is on the rise, and businesses need to adjust how they manage their data to fend off attackers, or risk irreparable damage, writes Lisa Strydom, Senior Manager Channel and Alliance for Africa at Veeam Software.
Read more...
---
CHI selects NEC XON as trusted cybersecurity partner
News Cyber Security Industrial (Industry)
CHI Limited, Nigeria's leading market player in fruit juices and dairy products, has engaged in a strategic cybersecurity partnership with NEC XON, a pan-African ICT systems integrator.
Read more...
---
Mitigating escalating DDoS cyberattacks
Cyber Security
As cyberattacks, particularly those of the Distributed Denial of Services (DDoS) variety, continue to rise at an unprecedented rate across Africa, it is no longer a question of 'if' your organisation will be targeted, but rather 'when'.
Read more...
---
Six effective antidotes to modern cyber adversaries
Cyber Security
As the head of cybersecurity at NEC XON, Armand Kruger has witnessed the transformation from hooded hackers to a sophisticated dark economy that poses unprecedented threats and is run like a business.
Read more...
---
Key strategies for businesses in the face of cyber threats
Cyber Security Security Services & Risk Management
Businesses face severe financial and reputational consequences due to data breaches and daily website hacks, and not all organisations are adequately prepared to combat these escalating threats.
Read more...
---
Cyberattacks are inevitable for small businesses
Cyber Security
The recent cyberattack on Microsoft is a stark reminder that no organisation, regardless of its size or industry, is immune to cyber threats. Even small businesses, often assuming they are less attractive targets, are vulnerable.
Read more...
---