printer friendly version
Intelligent video analysis
April 2013
Perimeter Security, Alarms & Intruder Detection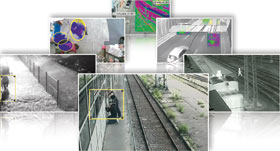 These days, video sensor technology, ie, the permanent analysis of the video data stream, far exceeds motion detection, which has become an integrated feature in numerous products.
Through image analysis algorithms and self-learning detection systems the DVS 1600 can recognise different situations even in complex scenes. It is thus possible to not just analyse object sizes and speeds but also object types and their specific behaviours.
Using special filters, disruptive environmental influences such as rain, snow or branches moving with the wind are filtered out. Additionally, Dallmeier offers object classification, a self-learning image analysis tool based on neuronal networks. The tool allows the selection of certain object types (eg, persons or cars) for which an alarm should be triggered.
All solutions of the DVS product line are equipped with SEDOR technology. SEDOR is – as the name 'self-learning event detector' implies – a self-learning system. Therefore, the user does not have to make any elaborate settings. Dallmeier also offers a number of high-quality analysis applications which can be used in alarm systems. In research systems they also enable an effective search for certain events.
Specialised intruder detection
With the DVS 1600 Dallmeier offers an excellent solution for protecting certain areas against unauthorised access. The DVS 1600 is based on SEDOR technology. The long years of experience with the multiple award-winning DVS 600 III system were used and integrated into the new product, based on advanced, high-performance picture processing algorithms.
Using the DVS 1600 you can effectively monitor outdoor as well as indoor facilities. The system recognises, for example, if an object approaches an area, and the direction it is coming from or how long it stays in a certain area. Based on the carried out classification the system can differentiate between an object 'human' and an object 'car'.
Particularly with outdoor applications, experience shows that it is insufficient to only evaluate the usual standard criteria (changes in brightness, direction, size, speed). Here, SEDOR is considerably above the norm. The object classification and the analysis of object behaviour provide important information to enable appropriate decisions by the system. Through comprehensive examinations of plausibility, false alarms are reduced to an absolute minimum without ignoring a real alarm message.
Whether the alarm is transmitted to the security control room via network or is carried out via a relay contact, the information is always immediately forwarded to the addressee. The security personnel are supplied with all relevant information at the operator stations to be able to quickly and assuredly make the necessary decisions. Since live pictures are often insufficient for assessing a situation, only the evaluation of the recorded alarm sequence – with pictures from before and after the alarm – can give an explanation about an event. In order to make management easier for the security personnel, the display is carried out automatically, individually and event-related.
Especially outdoors, lighting conditions often change. This affects both the functioning of the camera unit and the image processing algorithms. In order to still achieve optimal analysis results the system automatically adjusts its parameters (auto adaption). During the commissioning, the installer thus has to carry out only a few adjustments of the event rules so that they match the customer's requirements. Using the graphical user interface the installer can carry out that work quickly and accurately.
For more information contact Dallmeier Southern Africa Office, +27 (0)11 979 4540, [email protected], www.dallmeier.com
Further reading:
Olarm launches PRO 4G communicator
Olarm News Perimeter Security, Alarms & Intruder Detection Products
Olarm has announced an additional 4G/LTE version of its Olarm PRO smart communicator. It is aimed at areas suffering from poor connectivity by providing support for 4G, 2G and Wi-Fi networks.
Read more...
---
Jaco van Wyk joins Olarm in Johannesburg
Olarm News Perimeter Security, Alarms & Intruder Detection
Jaco van Wyk has joined Olarm as its partner manager in Gauteng; he has strong technical security and client service experience in the South African market.
Read more...
---
GJD launches new range of white-light floodlights
Perimeter Security, Alarms & Intruder Detection Products
GJD has announced the launch of its new range of floodlights, combining high-quality LED technology with a modern and aesthetically pleasing design suitable for all outdoor lighting applications.
Read more...
---
Fotech and C3SS launch technology partnership
C3 Shared Services News Perimeter Security, Alarms & Intruder Detection
Fotech has signed a non-exclusive MOU with C3SS, a South Africa-based perimeter and infrastructure security company, to target specific African markets.
Read more...
---
FlipX: new indoor detectors
Perimeter Security, Alarms & Intruder Detection Products
Installers and end-users in EMEA can now take advantage of FlipX, a new range of flexible indoor sensors from OPTEX that feature a bespoke pyroelectric sensor for increased performance.
Read more...
---
JVA Perimeter Patrol 6 monitoring software
Stafix Perimeter Security, Alarms & Intruder Detection
Stafix Electric Fence and Security Centres now provides the latest JVA Perimeter Patrol 6 package for standalone and piggyback electric security fence solutions.
Read more...
---
360° perimeter intruder detection
Technews Publishing Perimeter Security, Alarms & Intruder Detection Residential Estate (Industry) Products
Radar is becoming a more common solution for estates with large open areas and long perimeters to protect, as intruders can be automatically detected and tracked.
Read more...
---
Gallagher launches Tech Talk
Gallagher News Access Control & Identity Management Perimeter Security, Alarms & Intruder Detection
Gallagher has announced the launch of its new Security in Focus podcast series called Tech Talk, hosted by chief technology officer Steve Bell.
Read more...
---
Preventing theft wirelessly
Elvey Security Technologies Perimeter Security, Alarms & Intruder Detection
One hundred MotionCam Outdoor cameras, four HUB2 Plus units and the Desktop Pro 3.0 from Ajax protect a large outdoor environment from theft and vandalism.
Read more...
---
Ajax solves security communication range issues
Elvey Security Technologies Perimeter Security, Alarms & Intruder Detection
A large casino situated in Polokwane required an upgrade of its security system to cater to the needs of the multi-storey building, including reliable wireless communications.
Read more...
---