printer friendly version
Alarm technology advancing
April 2013 Perimeter Security, Alarms & Intruder Detection, Financial (Industry)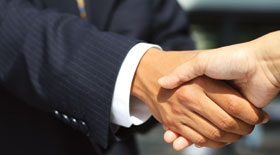 The Fidelity National Command Centre was established 10 years ago to service the needs of the financial industry, says Gus Sunde, general manager of Fidelity Security Services. It offered services such as alarm monitoring, reaction and management of risk in general.
The experience and knowledge gained by working with the financial institutions has led to the expansion of Fidelity's business model. Today it provides high quality service and experience of best practice gained while monitoring high-risk sites to the corporate and domestic alarm space.
Due to the nature of Fidelity's business, it is exposed to numerous solutions, systems and procedures that the South African security industry offers. These solutions add to the dynamics of the constantly changing security market, brought on by innovation of new products and upgrades to existing products. To keep current and abreast of these changes Fidelity has established a formal engineering committee. The purpose of this committee is to verify and interrogate the multitude of systems on offer and to identify those that are best suited to the various environments in which we offer our services.
One must bear in mind the uniqueness of the South African environment and the many challenges that this brings, not only from an equipment and infrastructure perspective but also from a risk and vulnerability aspect. Fidelity negotiates liability on their services and stands by its ability to provide credible services in the security arena. These aspects, coupled with the unpredictability of perpetrators to manipulate processes and in some cases electronic intruder detection systems, meant that we had to look for something to complement the technologies offered by manufacturers of alarms.
Creating a partnership
"It is our experience that some electronic intruder detection devices that are available are more resilient to manipulation than others. Fidelity Security has been working with Elvey Security Technologies for many years and we have included their products within this category of resilient systems," adds Sunde. "The support of the equipment and the holistic system in general, coupled with the ability to monitor and offer full training is a critical part of the service that Fidelity offer their customers.
"In order to provide this service to our customers, we from time to time need world class backing by our suppliers, having said that, only a few companies offer the support that Elvey Security Technologies is able to provide. This commitment and passion that is shown by the Elvey staff when it comes to support and product knowledge adds value to our business and in my mind this shows credibility of the solutions and equipment."
Customer problems
There is an inherent requirement within the financial industry for their security systems to be flexible and to adjust to the continuous changes and unpredictability of criminals. Rigid security processes can be calculated and circumvented by criminals. When a security system is flexible, the unpredictability introduces uncertainty and the increased possibility of being caught. This will probably deflect criminals to a weaker, more appealing target where they stand a better chance of succeeding and getting away. Criminals are less likely to attack when uncertainty exists, and this uncertainty can be created through the use of technology. Fidelity believes that technology is the future and automation will introduce efficiency and reduce risk.
Monitoring alarms in the banking environment is particularly challenging as there are criminals that specifically target banks, their vaults and ATMs. The level of sophistication of these gangs cannot be underestimated and experience shows they have the technical capability and knowledge of the systems and procedures. In addition to this, they also have knowledge of the criminal justice system and practice crime scene management during their attacks. Law enforcement faces challenges in this regard with the added burden of trying to connect suspects to crime scenes with real evidence.
The high standards of risk management in the banking environment has deflected criminals to softer targets. Tactics that have previously worked in the banking environment are now being used with some success in the domestic and corporate sphere. We firmly believe that technology plays an enormous role in the management of risk and that control room staff must be given sufficient information upon which to act, to verify and authenticate an actual incident to enable reaction officers and law enforcement officials to respond adequately.
Generally clients want to see the value of any product over their existing solutions. They also want to understand the need to introduce a new system and its ability to enhance their existing solution as opposed to replacing it. In some cases, integration of systems is advantageous whilst not in others. The inevitable layering of systems is always a consideration with the trade off of cost and potential savings.
For more information contact Elvey Security Technologies, +27 (0)11 401 6700, [email protected], www.elvey.co.za
Credit(s)
Further reading:
Banks move to lithium battery technology for intruder systems
Uniross Batteries Perimeter Security, Alarms & Intruder Detection
With advances in battery technology, lithium batteries now include a built-in Battery Management System (BMS) to monitor the battery and shut it down should there be a risk of a failure or overheating.
Read more...
---
Future-proofed intrusion detection for retail
Elvey Security Technologies Retail (Industry) Perimeter Security, Alarms & Intruder Detection Products
One of the ongoing challenges that has faced retailers during their adoption of security technology is the issues caused by non-standardisation of technology.
Read more...
---
Johnson Controls releases IQ4
Perimeter Security, Alarms & Intruder Detection Integrated Solutions
New lower cost panel leverages Qolsys IQ Platform targeting residential, SMB, builder, MDU/multi-family and wellness market segments.
Read more...
---
The $600 000 question
Cyber Security Security Services & Risk Management Financial (Industry)
Usman Choudhary, chief product officer of VIPRE Security Group, advises companies to do the basics to protect themselves before looking for cyber insurance.
Read more...
---
The false alarm that's costing money
Guardian Eye Perimeter Security, Alarms & Intruder Detection
Property safety is often a litany of false alarms and fake threats that take up time, cost money and test patience, but it doesn't have to be that way thanks to modern technology
Read more...
---
Load shedding, faulty alarm systems and insurance risks
Perimeter Security, Alarms & Intruder Detection
As South Africa continues to experience frequent bouts of load shedding, security systems can be severely compromised due to the lead-acid batteries still used in security systems.
Read more...
---
Successful show for body-worn tech
Elvey Security Technologies Residential Estate (Industry)
Moving beyond products to full cybersecurity service for residential estates.
Read more...
---
Driving reliable wireless security
Elvey Security Technologies Perimeter Security, Alarms & Intruder Detection Industrial (Industry) Products
Ajax wireless technology provides reliable system to provide uncompromising perimeter intruder detection for security at vehicle manufacturing plant.
Read more...
---
Next-generation monitoring and detection
News Perimeter Security, Alarms & Intruder Detection Products
Fotech has launched two next-generation Helios DAS systems. Fotech's DAS technology turns fibre-optic cables into thousands of sensors to enable continuous, uninterrupted and real-time monitoring around the clock.
Read more...
---
Olarm expands integration and connectivity options
Olarm News Perimeter Security, Alarms & Intruder Detection
Olarm introduces Olarm Pro 4G, and support for Nemtek Merlin, Paradox MGSP panels and the new WPS mode.
Read more...
---