printer friendly version
Has anything changed?
April 2013
Perimeter Security, Alarms & Intruder Detection
Intruder detection and alarm monitoring goes back many years. So has anything changed? Are we seeing technologies such as surveillance and video verification, coming to the fore or is this reserved for wealthier clientele? Hi-Tech Security Solutions asked Videofied MD, Wynand Beneke and Elvey Security Technologies' regional sales manager, Tinus Jansen van Vuuren, about the current trends in the market.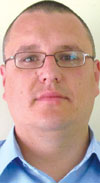 Wynand Beneke
"The intruder and alarm market has been a very conservative industry over the past 15 to 20 years. However, we have recently seen a broad acceptance of wireless technology and visual verification. There are also more manufacturers introducing new products to South Africa, whereas in the past only a handful of suppliers dominated the market. This will have a huge impact on pricing and is definitely moving the industry forward to more advanced IP-based technologies, utilising bi-directional wireless transmission," says Beneke.
"The main challenge of the alarm monitoring and intruder industry is the extremely high rate of false, unverified alarms. The cost of these false alarms is very high and lead to a slower response."
Some new products are tackling the actual cause of the problem; that is, poor detection and the absence of verification. Historically, most suppliers were tackling only the consequences of the issue. The advance of new technologies, with better detection and built-in verification, is very welcome.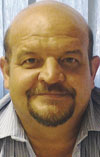 Tinus Jansen van Rensburg
Jansen van Vuuren believes that there is an increasing focus on wireless detection and App-related technology. "CCTV surveillance, previously predominantly in the domain of the commercial sector, is gaining popularity and acceptance in the domestic market. Likewise, we are seeing more domestic installations utilising mobile DVRs and anti-vandal domes for intruder detection."
"With the introduction of a wider range of perimeter security products, the market has become very competitive and the benefits of choice and cost-effectiveness are passed on to the consumer. We have seen the advent of mobile App solutions that provide the consumer with pre-warning and allow them to interact with other solutions."
Not too long ago, an invisible boundary wall existed only in story books, but today it is a reality. Used with great effect to prevent criminals from gaining access to private premises, its photo beam sensors create an invisible fence and will trigger an alarm in the event of a breach, thereby ensuring the heightened protection of people, products and vehicles.
The tough economic environment and the huge increase in fuel costs have had a direct impact on the cost of response. Add to this the upcoming increase in the wages of the registered security officers and it is obvious that many players in the market would wish to investigate new solutions. These new solutions are bi-directional wireless, spread spectrum radio and voice-video integration. Products that do not rely on Eskom-generated power, such as the new military-grade battery-powered products with an energy supply of up to four years, are also gaining market share.
What about CCTV?
Neither Beneke nor Jansen van Vuuren believes that CCTV surveillance is a good solution for intruder detection. "There are definitely plenty of great high-end cameras providing some very impressive quality videos, but from a monitoring perspective, CCTV is very limited. The big players of our alarm industry can monitor hundreds of thousands of alarm systems. You can only monitor a very limited number of CCTV with the same infrastructure," Beneke clarifies.
Integrated systems
People do explore the possibility of integrated security systems, but the mere cost of such systems makes them affordable only for the wealthy. Some service providers do provide full system integrations, but the target client base is limited.
"IP integration is definitely happening. Most new transmitters are now IP, either via Ethernet or GPRS. There is still no broadly accepted protocol for alarm IP transmission and providers bring their own protocol/software to the table. However, most of the newer IP systems are integrated with local monitoring software such as Oryx-Listener, Watch Manager, QTWatch and Patriot. Likewise, video verification is becoming a necessity," said Beneke.
Jansen van Vuuren believes that IP integration is still isolated to the industrial/commercial or high-income private consumer markets.
Peanuts and monkeys
Are security companies promoting the right technology or is it still a matter of palming off the cheapest system?
"After years of suffering the consequences of cheap solutions, our local end users have become very educated when it comes to the issue of low-cost intruder alarm systems. Problems faced include false alarms, lightning damage and poor response. Promoting the right technology is the best way to differentiate your company in the market, especially because the right technology is now affordable to a broader audience," says Beneke.
"Unfortunately, security is still considered by the consumer to be a grudge purchase and as such, they are not prepared to spend any more money on it than they need to. Affordability and simplicity are the predominant factors for the average domestic consumer. However, a reputable security service provider can offer customised solutions that will provide excellent results without exceeding the budget. Service providers need to sell the benefits of new, more reliable technology to their clients. By strategically subsidising this new technology, they are able to pass the money saved on false alarm reductions on to their clients in the form of more reliable systems," Jansen van Vuuren concludes.
Credit(s)
Further reading:
Cyber resilience is more than cybersecurity
Technews Publishing Cyber Security Integrated Solutions IT infrastructure
Hi-Tech Security Solutions held a round-table discussion focusing on cyber resilience and found that while the resilience discipline includes cybersecurity, it also goes much further.
Read more...
---
From the editor's desk: Security and resilience
Technews Publishing News
It's often said that South Africans are a resilient bunch, and history has proven this correct. When it comes to security, both cyber and physical, resilience is key to an effective defensive plan. ...
Read more...
---
Hikvision aims for solutions
Technews Publishing Hikvision South Africa Editor's Choice CCTV, Surveillance & Remote Monitoring News Integrated Solutions Conferences & Events
Hikvision recently held a roadshow titled Industry X, where the company highlighted its latest products and solutions, supported by partners and distributors.
Read more...
---
Olarm launches PRO 4G communicator
Olarm News Perimeter Security, Alarms & Intruder Detection Products
Olarm has announced an additional 4G/LTE version of its Olarm PRO smart communicator. It is aimed at areas suffering from poor connectivity by providing support for 4G, 2G and Wi-Fi networks.
Read more...
---
ADI Expo returns to South Africa
Technews Publishing ADI Global Distribution News
September saw the return of the ADI Expo to South Africa. The Johannesburg event was held at the Focus Rooms and the Durban event, two days later, at the Southern Sun Elangeni & Maharani.
Read more...
---
Technoswitch Awards dinner for 2022
Technews Publishing News Fire & Safety
Technoswitch hosted its fifth awards dinner at Montecasino in September, where customers and suppliers celebrated a year of success.
Read more...
---
Reliable, low-maintenance video appliances
Technews Publishing Editor's Choice CCTV, Surveillance & Remote Monitoring News IT infrastructure Products
Symetrix, part of the Agera Group, has added the AES range of video recording servers, storage appliances and workstations to its portfolio.
Read more...
---
Resilience is a collaborative effort
Technews Publishing Editor's Choice
Cyber resilience is not an 'IT thing'; Wayne Olsen says it is an enterprise-wide risk strategy that involves collaboration, lots of collaboration.
Read more...
---
The challenge of data safety and availability
Technews Publishing Editor's Choice Cyber Security
Veeam offers backup and recovery software that presents the user with one interface to manage backups to and from almost any platform.
Read more...
---
Cold chain integrity in real time
Technews Publishing Editor's Choice Asset Management, EAS, RFID IT infrastructure Transport (Industry) Logistics (Industry)
DeltaTrak offers real-time farm-to-fork IoT monitoring of the cold chain to ensure every step of the journey is recorded and verifiable via the cloud.
Read more...
---