printer friendly version
The neural network wakes
April 2013
Integrated Solutions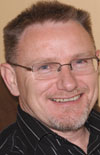 Neil Cameron
One of the latest trends in major commercial buildings – especially among those of multinational corporations – is the convergence of the security function and other vital building systems onto a single network. While well worth the effort, it is not an easy task.
The converged systems must be compatible with current needs and future technologies, while being able to support an increasingly complex mix of users. When done correctly, this network and connected systems meet the specific needs of an organisation, offering combinations of speed, convenience and flexibility that traditional systems simply cannot match. Plus, building operators are provided with a single point of control that allows for enhanced building management that drives more than just security strategies.
One large multinational corporate executive put it succinctly: "For this building, the system is akin to the neural network in our body. It is the core of the building's disaster and control centres. It directly determines the cost and efficiency of operations management and ensures safety and comfort within the building."
Successfully converging systems requires the design and maintenance skills of an experienced and proven service or solution provider. These system-wide solutions must support not just the security of people and assets, but also ensure that the building environment is conducive to productivity and facilitates the smooth running of operations. Furthermore, it must drive cost containment and meet other demands, such as energy efficiency or work safety policies.
These converged systems have many benefits. Chief among them is the ability to constantly monitor and refine the operation of many disparate building systems simultaneously. Integrated and converged systems are helping building managers take more control and become more responsible for overall building operations. Authorised users can access the network from anywhere, anytime and with any Internet-enabled devices, tapping into security devices or components such as CCTV cameras, as well as control and retrieve data from other integrated systems. This provides them with insight into overall performance of the facility or alerts when pre-configured thresholds are or are not met.
Convergence at work
Here is an example of how converging building systems can work to improve the outcome of a situation. As soon the fire alarm system detects a fire, the building automation system signals the HVAC system to stop delivering fresh air to the area and pressurise the path of egress to clear it of any smoke. The access control system will unlock doors along the escape route and train CCTV cameras on the fire area to give first responders a live video feed.
And with the single network making more data readily available, innovations in management are emerging. Developing the requirements for a security system or for facilities management is important to meet business policy, drive operations, enable strategy and even comply with industry regulations. It has, however, been difficult to monitor and manage these systems proactively. One solution is to link to a cloud-based service where all facility data is constantly monitored. If configured thresholds are exceeded (energy consumption peaks or a security risk presents itself), identified users are alerted, procedures are automated (non-critical power usage is closed down or sectors in a building isolated) and the problem is escalated to ensure a speedy resolution.
Open systems required
But usage and other patterns, along with pattern divergence, can also be discerned. As more organisations subscribe to monitoring and management services, facility and security performance benchmarks are being identified to drive a new level of problem resolution and raise the bar for performance of these systems.
One of the key issues organisations need to focus on is buying into and acquiring security and other building solutions that are built on open platforms. The best platforms for integrated and converged security and building operations are those that best enable the use of solutions from numerous vendors. This allows facility managers to pick the best of fast-advancing technologies and drive standardised policy adherence throughout the organisation.
The days of separate, standalone security and building control systems are numbered. IT professionals, security directors and facility managers see the value of converging potentially dozens of building systems onto one network with a single control-point option. System convergence has arrived and will only gain momentum for its ability to more effectively and proactively manage large buildings.
For more information contact Johnson Controls, +27 (0)11 921 7141,  [email protected],  www.johnsoncontrols.com
Credit(s)
Further reading:
Cyber resilience is more than cybersecurity
Technews Publishing Cyber Security Integrated Solutions IT infrastructure
Hi-Tech Security Solutions held a round-table discussion focusing on cyber resilience and found that while the resilience discipline includes cybersecurity, it also goes much further.
Read more...
---
A key to urban transport challenges
Axis Communications SA Transport (Industry) CCTV, Surveillance & Remote Monitoring Integrated Solutions Logistics (Industry)
There are many enabling technologies that can impact transportation in South Africa, but a good place to start is by considering the applications for smart physical technology with the ability to collect and respond to data.
Read more...
---
Hikvision aims for solutions
Technews Publishing Hikvision South Africa Editor's Choice CCTV, Surveillance & Remote Monitoring News Integrated Solutions Conferences & Events
Hikvision recently held a roadshow titled Industry X, where the company highlighted its latest products and solutions, supported by partners and distributors.
Read more...
---
Technology and the future of security installation in South Africa
Editor's Choice Integrated Solutions Security Services & Risk Management
What are the technologies and trends shaping installation, service and maintenance teams globally, and how will they shape South African businesses today and in the future?
Read more...
---
Upgraded security and AI monitoring at upmarket estate
Watcher Surveillance Solutions Editor's Choice CCTV, Surveillance & Remote Monitoring Integrated Solutions Residential Estate (Industry)
Estate upgrades and enhances its security through a partnership between surveillance specialist Watcher and the incumbent guarding company.
Read more...
---
Streamlining processes, integrating operations
Security Services & Risk Management Integrated Solutions Transport (Industry) Logistics (Industry)
With Trackforce Valiant, Airbus now has one single platform that connects its security guards, supervisors and management across its organisation.
Read more...
---
Nomad launches early adopter programme
Editor's Choice News Integrated Solutions Smart Home Automation
Participants in Nomad's Early Adopter Programme will receive 10% of their volume order to facilitate testing before the commercial launch later this year.
Read more...
---
Improve data connectivity in fleet management
Flickswitch Transport (Industry) Integrated Solutions Products
While the market is still dominated by tracking systems, more advanced fleet management solutions are gaining traction on the market.
Read more...
---
IoV – the cutting edge of vehicle automation
Integrated Solutions IT infrastructure Transport (Industry) Logistics (Industry)
Today's cars have become bona fide connected machines and not merely an extension of our mobile devices such as smartphones.
Read more...
---
Understanding what an IoT platform is
Trinity IoT Integrated Solutions
In an increasingly mobile-first, digitally driven global economy, IoT platforms are becoming commonplace. But what is an IoT platform, and what makes one better than the other?
Read more...
---