printer friendly version
Holistic approach to commercial security
April 2013
Integrated Solutions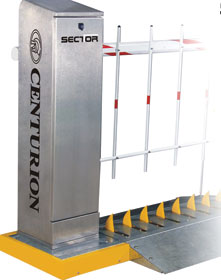 Crime is not homogenous by nature. Like all unwholesome things, it has the uncanny and unnerving ability to threaten on multiple levels and in multiple ways; from internal crime – such as fraud and theft perpetrated by a company's own employees, the kind of crime that corrodes from the inside – to external threats such as armed robbery, commercial security practitioners are faced with the task of implementing measures that literally cover all bases.
And crime is a shape-shifter. Criminals are forever changing their approach and challenging the systems put in place to keep them at bay. For example, one modus operandi that seems to be on the rise among criminals targeting commercial establishments, is to enter company premises under the guise of visiting an employee on some official business, and then making off with whatever they can get their hands on – laptops, phones and the like.
It is up to the security practitioner to tackle these threats holistically, identifying and implementing systems that are able to combat security breaches at both internal and external level, and do so intelligently.
Commercial solutions
In this modern day and age it goes without saying that technology is our greatest ally in the fight against crime. Naturally, in a business park milieu, the entrance to the premises should be the main focus of security efforts and where in previous years simply having a guard stationed there might have been sufficient, the evolving nature of criminality necessitates a truly hi-tech solution.
To this end, Centurion's high-volume industrial traffic barrier delivers a vehicular access control solution. A custom-built DC gearbox and native battery backup allows this traffic barrier to perform upwards of 3000 operations per day and makes it the logical choice for business parks that see high daily traffic volumes. The accompanying LCD controller is packed with useful features that it virtually constitutes a security system by itself. With the SECTOR' built-in time-barring feature, authorised personnel can actually configure when staff will have access to the premises, increasing the security factor by a considerable margin.
But what about securing the actual building? After all, this is the vessel that contains the livelihood of the organisation – both in terms of material goods and in terms of human capital.
Rolling security
A little over a year ago, Centurion released its RSO range of industrial roller-shutter operators. And it could not have come at a better time; the most recent crime statistics released by the SAPS have revealed that the incidence of business robbery has in fact gone up in the past year.
One contributing factor might well be the fact that so many warehouses are left vulnerable and without adequate security due to the industrial-sized doors generally found in these settings being so difficult to operate, and thus left open and unattended. This threat can very effectively be neutralised by fitting one of Centurion's industrial automation titans, one of which boasts full battery backup and the same intelligent LCD controller found on the Sector traffic barrier and benchmark sliding gate motor, the D5-Evo. Proper security is something that has hitherto been sadly amiss in industrial settings such as factories, but automation does seem to firmly hold the key to eradicating the myriad threats present in this arena.
Now that we have looked at securing the exterior of a commercial facility, it certainly warrants investigating what solutions are available for securing the internal parameter.
Access control should be more than a buzz phrase; it should be something that is so much part of the staff's daily motions that it is very nearly automatic. Along with biometric access control, GSM technology has enjoyed great popularity both in domestic and corporate settings. GSM modules can for instance be connected to a building's alarm system and configured to send a text message to all users learned into its memory whenever the alarm is triggered. This would effectively mean that the building is permanently under surveillance since most of us always carry our mobile phones with us.
GSM devices can also be used for access control purposes by connecting it to a gate or magnetic lock which is released whenever a missed call from a valid number is initiated. This has been found to be more effective and reliable than carrying tags or remotes which are easily loaned out, stolen and misplaced. The use of GSM products also facilitates easy site monitoring since, in the case of Centurion's range, transaction logs can be accessed online and used to view which access numbers were used, who they belong to, the inputs triggered (ie, gate fully open, pedestrian gate, etc.).
Centurion's recent acquisition of MyGSM has resulted in two new products being added to its GSM range, one offering dual inputs and dual outputs and the other offering eight of each. The MyGSM.co.za online portal also provides for the ability to set up automatic activations and time-barring functionality of the MyGSM units.
For more information contact Centurion Systems, +27 (0)11 699 2467, [email protected], www.centsys.co.za
Credit(s)
Further reading:
Cyber resilience is more than cybersecurity
Technews Publishing Cyber Security Integrated Solutions IT infrastructure
Hi-Tech Security Solutions held a round-table discussion focusing on cyber resilience and found that while the resilience discipline includes cybersecurity, it also goes much further.
Read more...
---
A key to urban transport challenges
Axis Communications SA Transport (Industry) CCTV, Surveillance & Remote Monitoring Integrated Solutions Logistics (Industry)
There are many enabling technologies that can impact transportation in South Africa, but a good place to start is by considering the applications for smart physical technology with the ability to collect and respond to data.
Read more...
---
Hikvision aims for solutions
Technews Publishing Hikvision South Africa Editor's Choice CCTV, Surveillance & Remote Monitoring News Integrated Solutions Conferences & Events
Hikvision recently held a roadshow titled Industry X, where the company highlighted its latest products and solutions, supported by partners and distributors.
Read more...
---
Technology and the future of security installation in South Africa
Editor's Choice Integrated Solutions Security Services & Risk Management
What are the technologies and trends shaping installation, service and maintenance teams globally, and how will they shape South African businesses today and in the future?
Read more...
---
Upgraded security and AI monitoring at upmarket estate
Watcher Surveillance Solutions Editor's Choice CCTV, Surveillance & Remote Monitoring Integrated Solutions Residential Estate (Industry)
Estate upgrades and enhances its security through a partnership between surveillance specialist Watcher and the incumbent guarding company.
Read more...
---
Streamlining processes, integrating operations
Security Services & Risk Management Integrated Solutions Transport (Industry) Logistics (Industry)
With Trackforce Valiant, Airbus now has one single platform that connects its security guards, supervisors and management across its organisation.
Read more...
---
Nomad launches early adopter programme
Editor's Choice News Integrated Solutions Smart Home Automation
Participants in Nomad's Early Adopter Programme will receive 10% of their volume order to facilitate testing before the commercial launch later this year.
Read more...
---
Improve data connectivity in fleet management
Flickswitch Transport (Industry) Integrated Solutions Products
While the market is still dominated by tracking systems, more advanced fleet management solutions are gaining traction on the market.
Read more...
---
IoV – the cutting edge of vehicle automation
Integrated Solutions IT infrastructure Transport (Industry) Logistics (Industry)
Today's cars have become bona fide connected machines and not merely an extension of our mobile devices such as smartphones.
Read more...
---
Understanding what an IoT platform is
Trinity IoT Integrated Solutions
In an increasingly mobile-first, digitally driven global economy, IoT platforms are becoming commonplace. But what is an IoT platform, and what makes one better than the other?
Read more...
---