printer friendly version
Safety and security at SAPS' 10111 Centre
April 2013
Fire & Safety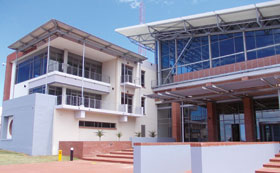 Technology constantly develops to make our lives easier. Automation and amalgamation of technology driven services can streamline processes and make a business operate far more efficiently. The SAPS 10111 Centre in Port Elizabeth has done just that. The centre now boasts a state-of-the-art electronic safety and security set up which consists of fire detection, fire suppression, CCTV and biometric access control.
The installation was undertaken by ITD Protection Systems, who integrated the four services via a UTC Alliance system. The system allows for control of all the systems from a single workstation. This means that the status of the fire detection can be seen at a glance, doors can be remotely opened and locked and the CCTV cameras can be controlled from this workstation. With the advanced workstation, personnel have complete control of the safety and security systems that protect the building, from a central point.
The user is able to configure the Alliance system to react automatically to different events in and around the building, for example: should a fire occur in an area it would be detected, the CCTV cameras would start recording the event, unlock all the exit doors to allow for easy evacuation and the gas suppression system would then extinguish the fire in those areas that are protected.

Alien Systems & Technologies supplied 80 cylinders of the environmentally friendly gas, Pyroshield, to form the fire suppression system and protect the sensitive high risk areas. The Pyrogen Mag 2 extinguishment canisters were mounted within each call centre console as well as the cable ducts in the basement below the call centre floor.
ITD Protection Systems used an analogue addressable fire detection system to cover the whole building. The system consists of more than 400 smoke detectors, break glass units and combination sounder/strobe units. The fire panel activates the smoke exhaust fans, controls the lifts and stops the air-conditioning in the building – should there be a fire.
All access controlled doors are programmed with biometric readers for identification, powered over Ethernet, which controls access to, and exit from, secure areas both in respect of entry to specific locations and between designated zones within the building. The system records all entry and exit requests.
The CCTV system is state of the art with UTC cameras installed throughout the building, both internally and externally, all powered over Ethernet. Twenty-four-hour surveillance is maintained over external areas such as vehicle parking and workshop areas externally using pan tilt zoom cameras. These cameras are also installed on the perimeter to provide surveillance of yard areas as well as far beyond the facility boundary.
Credit(s)
Further reading:
FlameSpec flame detectors from Technoswitch
Technoswitch Fire Detection & Suppression Fire & Safety
The FM-approved FlameSpec detectors address slow-growing fires and fast eruptions of fire while maintaining high performance and reliable detection in all weather and light conditions.
Read more...
---
Improved hydraulic performance and efficiency
Johnson Controls Global Products Fire & Safety
Tyco 5.8K LFII sprinkler from Johnson Controls Global Products brings improved hydraulic performance and efficiency to residential fire protection.
Read more...
---
One-bolt coupling
Johnson Controls Global Products Fire & Safety
The G-Fire One-Bolt Figure 579A is a grooved, rigid coupling ready for out-of-the-box, push-on installation including self-lubricating gaskets for a smooth installation experience.
Read more...
---
Ensure your generator is fire-safe
Fire & Safety
A backup power supply such as a genset is critical during loadshedding, however, it is vital that such important equipment is maintained properly and serviced regularly to be able to cope with outages.
Read more...
---
Technoswitch Awards dinner for 2022
Technews Publishing News Fire & Safety
Technoswitch hosted its fifth awards dinner at Montecasino in September, where customers and suppliers celebrated a year of success.
Read more...
---
Mass transportation requires massive security
Fire & Safety
The technologies and design styles behind transit hubs may have changed over the years, but from a fire safety perspective the threats have remained constant.
Read more...
---
ZYTEQ Fire Engineering Summit 2022
ZYTEQ Fire Fire & Safety News
Cape Town-based ZYTEQ Fire hosted its inaugural Engineering Summit at the Commodore Hotel in Cape Town and the Leonardo Hotel in Sandton, Johannesburg.
Read more...
---
Fire prevention in your home or business?
Fidelity Services Group Fire & Safety Security Services & Risk Management
A recent fire at a nightclub in Boksburg has once again highlighted the importance of fire safety for both homes and businesses. When a fire breaks out, the consequences can be devastating.
Read more...
---
Integration of Bosch planning software with AutoCAD
Technews Publishing Fire & Safety Security Services & Risk Management Products
Bosch has released its new software version of Safety Systems Designer with a new, free plugin available that enables automatic data transfer between AutoCAD software and Designer.
Read more...
---
Water deluge fire suppression system
FS Systems Editor's Choice Fire & Safety Mining (Industry) Products
The FS Group custom-designed and installed an electronically actuated water deluge fire suppression system for an underground explosives magazine, ensuring both the safety of miners and operations, as well as regulatory compliance.
Read more...
---