printer friendly version
Facing the new South African reality
February 2013
Security Services & Risk Management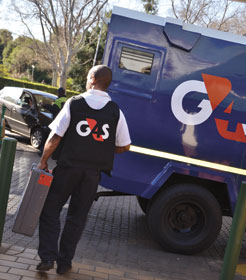 Post the recent transport industry strike, end-to-end cash management company Cash Connect has recognised and identified the reality of doing business in South Africa today and will be planning its future strategies accordingly.
"Through recent strike action, it has become apparent that business must plan not only for transport interruption, but also the many other potential threats," notes Richard Phillips, MD of Cash Connect.
Planning for disruption and ensuring business continuity is a harsh reality. The recent strikes had detrimental effects on the South African Economy as a whole, with reports from the likes of GM noting the major effects on production, to ATMs running low on cash, Agri SA reporting the inflationary effect on food prices, Softline & Sage reporting costs to the economy of R1,2 billion per week. And with this precedent setting the scene, the economy should brace for likely future disruption.
This is a harsh reality for the cash in transit industry where the effects on business were profoundly felt. Cash could not be safely collected and transported, which resulted in a range of disconcerting outcomes from safety and security to stretched overdrafts. Delayed settlement of accounts with suppliers of primary product also threatened replenishment supplies and impacted on routine trading.
Operators that may have used personal vehicles and in some cases untrained employees to ensure there was no disruption in service, saw massive risk to personal safety and this hazardous behaviour, albeit well intended, cannot be justified.
Normal processes as part of the strike were severely backlogged, having far-reaching effects that perhaps few consumers were aware of. Cash Centres ran up to 10 days behind and retailers saw the effects by monies taking excessive time to reflect in bank accounts. An overall menacing process in itself which led to greater uncertainty and further operational disruption.
Cash that was collected and reached cash counting centres was further affected by unrelated interruptions such as, in one instance, cable theft delaying digital transfers. The resultant further delays aggravating the already high levels of frustration experienced in the business sector.
The reality of the strike only becomes apparent as business recoils in the immediate after effects. It is at this stage that Cash Connect implemented a series of emergency measures which will form an important part of strategy moving forward. The setup of an emergency call centre, daily crisis meetings with banks and other key players, strike updates to business through various communication channels are a few of the significant elements.
Preparation for future disruption has allowed the implementation of such a strategy to see reality. Taking the learnings of such a crisis, Cash Connect is realistic that going forward, it will execute effective measures to deal with the negative realities of business in South Africa on a daily basis. The key objective needs to be to minimise the delay in the transfer of value for the retailer so as to reduce the ever-present threat of interrupted supply of product.
For more information contact Cash Connect Management Solutions, +27 (0)11 531 5464, info@cashconnect.co.za, www.cashconnect.co.za
Credit(s)
Further reading:
Convergence of cyber and physical security
Integrated Solutions Security Services & Risk Management
The overlap between cybersecurity and physical security will necessitate the integration of cyber and physical security in order to enable the sharing of events to the same security operations centre.
Read more...
---
Reduce electrical risks in commercial and industrial buildings
Security Services & Risk Management
Eaton's new whitepaper aims to help professionals reduce electrical risks in commercial and industrial buildings and prevent faults that can endanger workers, damage property and disrupt business continuity.
Read more...
---
Sustainability School opens for enrolment
Education (Industry) News Security Services & Risk Management
Three-part programme, first developed for Schneider Electric employees, is now available for free for companies worldwide. Attendees learn how to future-proof their businesses and accelerate their decarbonisation journeys.
Read more...
---
Success in business process best practices
Technews Publishing Kleyn Change Management Editor's Choice Integrated Solutions Security Services & Risk Management
This month we commandeer time with the woman who is spearheading our national conversation on Women in Security, Lesley-Anne Kleyn, to get to know the lady herself a little better.
Read more...
---
Security awareness training
Training & Education Security Services & Risk Management
It is critically important to have a security awareness solution that uses the limited time available to train effectively, and one that provides targeted education that is relevant to users.
Read more...
---
Technology to thwart solar panel thieves
Asset Management, EAS, RFID Security Services & Risk Management Products
A highly efficient industrial network is coming to the rescue of the solar industry, as solar panels, inverters and batteries are being targeted by thieves and threaten to destabilise the industry.
Read more...
---
Banking the unbanked comes with security risks
Financial (Industry) Security Services & Risk Management
As grim as it was, the pandemic of recent years and its resultant global economic crisis were a prime catalyst for record number of first-time bank users, the previously unbanked.
Read more...
---
Security is like infinity
Alwinco Security Services & Risk Management
Security needs constant attention, dedication and input. The scary thing is that most people think that security is something that you buy, install, and then forget about.
Read more...
---
Vulnerabilities in industrial cellular routers' cloud management platforms
Industrial (Industry) Cyber Security Security Services & Risk Management
Research from OTORIO, a provider of operational technology cyber and digital risk management solutions, unveils cyber risks in M2M protocols and asset registration that expose hundreds of thousands of devices and OT networks to attack
Read more...
---
SAFPS to launch a platform to combat fraud
Editor's Choice News Security Services & Risk Management
In response to the growing need for a proactive approach to fraud prevention, the SAFPS is developing a product called Yima, which will be a one-stop-shop for South Africans to report scams, secure their identity, and scan any website for vulnerabilities.
Read more...
---