printer friendly version
The importance of effective records management
February 2013
Security Services & Risk Management
Despite South African information and records management solutions being on par with that of global standards, many local businesses fail to recognise the importance of effective records management despite multiple legislative requirements governing this issue.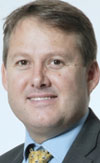 Guy Kimble
This is according to Guy Kimble, MD of Metrofile, who says, following his return from the global PRISM (Professional Records and Information Services Management) international conference, that security of information, confidentiality and security breaches are among the core areas of focus internationally. "Many South African businesses are still in the starting blocks when it comes to implementation of effective records management solutions that ensure compliance with legislation governing information management and protection."
He says globally there has been a noticeable shift to ensure information that is stored and archived is safeguarded against both physical and electronic threats. "This has mainly arisen from litigation processes that could face organisations, meaning that the reasons for records management have moved from the historic purposes of simply storing boxes to that of risk mitigation.
"Having records readily available should an organisation face a legal issue can mean the difference between resolving a dispute quickly or potentially running up thousands of Rands in legal fees. An effective records system that enables instantaneous retrieval of important documentation can end up saving an organisation a significant amount of money.
He says in addition to this, it is becoming increasingly important for businesses to purge unwanted information or documentation in a way that ensures that the organisation complies within regulatory requirements such as the Protection of Personal Information Bill which specially stipulates that any documentation containing personal information must be effectively destroyed in order to protect the identity of the person's information.
The business of records management has moved rapidly into the electronic age and those companies that are still grappling to come to terms with their own Information Technology (IT) infrastructure, will battle to remain purposeful in the years to come, says Kimble.
He says the larger multinational corporations have already implemented or begun to incorporate effective records management systems into their risk mitigation strategies as their global counterparts have had to ensure compliance with international regulations. "Smaller to medium sized companies are often at most risk as they tend to wait until it is absolutely necessary to have this in place. However, every single business, from a one-man operation to a multinational, needs to implement an effective, fit-for-purpose records management programme or risk being exposed to legal, financial and reputational repercussions."
Kimble says one of the key challenges facing businesses when it comes to records management is doing nothing until it is too late. "By only implementing an effective records management solution once the need arises – for example in the case of a law suit or audit – the company may end up spending far more to resolve the problem than to implement a fit for purpose records management solution.
"This is a huge problem as most organisations do not fully understand exactly what is required for effective records management and do not take the time to appoint someone to analyse and consult the organisation's specific requirements. Consequently, they end up failing to take adequate steps to determine what is needed, instead simply purchasing products that are unsuitable to the needs of the business and wasting not only money but employee time."
For more information contact Metrofile, +27 (0)11 677 3000, sandys@metrofile.co.za, www.metrofile.com
Further reading:
Convergence of cyber and physical security
Integrated Solutions Security Services & Risk Management
The overlap between cybersecurity and physical security will necessitate the integration of cyber and physical security in order to enable the sharing of events to the same security operations centre.
Read more...
---
Reduce electrical risks in commercial and industrial buildings
Security Services & Risk Management
Eaton's new whitepaper aims to help professionals reduce electrical risks in commercial and industrial buildings and prevent faults that can endanger workers, damage property and disrupt business continuity.
Read more...
---
Sustainability School opens for enrolment
Education (Industry) News Security Services & Risk Management
Three-part programme, first developed for Schneider Electric employees, is now available for free for companies worldwide. Attendees learn how to future-proof their businesses and accelerate their decarbonisation journeys.
Read more...
---
Success in business process best practices
Technews Publishing Kleyn Change Management Editor's Choice Integrated Solutions Security Services & Risk Management
This month we commandeer time with the woman who is spearheading our national conversation on Women in Security, Lesley-Anne Kleyn, to get to know the lady herself a little better.
Read more...
---
Security awareness training
Training & Education Security Services & Risk Management
It is critically important to have a security awareness solution that uses the limited time available to train effectively, and one that provides targeted education that is relevant to users.
Read more...
---
Technology to thwart solar panel thieves
Asset Management, EAS, RFID Security Services & Risk Management Products
A highly efficient industrial network is coming to the rescue of the solar industry, as solar panels, inverters and batteries are being targeted by thieves and threaten to destabilise the industry.
Read more...
---
Banking the unbanked comes with security risks
Financial (Industry) Security Services & Risk Management
As grim as it was, the pandemic of recent years and its resultant global economic crisis were a prime catalyst for record number of first-time bank users, the previously unbanked.
Read more...
---
Security is like infinity
Alwinco Security Services & Risk Management
Security needs constant attention, dedication and input. The scary thing is that most people think that security is something that you buy, install, and then forget about.
Read more...
---
Vulnerabilities in industrial cellular routers' cloud management platforms
Industrial (Industry) Cyber Security Security Services & Risk Management
Research from OTORIO, a provider of operational technology cyber and digital risk management solutions, unveils cyber risks in M2M protocols and asset registration that expose hundreds of thousands of devices and OT networks to attack
Read more...
---
SAFPS to launch a platform to combat fraud
Editor's Choice News Security Services & Risk Management
In response to the growing need for a proactive approach to fraud prevention, the SAFPS is developing a product called Yima, which will be a one-stop-shop for South Africans to report scams, secure their identity, and scan any website for vulnerabilities.
Read more...
---