printer friendly version
The importance of effective records management
February 2013
Security Services & Risk Management
Despite South African information and records management solutions being on par with that of global standards, many local businesses fail to recognise the importance of effective records management despite multiple legislative requirements governing this issue.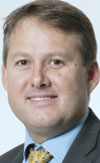 Guy Kimble
This is according to Guy Kimble, MD of Metrofile, who says, following his return from the global PRISM (Professional Records and Information Services Management) international conference, that security of information, confidentiality and security breaches are among the core areas of focus internationally. "Many South African businesses are still in the starting blocks when it comes to implementation of effective records management solutions that ensure compliance with legislation governing information management and protection."
He says globally there has been a noticeable shift to ensure information that is stored and archived is safeguarded against both physical and electronic threats. "This has mainly arisen from litigation processes that could face organisations, meaning that the reasons for records management have moved from the historic purposes of simply storing boxes to that of risk mitigation.
"Having records readily available should an organisation face a legal issue can mean the difference between resolving a dispute quickly or potentially running up thousands of Rands in legal fees. An effective records system that enables instantaneous retrieval of important documentation can end up saving an organisation a significant amount of money.
He says in addition to this, it is becoming increasingly important for businesses to purge unwanted information or documentation in a way that ensures that the organisation complies within regulatory requirements such as the Protection of Personal Information Bill which specially stipulates that any documentation containing personal information must be effectively destroyed in order to protect the identity of the person's information.
The business of records management has moved rapidly into the electronic age and those companies that are still grappling to come to terms with their own Information Technology (IT) infrastructure, will battle to remain purposeful in the years to come, says Kimble.
He says the larger multinational corporations have already implemented or begun to incorporate effective records management systems into their risk mitigation strategies as their global counterparts have had to ensure compliance with international regulations. "Smaller to medium sized companies are often at most risk as they tend to wait until it is absolutely necessary to have this in place. However, every single business, from a one-man operation to a multinational, needs to implement an effective, fit-for-purpose records management programme or risk being exposed to legal, financial and reputational repercussions."
Kimble says one of the key challenges facing businesses when it comes to records management is doing nothing until it is too late. "By only implementing an effective records management solution once the need arises – for example in the case of a law suit or audit – the company may end up spending far more to resolve the problem than to implement a fit for purpose records management solution.
"This is a huge problem as most organisations do not fully understand exactly what is required for effective records management and do not take the time to appoint someone to analyse and consult the organisation's specific requirements. Consequently, they end up failing to take adequate steps to determine what is needed, instead simply purchasing products that are unsuitable to the needs of the business and wasting not only money but employee time."
For more information contact Metrofile, +27 (0)11 677 3000, [email protected], www.metrofile.com
Further reading:
Key timelines to ensure compliance
Security Services & Risk Management
Regulations to the Occupational Health and Safety Act that apply to major hazard installations require that certain actions be taken to manage health and safety risks – some with timelines for compliance that must be monitored.
Read more...
---
Best practice tips for strengthening data privacy system
Security Services & Risk Management Cyber Security
International cybercriminals are increasingly targeting South African organizations, making data privacy more difficult to maintain. A standardization expert offers insight to help combat this threat.
Read more...
---
Is AI the game-changer for streamlining anti-money laundering compliance?
Financial (Industry) Security Services & Risk Management
In the aftermath of South Africa's recent grey listing, companies are now confronted with the imperative to address eight identified strategic deficiencies, while simultaneously reducing their financial crime risk through anti-money laundering compliance processes.
Read more...
---
Five ways to reduce your cyber insurance premiums
Security Services & Risk Management News
With the global costs of cybercrime expected to soar to $13 trillion within the next five years, cyber insurance is booming as organisations try to mitigate the risk of financial losses.
Read more...
---
Client satisfaction boosted by 85% at Thungela Mine
Thorburn Security Solutions News Security Services & Risk Management Mining (Industry)
Thorburn Security, a division of Tsebo Solutions Group, has announced its recent collaboration with Kwa-Zulu Natal security company, Ithuba Protection Services, as part of its Enterprise Supplier Development (ESD) initiatives across Africa.
Read more...
---
Migrating to the cloud? Beware the many hurdles
IT infrastructure Security Services & Risk Management
While there are undoubtedly many benefits, there are also numerous hurdles to cloud adoption. Some of the biggest challenges revolve around managing cloud spend, understanding the cost components of cloud infrastructure, and how those costs can scale.
Read more...
---
Key strategies for businesses in the face of cyber threats
Cyber Security Security Services & Risk Management
Businesses face severe financial and reputational consequences due to data breaches and daily website hacks, and not all organisations are adequately prepared to combat these escalating threats.
Read more...
---
Planning for the worst is key to success
Technews Publishing Security Services & Risk Management
Planning for the worst is key to success when disaster strikes. Amidst frequent load shedding and often unpredictable stages of power outages, many businesses are concerned about the possibility of a total blackout.
Read more...
---
Protecting South African systems through XDR cybersecurity
Cyber Security Security Services & Risk Management
Carlo Bolzonello, Country Lead for Trellix South Africa, discusses how the country can protect its valuable digital assets through the artificial intelligence-enabled Extended Detection and Response (XDR) cybersecurity approach.
Read more...
---
[Sponsored] Protecting Against Ransomware Attacks: Lessons from Recent POPIA Fine
Cyber Security Security Services & Risk Management
According to Sophos' most recent ransomware report, an alarming 78% of the South African organisations that Sophos surveyed experienced ransomware attacks in the past year.
Read more...
---