printer friendly version
Adding voice to video surveillance
February 2013
IT infrastructure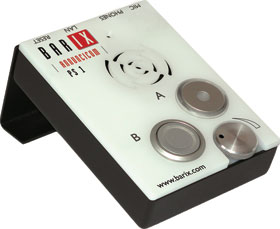 Barix AG is helping Goodwill Industries of East Texas reduce theft and vandalism at its stores by adding voice to its existing video surveillance systems. The security team reports a 99% donation retention since installing Barix two-way IP audio and monitoring solutions at three locations, with plans to roll out the technology across all 15 regional stores.
The non-profit stores provide low-cost, high-quality items to customers and regularly accept donations at all locations. The company has long used a closed-circuit television network to monitor and record visitors as they drop off donations at store exteriors – and capture evidence of criminal activity. They recently began looking at ways to communicate directly with visitors when necessary.
"We have always done live video monitoring for after-hours donations at our stores, but have experienced a lot of theft over the past year," said Chris Ryter, loss prevention and safety manager for Goodwill Industries of East Texas. "I had this idea that the thefts would stop or subside if we could communicate with subjects, let them know they are being recorded, and warn them to leave the property before we call the police. And we have had a significant reduction in theft and vandalism since adding Barix."
Ryter was looking for an IP-based audio solution that could complement his CCTV system, but operate independently with low overhead costs. He also required a solution that offered centralised monitoring, simple installation and a quick learning curve with overall ease of use. He opted for Barix Annuncicom 200 two-way IP audio devices for public address, and Barix ICGraph software for centralised remote device control and location monitoring.
Ryter noted that the Annuncicom 200 design simplifies installation through Power over Ethernet (PoE) capability, offering a single connection to a network switch and loudspeaker. Furthermore, an integrated amplifier reduces equipment costs and infrastructure, with plenty of power to drive intelligible human voice at store exteriors.
But he stressed that ICGraph was the driver of the system, offering a series of 36 customisable buttons that allow security personnel to target announcements to one or more locations with a mouse click.
"We have spent about a quarter of a million on video equipment and while it has given us a good return, the addition of Annuncicom and ICGraph has changed the game," said Ryter. "Letting people know that there is someone on the other end of these cameras and monitoring the situation makes all the difference. Barix was also the only company that could offer us an audio solution that would not interfere with our video system, or otherwise cost us additional money for rental and monitoring fees. We are saving at least $30 000 in comparison to other solutions we looked at and based on early success we estimate a potential savings of $16 000 a week by stopping the night-time donation theft at our stores."
Ryter confirms that he has been given the green light to expand the solution to all 15 stores and potentially to administration and warehouse buildings as needed. He is also looking into how to use the return channel of the Annuncicom 200 for audio recording in compliance with federal laws.
For more information contact Barix AG, +4143 433 22 11, www.barix.com
Further reading:
Supporting local manufacturing
Industrial (Industry) IT infrastructure
Smart Security asked Esenthren Govender, Solutions Executive at Technodyn for insight into how the company supports local manufacturing organisations to optimise their business.
Read more...
---
The last mile of load shedding
IT infrastructure
With a Stage 16 draft in place, and stage eight load shedding almost put into practice (although some say it's already here unofficially), it's important that individuals and organisations get ready for what might happen if the lights go out.
Read more...
---
Data storage has a power consumption problem
IT infrastructure
We store data with electricity, placing data onto magnetic mediums or altering electric charges inside flash memory, but all that reading and writing requires electricity, which is becoming more expensive as supply crumbles.
Read more...
---
Veeam introduces new competency programme for partners
IT infrastructure News
Veeam Competency Programme for Veeam Value-Added Resellers and Veeam Cloud & Service Provider partners offers enhanced solution-oriented training and go-to-market capability development that increase credibility and visibility in the local marketplace.
Read more...
---
End the scourge of solar panel theft
Guardian Eye IT infrastructure Security Services & Risk Management
Modern solar installations are designed so they can be put together very quickly, but this means they can also be dismantled very quickly, and so there has been a massive spike in the theft of solar panels from roofs.
Read more...
---
Smart buildings require smarter networks
Commercial (Industry) IT infrastructure
The smart building is not a new concept, but it's more than just four walls built sustainably, but a network that interconnects people, processes, data, and things. Lots and lots of things.
Read more...
---
How international cloud trends impact Africa
Technews Publishing IT infrastructure
Enterprises are realising that hyperscale cloud is better suited to development and not everyday business, while the bills have also grown significantly as their cloud needs have become more complicated and sprawled.
Read more...
---
VMware unveils new security capabilities
Cyber Security IT infrastructure Products
At the RSA Conference 2023, VMware unveiled enhanced features for its suite of security solutions to address the increasing sophistication and scale of cyberattacks and to deliver strong lateral security across multi-cloud environments.
Read more...
---
Beyond the blackout
IT infrastructure Security Services & Risk Management
Julian Liebenberg, Chief of Cloud Platform Solutions at BCX discusses why cloud solutions are the future for large enterprises when dealing with the economic and productivity consequences of load shedding.
Read more...
---
AIOps-driven cloud management
IT infrastructure Products
Next generation of HPE Aruba Networking Central paves the way for the era of AI-powered network management; 'Agile NaaS' strategy simplifies delivery of critical network services via HPE GreenLake.
Read more...
---