printer friendly version
Video without the need for DVRs or NVRs
February 2013
Access Control & Identity Management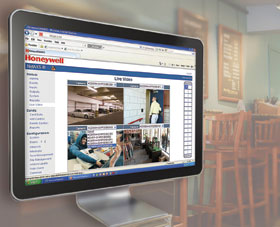 Honeywell has added advanced video capabilities to one of its most-popular and most-affordable access control systems, giving owners of small- to mid-size businesses a new option for improving building security. The company's NetAXS-123 offering is the first access control technology to provide video surveillance without requiring a digital video recorder (DVR) or network video recorder (NVR), making it ideal for smaller businesses such as pharmacies, daycare centres and clinics.
Instead of DVRs or NVRs, the system allows businesses to store video on USB memory sticks. And while most video systems record continuously, NetAXS-123's video capabilities offer event-based recording, meaning users can set the system to record only certain access-control events such as a door being propped or forced open, or someone trying to enter the premises using an invalid card. The technology significantly reduces the amount of time and effort needed to set up the overall system with its ability to automatically discover cameras connected to it, as well as intuitive, easy-to-use set-up screens.
"Smaller businesses need effective security just as much as large corporations, but they have far fewer resources to work with, and many times they simply can't afford an elaborate security system," said product manager René von Franquemont, Honeywell Security Group. "These smaller businesses and organisations should not have to sacrifice protection and NetAXS-123's new video capabilities provide the type of security you would have at larger sites, but at a much lower total cost of ownership."
NetAXS-123 is a Web-based access control system designed to protect facilities with fewer than three doors. The panel uses built-in Ethernet and USB support, as well as Power over Ethernet (PoE) capability to reduce installation costs and eliminate the need for wire runs to power the unit. Its compact, modular design allows businesses to purchase the right amount of access control they initially need and also quickly and easily expand as those needs change. The new Video Add-On Kit lets customers use live video to monitor their sites within the same NetAXS-123 web interface and visually confirm access control events.
The system's simplified installation and user training, as well as the minimal post-sale support required, make it ideal for security installers who want to expand their businesses with access control technology.
For more information contact Honeywell Security Group, +44 1698 738 375, catriona.malone@honeywell.com, www.security.honeywell.com/za/
Further reading:
Cloud-based or on-premises access control
Salto Systems Africa Access Control & Identity Management Products
Choosing between cloud-based and on-premises access control solutions can be a difficult decision, however, the best solution for your organisation, property, or building type will depend on a range of factors.
Read more...
---
Improved security health check tool
Gallagher Access Control & Identity Management Products
Gallagher Security has streamlined its free Security Health Check tool, making it easier than ever to protect against potential system risks and improve business efficiencies.
Read more...
---
Suprema showcases integrated security solutions
Suprema Access Control & Identity Management Products
Apart from being an access terminal that supports multiple credentials such as facial recognition, RFID, mobile and QR codes, the BioStation 3 also supports VoIP Intercom and real-time video monitoring features to make it a truly multi-functional reader.
Read more...
---
Local electronic locks
Access Control & Identity Management
YeboTech is an electronics manufacturing company, founded in 2005, which designs, markets and sells an electronic key and locking systems, aimed at replacing all conventional mechanical locks.
Read more...
---
Selecting the correct access control system
Enkulu Technologies Access Control & Identity Management
Frazer Matchett, Managing Director of Enkulu Technologies, suggests the right questions to ask when selecting an access control solution; not just the access system, but the integrated solution that fits your requirements.
Read more...
---
Integrated guarding services
XtraVision Integrated Solutions Access Control & Identity Management Industrial (Industry)
XtraVision offers a few tips on how to go about planning and setting up an integrated approach to sustainable and successful security services, from the initial risk assessment to the technology and people required.
Read more...
---
Paxton secures multi-tenant office in Cape Town
Paxton Integrated Solutions Access Control & Identity Management Products
Cecilia Square in Paarl, Cape Town is an office building from where several businesses operate. The multi-tenant site has recently undergone a full refurbishment, including a complete upgrade of its security system for access control.
Read more...
---
AI face recognition OEM module
Suprema News Access Control & Identity Management Products
Suprema AI, a company specialized in artificial intelligence–based integrated security solutions, recently launched its high-performance face recognition OEM module called 'Q-Face Pro' in response to the growing need for contactless security solutions.
Read more...
---
KWAL raises a glass to security upgrade
Turnstar Systems Access Control & Identity Management Products
The Kenya Wine Agencies Limited (KWAL) was in need of an integrated security upgrade. This is where Turnstar came into the picture to provide a solution that would keep KWAL secure and efficient.
Read more...
---
Dahua Insider Series for touchless access
Dahua Technology South Africa Access Control & Identity Management Products
The Insider Series Access Control Solution offers touchless access (via Bluetooth) using the DMSS mobile app; it has three distance modes and two trigger modes (normal and shake).
Read more...
---