printer friendly version
Khumani iron ore mine
February 2013
Fire & Safety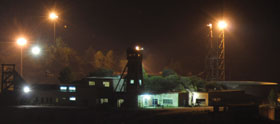 Assmang's Khumani iron ore mine, situated 30 km south of the small town of Khatu in the Northern Cape, required an upgrade on all its conveyor belt and substation fire detection and suppression systems.
Bhubesi Fire projects was awarded the project and decided to use the Spectrex 40-40 range of IR3 flame detectors for the conveyor belts. Due to the harsh dusty environment, the Technoswitch-manufactured air purge unit was used. This unit was perfect for the job as it uses large filters to ensure that clean air is supplied to the flame detector. All these units reported back to the Technoswitch conventional range of fire panels, these have proven themselves time and time again in harsh environments and are very reliable.
When asked why Bhubesi Fire Projects chose the SP40-40 range, Feizel Samodien, the operations director, comments: "The brief from our client DRA in providing a flame detector with the capabilities to perform efficiently and reliably in a harsh mining environment presented a few challenges, which were successfully overcome by the selection of the Spectrex 40/40 IR3 units. The specific application requirements included long range detection (60 m), immunity to false alarms and extreme durability for detection of conveyor belt fires at Khumani iron ore. The system design philosophy also required the 40/40 to act as the primary initiate to facilitate the operation of a water deluge system designed to suppress any potential fire hazard associated with the belt and its mechanical components. Low response times and the sensitivity range of the 40/40 unit made the unit an easy choice to fulfil the stated requirement. In conclusion , a perfect fit for a purpose flame detector with great features and value added benefits for our project."
As the continuity of business in all mining applications is critical, included in the scope of work was the fire detection and suppression in the substations. In order to provide the best and earliest forms of smoke detection, the Vesda range of aspirating smoke detection products were used. These units were used in-cabinet, allowing any smoke to be detected at the source and before any serious damage occurred. For room detection, the Apollo Orbis range of conventional optical smoke detectors were used. With the dust defy feature on these detectors, they were the best option to be used in this harsh environment.
All the detectors were monitored by the Technoswitch range of conventional fire panels and the TEC047 gas control unit was used to ensure that the suppression would be activated when needed.
The project is now moving onto the second and third phase and due to all the success achieved in the first phase the equipment has become the mine standard.
Credit(s)
Further reading:
Maximum fire protection for the most dangerous places
Securiton Fire & Safety Mining (Industry) Products
Africa's heavy mining and resource processing industries are some of the continent's leading economic lights. They also present some of its toughest fire safety challenges on the planet.
Read more...
---
Preventing forest fires with digital intelligence
Dahua Technology South Africa Fire & Safety Products
Technologies such as dual-spectrum video monitoring, intelligent image analysis and recognition, and three-dimensional positioning, enable the smart system to detect a fire, quickly locate the fire source and automatically send alarm to on-duty personnel.
Read more...
---
Fire safety for solar systems
Fire & Safety
Several fire safety measures should be taken into account to prevent the risk of fires when installing a solar power system; firstly, solar panels must be installed by experienced professionals to prevent fires caused by faulty wiring or overheating.
Read more...
---
The importance of voice alarm integration with fire detection
TOA Electronics Fire & Safety
The primary purpose of a voice alarm system (or voice evacuation system) is for the safety of staff, the public, assets and property, ensuring effective, controlled and rapid evacuation of an area or building during an emergency by providing clear voice instructions to occupants.
Read more...
---
Kidde Commercial launches as new Carrier brand
Fire & Safety News
Kidde Engineered Systems has announced its new brand identity, incorporating the Aritech, Kidde Engineered Systems, Kilsen and Ziton brands rebranded as Kidde Commercial.
Read more...
---
DIY fire extinguisher
Fire & Safety News
A newly launched platform offers underserved communities an easy way to create cheap homemade fire extinguishers to help to tackle one of the biggest challenges in South Africa's informal settlements: the constant threat of fire.
Read more...
---
Technoswitch partners with UK's Hyfire
Technoswitch Fire Detection & Suppression News Fire & Safety Products
UK-based wireless fire technology pioneer Hyfire, has confirmed partnership agreements that will see its products sold in South Africa, for the first time, through local fire and safety stalwart, Technoswitch.
Read more...
---
Bespoke fire-risk systems for agri and food processing
Fire & Safety
ASP Fire highlights its specialised expertise in the agri and food-processing industries, where compliance is vital to save lives, reduce the costs of fire damage, and protect equipment and buildings from major damage.
Read more...
---
Incorporate fire safety in the design phase
Fire & Safety
ASP Fire CEO Michael van Niekerk says companies can prevent their infrastructure project from going up in flames by incorporating fire safety in the design phase.
Read more...
---
Fire-fighting force at Vergelegen
Editor's Choice Fire & Safety Residential Estate (Industry)
Vergelegen wine estate in Somerset West, and its neighbours, are set to enjoy greater peace of mind this summer, thanks to the delivery of a brand new fire truck .
Read more...
---