printer friendly version
CIT technology's upper hand
February 2013
Security Services & Risk Management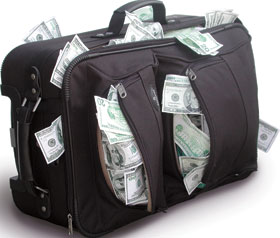 The private security industry and its clients are finally finding some relief in the cash-in-transit sector as the number of heists continues to show an encouraging downward trend.
SBV chief executive, Grant Dunnington reports that cash heists in South Africa have declined from 315 in 2010, to 215 in 2011, with the number at 123 to the end of August 2012.
"The amount of money stolen has also gone down significantly," he says, putting that positive development down to their high-tech vehicles, the training of SBV's staff, vetting and intelligence capabilities."
Pudu is an example of its latest innovation. The CSIR developed a polyurethane dispensing unit that creates a solid block of hot, rigid foam inside the vehicle if an attack occurs. It sets almost instantly confronting the robbers with a solid wall when they open the door. The time-delay device makes it virtually impossible to access the valuables inside the vault. One result of such successes, however, is an increase in hits in cross-pavement money movement from office to vehicle.
Elsewhere new heist-busting interventions are making an appearance, like this crime fighting device that débuted recently in thwarting the theft of cash boxes at a South London Lloyds TSB branch. The deployment resulted in the successful conviction of the perpetrators because the device made the money stick like crazy and because of a growing partnership between police (in this case the Flying Squad) and the cash-in-transit industry.
The new technology is built into the safe boxes used to transfer the cash. A signal releases glue, binding the notes together and making them valueless. To be doubly sure, SmartWater (a UV feature) and dye were deployed to stain the notes.
The Flying Squad's detective superintendent Nick Stevens was elated. "This is a fantastic result," he said. "The Flying Squad is working in partnership with the cash-in-transit industry using the latest technology to arrest and convict criminals. It should help to deter other criminals who think cash-in-transit robberies are a quick and easy way to get cash. In this technology we have a new weapon in the fight against cash-in-transit robberies and gives substance to the Flying Squad's already excellent partnership work with the industry with the number of such robberies falling consistently year on year."
Gavin Windsor, risk director at G4S London adds: "It is particularly pleasing to see from this case how the recently-introduced glue solution in cash boxes ensures that any money stolen becomes completely unusable for the criminal, effectively removing any reward for committing CIT crime."
Meanwhile, as CITs decline, South African employers with single payroll administrators are being seen as most vulnerable to payroll fraud and costly administration mistakes, costing South African companies more than cash-in-transit heists, reports Johan Booysen, head of Alexander Forbes Payroll Services. And the cash nature of payroll fraud means that even when detected, the chances of recovering money is limited.
As a case history example, Booysens relates a recent incident in which a payroll manager was channelling salaries to a private bank account. When the fraud was eventually uncovered the account had been cleaned out with each withdrawal having been made in cash. "Since then there has not been a single item purchased electronically so there was no way to prove that any purchases had been made with stolen money and that meant there was nothing to attach."
"Internal staff involvement in heists is believed to be one of the biggest threats," cautions Dunnington. "A counter-measure is to introduce a staff vetting process in the organisation. This would highlight the candidate's credit and criminal record, cases that they are currently charged with, monitor employees that are registered on the Register of Employees Dismissed (REDS) and administer psychometric tests. This process is also highly critical for retailers when employing temporary staff at any time."
SASA welcomes the slow but sure turning of the tide against CIT attacks, but warns that there should be no letting up in the innovation of ways of protecting security personnel and their cargoes, or of constantly improving strategies and tactics to convince would-be attackers to find another line of work.
Visit the SASA website at www.sasecurity.co.za
Further reading:
Convergence of cyber and physical security
Integrated Solutions Security Services & Risk Management
The overlap between cybersecurity and physical security will necessitate the integration of cyber and physical security in order to enable the sharing of events to the same security operations centre.
Read more...
---
Reduce electrical risks in commercial and industrial buildings
Security Services & Risk Management
Eaton's new whitepaper aims to help professionals reduce electrical risks in commercial and industrial buildings and prevent faults that can endanger workers, damage property and disrupt business continuity.
Read more...
---
Sustainability School opens for enrolment
Education (Industry) News Security Services & Risk Management
Three-part programme, first developed for Schneider Electric employees, is now available for free for companies worldwide. Attendees learn how to future-proof their businesses and accelerate their decarbonisation journeys.
Read more...
---
Success in business process best practices
Technews Publishing Kleyn Change Management Editor's Choice Integrated Solutions Security Services & Risk Management
This month we commandeer time with the woman who is spearheading our national conversation on Women in Security, Lesley-Anne Kleyn, to get to know the lady herself a little better.
Read more...
---
Security awareness training
Training & Education Security Services & Risk Management
It is critically important to have a security awareness solution that uses the limited time available to train effectively, and one that provides targeted education that is relevant to users.
Read more...
---
Technology to thwart solar panel thieves
Asset Management, EAS, RFID Security Services & Risk Management Products
A highly efficient industrial network is coming to the rescue of the solar industry, as solar panels, inverters and batteries are being targeted by thieves and threaten to destabilise the industry.
Read more...
---
Banking the unbanked comes with security risks
Financial (Industry) Security Services & Risk Management
As grim as it was, the pandemic of recent years and its resultant global economic crisis were a prime catalyst for record number of first-time bank users, the previously unbanked.
Read more...
---
Security is like infinity
Alwinco Security Services & Risk Management
Security needs constant attention, dedication and input. The scary thing is that most people think that security is something that you buy, install, and then forget about.
Read more...
---
Vulnerabilities in industrial cellular routers' cloud management platforms
Industrial (Industry) Cyber Security Security Services & Risk Management
Research from OTORIO, a provider of operational technology cyber and digital risk management solutions, unveils cyber risks in M2M protocols and asset registration that expose hundreds of thousands of devices and OT networks to attack
Read more...
---
SAFPS to launch a platform to combat fraud
Editor's Choice News Security Services & Risk Management
In response to the growing need for a proactive approach to fraud prevention, the SAFPS is developing a product called Yima, which will be a one-stop-shop for South Africans to report scams, secure their identity, and scan any website for vulnerabilities.
Read more...
---