printer friendly version
A real security solution
January 2013
Security Services & Risk Management
I want to tell you a story about why an independent security risk assessment is different from a risk assessment done by a security provider.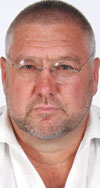 Andre Mundell
A few years back a new client phoned us with a recurring problem. Criminals had captured one of the guards on the premises and used his radio to establish the whereabouts of the rest of the security team. After capturing the entire security staff, they had been able to rob the company of assets worth thousands.
The client had switched security providers only to have this scenario repeated another four times. Each of these security providers had ostensibly performed a security risk assessment on the property, but they had all recommended solutions which matched the services and products that they offered rather than tailoring solutions to their client's needs.
We were then asked to do a security risk assessment on the premises in question.
After identifying all the relevant issues the client finally understood how and where the criminals were gaining access to the property and came to the following conclusions:
* The previous security companies had not considered effective lighting options.
* They had not considered thermal products while the neighbourhood and premises itself were very dark, and some of these security providers did not even know the basics of how thermal products work.
Because of the size and layout of the premises, we suggested the following:
* That their security service provider (Company A) be retained and allowed inside the premises.
* Because of the fact that criminals always managed to overpower and take these guards captive, we recommended that another security service provider (Company B), be placed on the outside of the premises in plain clothes.
After a few months, the same criminals attacked the client's premises again. Company A had not been made aware of Company B, and there was no radio link between the two. This meant that the criminals also had no knowledge of Company B. Company B saw the guards from Company A being overpowered, reacted accordingly by informing the SAPS and their own armed reaction vehicles and in the end, the criminals were apprehended.
The above is a classic example of why security service providers cannot do security risk assessments, and also why they cannot tell you when they find risks that cannot be handled by one of their services or products. Hence the fact that it is imperative that companies employ the services of independent security risk assessors who will suggest real solutions to eliminate the client's security risks as identified and explained in the final assessment. This in turn will allow the client to ensure that those risks are properly addressed as per the solutions suggested in the security plan.
No security company will advise a client to hire their competition to protect one area while they themselves protect another. Being independent and unaffiliated we were able to see the real risks involved and made solution based suggestions based on the client's individual and working environment security needs.
It is better that a security risk assessment is done by an independent security risk assessor. Assessors cannot do an objective security risk assessment or ensure relevant and correct solutions if they are affiliated to any security provider or supplier.
Companies requesting security usually assume that their appointed security provider has done a security risk assessment; and most security providers will say that they have done a risk assessment. However, they will have performed a product assessment, not a security risk assessment. Security providers cannot and in most cases will not reveal your true risks to you.
I would like to stress to all corporate MDs, CEOs and small business owners the importance of protecting your company's assets and employees. Gather all your facts before accepting any proposal for security services or products.
I again want to emphasise the fact that security providers and suppliers are not equipped to do security risk assessments. The fact that they are mandated to perform any and all assessments to reflect their service or product as the best option for you restricts them from being able to do effective and objective security risk assessments.
For more information contact Alwinco, +27 (0)71 319 4735, aviljoen@alwinco.co.za, www.alwinco.co.za
Further reading:
BT launches new security platform
Security Services & Risk Management
Relentless growth and ever-changing nature of the threat landscape dictates a new, proactive approach to cybersecurity. Eagle-i addresses the more than 50% increase in malware traffic over the last six months.
Read more...
---
The crucial double check
Security Services & Risk Management
Andrea Babbs, UK general manager, VIPRE SafeSend, emphasises the importance of implementing a crucial double check to improve email security culture.
Read more...
---
The state of the distribution market
ESDA (Electronic Security Distributors Association Bosch Building Technologies Dark Horse Distribution Elvey Security Technologies Regal Distributors SA G4S Secure Solutions SA Editor's Choice Security Services & Risk Management
The distribution industry has evolved over the years and its current challenges simply mean another change is in the wind, for those who can take the next step.
Read more...
---
Training that delivers
Technews Publishing Leaderware ESDA (Electronic Security Distributors Association BTC Training Africa Editor's Choice Security Services & Risk Management Conferences & Events Training & Education
Hi-Tech Security Solutions hosted a virtual conversation to address the challenges and solutions related to effective and measurable training and education in the security industry.
Read more...
---
The importance of traceable records
Technews Publishing Editor's Choice Security Services & Risk Management
Traceable records streamline performance management, training, evidence records and reduce fraud, corruption and criminal activities.
Read more...
---
Creating the district ID database
Technews Publishing Agriculture (Industry) Security Services & Risk Management
Continuing his series on preparing for and preventing farm attacks, Laurence Palmer discusses developing an identity system for districts at risk.
Read more...
---
Expand your security company offering with mySOS
Security Services & Risk Management
Expand your existing security solutions with a mobile, branded panic button from mySOS. You can now protect your existing client base beyond the perimeter of their property and add real value.
Read more...
---
Is industry inertia keeping SIM-swap fraud alive?
Security Services & Risk Management
SIM-swap fraud has been around for decades and according to the latest SABRIC figures, incidents increased 91% year-on-year when looking at digital banking fraud across all platforms.
Read more...
---
Personal security awareness
LD Africa Security Services & Risk Management
Whether it's our homes, cars, family, businesses or assets, personal security is something that has to be considered daily.
Read more...
---
Threat level raised to Omega Status (plan for the worst)
Security Services & Risk Management
It is the security industry that is implementing the health protocols on the ground. They take the temperatures of people, manage the movement of people and are the ones criticised.
Read more...
---