printer friendly version
Effective estate security solutions
1 January 2013 Perimeter Security, Alarms & Intruder Detection, Residential Estate (Industry)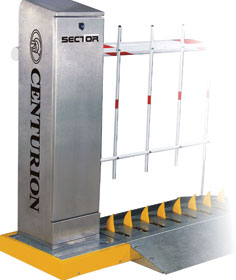 Public opinion seems to favour estates as superior in terms of residential security. They are revered as almost impenetrable fortresses that enjoy the protection of imagined force fields and are completely immune to crime of any size, shape or form. Sure, there might be an inside caper every now and again, but that is the exception rather than the rule. For the most part, residential estates are as secure as the hallowed halls of Asgard itself.
But just how accurate is this perception? After all, a few booms and a guard or two does not a reliable access control system make. In this article, access automation giants Centurion Systems will be looking at some solutions they have on offer to help estates live up to this fabled state of security.
Boom with a brain
When it comes to vehicular access control, traffic barriers are nothing if not an institution. Whether it be at the entrance of a housing estate or guarding a shopping centre parking area, it is difficult to imagine anything that is more synonymous with residential and commercial security than the trusty old boom.
But the trouble with traffic barriers has always been that they leave a considerable amount of room for error; especially within an estate setting where not only property but also the lives of the residents are at stake, one cannot afford to leave anything to chance. For example, a power outage (an occurrence which is sadly commonplace in this country) might render many a conventional barrier inoperative and the residents on the other side of its ever-outstretched arm vulnerable.
Centurion's Sector is no ordinary barrier. Clever engineering has resulted in this high-security access control product drawing minimal current and getting significantly more bang from a 7 Amp hour battery. It is able to perform in excess of 3000 operations during a 24-hour power outage.
One feature is the ILAC (Loop Autoclose) Mode. The premise of ILAC Mode is as follows: an authorised vehicle is granted access, the boom raises, the vehicle clears the closing loop and immediately upon doing so the boom lowers behind him. This is to ensure that the boom remains raised for as short a time as possible and thus acts as a deterrent to tailgaters. This security feature is made all the more effective due to the fact that the Sector's DC gearbox facilitates rapid raising and lowering of the boom pole.
Centurion's design team has gone as far as custom-engineering a mode of operation specifically for use in multi-user applications. Known as Complex Mode, this feature works best at unmanned entrances where the boom has been interfaced with access control devices such as keypads and proximity card readers; freeing up guards previously employed to man estate entrances to undertake other tasks.
Closing the gaps in access control
Centurion has developed the aptly named Claws to help persuade criminals to reconsider a brute-force entry or exit. The high-security companion piece to Sector, these barrier spikes are fast becoming the solution of choice in settings such as car dealerships. Its popularity is in part due to the fact that it offers greater site versatility since it is available in both direct and independent drive configurations and works equally efficiently alone as it does paired with a Sector. The spike modules are also available in lengths of one and 1,5 m, and installers, security managers and property developers alike are cutting costs by only procuring as many modules as are necessary to keep their sites' entry and exit points protected.
Of course, the CLAWS' real power lies in its ferocious bite and, with a trench load bearing capacity of two tons per axle, estates armed with these can be rest assured that its residents' mobile assets are secure.
To combat felons on foot, Centurion recommends outfitting barriers with Trapex, a barrier fence designed to prevent pedestrians from circumventing the Sector vehicle access control system. Like Claws, Trapex is available in modular sections to accommodate booms of various lengths, and extends past the boom pole to prevent intruders from skirting the pole. The fence boasts all-weather construction to suit outdoor applications.
In the near future, estates may very well be the havens of safety and security they have been made out to be and the tranquillity of estate living will be second only to the overall sense of protection that residents enjoy.
For more information contact Centurion Systems, +27 (0)11 699 2467, Adam.Butchart@centurionsystems.co.za, www.centsys.co.za
Credit(s)
Further reading:
Video and audio convergence
Issue 1 2020, Hikvision South Africa , Perimeter Security, Alarms & Intruder Detection
Hikvision has introduced its video and audio convergence solution to the market, featuring an innovative real-time intrusion deterrent feature.
Read more...
---
Centurion to unveil new product
Issue 1 2020, Centurion Systems , Access Control & Identity Management
Centurion Systems will be hosting its third Access Automation Expo this year, with dates confirmed for Durban, Johannesburg and Cape Town.
Read more...
---
Securing perimeters of secure locations
November 2019, Axis Communications SA, Modular Communications, Hikvision South Africa, Nemtek Electric Fencing Products, Technews Publishing, Stafix , Government and Parastatal (Industry), Perimeter Security, Alarms & Intruder Detection, Integrated Solutions
Hi-Tech Security Solutions asked a number of companies offering perimeter security solutions for their insights into protecting the boundaries of national key points.
Read more...
---
Utility outages: Are you looking at the big picture?
October 2019 , Perimeter Security, Alarms & Intruder Detection
We have to start thinking about, and laying plans for, the real possibility that the whole grid is somehow compromised.
Read more...
---
Residential Estate Security Conference 2019
October 2019, Technews Publishing , Editor's Choice, Residential Estate (Industry), Conferences & Events
Hi-Tech Security Solutions hosted the Residential Estate Security Conference in August, focusing on the people, technology and processes involved in an effective security solution for estates.
Read more...
---
Perimeter protection in Ghana
October 2019, AcoustAlert , Mining (Industry), Perimeter Security, Alarms & Intruder Detection
A gold mine in Ghana has erected a dual fence with AcoustAlert PIDS fence detection on both inner and outer fence lines.
Read more...
---
Frictionless access with a wave
October 2019, IDEMIA , Access Control & Identity Management, Residential Estate (Industry)
IDEMIA was the Platinum Sponsor for the Residential Estate Security Conference 2019 and set up its MorphoWave Compact frictionless fingerprint biometric scanner at the entrance to the conference.
Read more...
---
Streamlined access and reporting
October 2019, Comb Communications , Access Control & Identity Management, Residential Estate (Industry)
The main focus of the Comb stand was its practical demonstration of the MK II Lite intercom system with third-party integrated products.
Read more...
---
A committed service provider
October 2019, Elf Rentals - Electronic Security Solutions , Perimeter Security, Alarms & Intruder Detection, Residential Estate (Industry)
The theme Elf promoted through its sponsorship was that it offers clients its own financial commitment and willingness to accept the risk of equipment failure.
Read more...
---
Thermal cameras with artificial intelligence
October 2019, Dahua Technology South Africa , Perimeter Security, Alarms & Intruder Detection, CCTV, Surveillance & Remote Monitoring, Residential Estate (Industry)
Dahua Technology showcased solutions that are important to residential estates, namely perimeter protection.
Read more...
---