printer friendly version
We are our first line of defence
1 January 2013 Security Services & Risk Management, Residential Estate (Industry)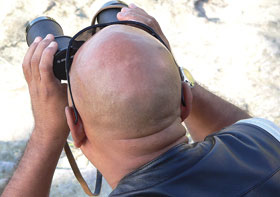 I think that what people soon learn about their security, or lack of it, is that you are your first line of defence, both in an emergency and in the normal course of your day-to-day existence. The ever-present risk in life is always to expect the unexpected. And I am not talking only about South Africa (although we tend to live in a riskier place than most), because crime and careless fate can strike anyone at any time.
"There is no place like home" is a saying that takes on a grim irony when you realise that many people will experience more crime in their homes than anywhere else. This is especially true in South Africa and a glance at the crime statistics will underline the seriousness of this situation. Home burglaries and robberies saw an increase in incidents in the recently reported SAPS crime statistics and we have to face the facts that the police cannot be everywhere, so we have to make a greater effort to look out for ourselves and there is a lot we can do.
We are in the security industry and that means we have to work a little harder to set the pace in our neighbourhood and that starts with setting a good example and lending a helping hand here and there, especially in handing out generous helpings of neighbourly advice. And much of it starts in our own back yard.
The minister of police handed us some uncomfortable information recently when he told parliament: "An indication of the extent of criminal infiltration of the industry can be seen in the results of a voluntary vetting process initiated by some private security business in 2008, where 170 728 guards were vetted through the SAPS Criminal Records Centre, 14 729 were flagged as being linked to possible criminal activities," he said. "All these guards allegedly had valid registration certificates as required under the Private Security Industry Regulatory Act, 2001."
Ever vigilant
This is a situation in which the physician is called upon to heal himself. Non-compliant security staff in our ranks is a black eye for the industry, especially at that level.
SASA members and the industry at large can score valuable PR points for their firms by taking the lead in their residential communities in a number of ways.
Hijacking is a scourge that we cannot relax our vigilance over. There are ways that you can help people to become less of a target. Arrange get-togethers and spread the word on how your fellow community members can be less at risk. Small tips can make a big difference. For example, not only can wearing a seatbelt save your life, but it can also be an effective deterrent to hijackers. The reason is that a hijacking at a traffic light relies on speed. A perpetrator must open the door, quickly pull the victim out of the vehicle, jump in and drive away. Locked doors and seatbelts slow down the process. A would-be carjacker will see these conditions as he approaches and often abort the process. There are many such tips to spread and they could be an enormous help.
A helping hand
Community security is all about helping one another. As a member of South Africa's security industry, we have the ability, in fact the responsibility, to help improve people's experiences of safety and security.
"It is both about the end state – where communities feel safe and secure – and the process by which communities are helped to identify and address their own security needs," in the words of Safercommunity, a UK-based security organisation. "Specific security initiatives can be used to tackle a range of security problems from gender-based violence and crime to a lack of trust between communities and security providers, inter-ethnic tensions or weapons proliferation."
Community security initiatives work best through local partners, such as the area police, and community members should come together regularly to discuss proactive and reactive anti-crime measures. Regular gatherings also help people identify and prioritise their safety and security needs and bring together communities, police, local authorities and other security and justice providers to address them.
Community security initiatives help communities to build on the resources and skills they already have to tackle their security concerns. They build durable links between all the community stakeholders and enhance the capability of neighbours' resilience to withstand and deal with our blight of crime.
For more information contact iFacts, +27 (0)82 600 8225, jenny@ifacts.co.za
Credit(s)
Further reading:
Communication in any situation
Issue 8 2020, Elvey Security Technologies , Global Communications , Security Services & Risk Management
Global Communications offers an industry-first with five-year warranty on select Kenwood two-way radios.
Read more...
---
The year resilience paid off
Issue 8 2020 , Editor's Choice, Security Services & Risk Management
Hi-Tech Security Solutions spoke to Michael Davies about business continuity and resilience in a year when everything was put to the test.
Read more...
---
Integration is key for smart city security
Issue 9 2020, Technews Publishing , Security Services & Risk Management
While smart cities are about enhancing the lives of people through smart technology, security is an essential aspect of success.
Read more...
---
Three mistakes when dealing with remote employees
Issue 9 2020 , Security Services & Risk Management
Sergey Ozhegov, CEO of SearchInform, says that employees are not the only weak points in the work-from-home chain.
Read more...
---
Looking back with a new perspective on the future
Issue 9 2020, Axis Communications SA , Editor's Choice, Security Services & Risk Management
Peter Lindström reflects on predictions he made about the macro trends affecting the sector in 2020 in the light of the pandemic.
Read more...
---
I want to be a Chief Risk Officer (said no one…. ever)
Issue 9 2020, Rectron , Security Services & Risk Management
With universal online access, a focus on going 'paperless' and the rise of the hybrid workforce due to COVID-19, the chief risk officer is more important than ever.
Read more...
---
Free-flow smart weapons detection system
Issue 8 2020, XPro Security Solutions , News, Security Services & Risk Management, Products
Detecting people carrying weapons and preventing them from entering your venue is now possible, without sacrificing the visitor experience.
Read more...
---
Meeting compliance obligations
Issue 7 2020 , Security Services & Risk Management
Helping businesses in SA understand and meet their compliance obligations to local regulations.
Read more...
---
Business continuity through a COVID-19 lens
Issue 8 2020 , Security Services & Risk Management
COVID-19 has brought business continuity under scrutiny, with the opportunity to enhance resilience into the future.
Read more...
---
7 Arrows becomes a part of Fidelity ADT
Issue 8 2020, Fidelity ADT , News, Security Services & Risk Management
Fidelity ADT and 7 Arrows have concluded an acquisition agreement effective 1 October 2020. 7 Arrows will now form a part of Fidelity ADT.
Read more...
---