printer friendly version
We are our first line of defence
1 January 2013 Security Services & Risk Management, Residential Estate (Industry)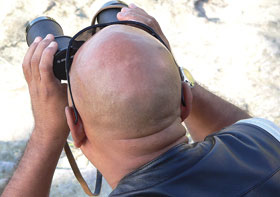 I think that what people soon learn about their security, or lack of it, is that you are your first line of defence, both in an emergency and in the normal course of your day-to-day existence. The ever-present risk in life is always to expect the unexpected. And I am not talking only about South Africa (although we tend to live in a riskier place than most), because crime and careless fate can strike anyone at any time.
"There is no place like home" is a saying that takes on a grim irony when you realise that many people will experience more crime in their homes than anywhere else. This is especially true in South Africa and a glance at the crime statistics will underline the seriousness of this situation. Home burglaries and robberies saw an increase in incidents in the recently reported SAPS crime statistics and we have to face the facts that the police cannot be everywhere, so we have to make a greater effort to look out for ourselves and there is a lot we can do.
We are in the security industry and that means we have to work a little harder to set the pace in our neighbourhood and that starts with setting a good example and lending a helping hand here and there, especially in handing out generous helpings of neighbourly advice. And much of it starts in our own back yard.
The minister of police handed us some uncomfortable information recently when he told parliament: "An indication of the extent of criminal infiltration of the industry can be seen in the results of a voluntary vetting process initiated by some private security business in 2008, where 170 728 guards were vetted through the SAPS Criminal Records Centre, 14 729 were flagged as being linked to possible criminal activities," he said. "All these guards allegedly had valid registration certificates as required under the Private Security Industry Regulatory Act, 2001."
Ever vigilant
This is a situation in which the physician is called upon to heal himself. Non-compliant security staff in our ranks is a black eye for the industry, especially at that level.
SASA members and the industry at large can score valuable PR points for their firms by taking the lead in their residential communities in a number of ways.
Hijacking is a scourge that we cannot relax our vigilance over. There are ways that you can help people to become less of a target. Arrange get-togethers and spread the word on how your fellow community members can be less at risk. Small tips can make a big difference. For example, not only can wearing a seatbelt save your life, but it can also be an effective deterrent to hijackers. The reason is that a hijacking at a traffic light relies on speed. A perpetrator must open the door, quickly pull the victim out of the vehicle, jump in and drive away. Locked doors and seatbelts slow down the process. A would-be carjacker will see these conditions as he approaches and often abort the process. There are many such tips to spread and they could be an enormous help.
A helping hand
Community security is all about helping one another. As a member of South Africa's security industry, we have the ability, in fact the responsibility, to help improve people's experiences of safety and security.
"It is both about the end state – where communities feel safe and secure – and the process by which communities are helped to identify and address their own security needs," in the words of Safercommunity, a UK-based security organisation. "Specific security initiatives can be used to tackle a range of security problems from gender-based violence and crime to a lack of trust between communities and security providers, inter-ethnic tensions or weapons proliferation."
Community security initiatives work best through local partners, such as the area police, and community members should come together regularly to discuss proactive and reactive anti-crime measures. Regular gatherings also help people identify and prioritise their safety and security needs and bring together communities, police, local authorities and other security and justice providers to address them.
Community security initiatives help communities to build on the resources and skills they already have to tackle their security concerns. They build durable links between all the community stakeholders and enhance the capability of neighbours' resilience to withstand and deal with our blight of crime.
For more information contact iFacts, +27 (0)82 600 8225, jenny@ifacts.co.za
Credit(s)
Further reading:
Ransomware predictions
Issue 1 2020 , Security Services & Risk Management
As we enter a new decade, Simon Jelley, VP of product management at Veritas, explores how ransomware is likely to continue evolving in the year ahead.
Read more...
---
The HR environment in 2020
Issue 1 2020, iFacts , Security Services & Risk Management
As 2020 grabs hold of every one of us with great intent, we need to know what to be aware of when employing people or appointing vendors for our business.
Read more...
---
The instruments for investigation
Issue 1 2020, Technews Publishing , Security Services & Risk Management
Regardless of the reason for investigation, the investigation is only as good as the investigators.
Read more...
---
Nothing holds Eudricht back
Issue 1 2020, Sensor Security Systems , Security Services & Risk Management
In this personality profile, Eudricht Kotze talks of his journey overcoming adversity in the security industry.
Read more...
---
Leaders in risk and security: You have to know it to manage it
Issue 1 2020, Technews Publishing , Security Services & Risk Management
Hi-Tech Security Solutions profiles Nash Lutchman, Senior Vice President and Head of Protection Services at Sibanye-Stillwater.
Read more...
---
Drilling deeper into essential building management systems
Issue 1 2020 , Security Services & Risk Management
As the demand for the automation of security and other systems in buildings and large construction sites around the world grows, we are seeing an increase in the demand for building management systems.
Read more...
---
From physical security to cybersecurity
Access & Identity Management Handbook 2020, Genetec , Cyber Security, Security Services & Risk Management
Genetec discusses the security-of-security concept as a means to protect cameras, door controllers and other physical security devices and systems against cybercriminal activity.
Read more...
---
Biometrics in identity
Access & Identity Management Handbook 2020 , Access Control & Identity Management, Security Services & Risk Management
With multiple identity providers offering to manage digital identities for the general public, the root identity – the single sovereign trusted identity upon which all others are based – must start with government.
Read more...
---
Success lies in planning
November 2019, Vox Telecom , Security Services & Risk Management
A safe and smart city will only be successful if it is planned properly, if there is buy-in from all the stakeholders and if it is managed efficiently.
Read more...
---
Matching governance to context
November 2019, ContinuitySA , Security Services & Risk Management
When building resilience and planning for business continuity, take proportionality to heart, advises Michael Davies, CEO of ContinuitySA.
Read more...
---