printer friendly version
Location monitoring
November 2012
Products
PES systems enable pinpoint monitoring of the position of a person or object and are used for controlling the movement of personnel, such as security guards, cleaning or postal services, maintenance staff, etc. The Tomst PES is a guard tour product with anti-vandal technology, introduced to protect it from possible damage.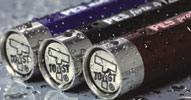 The system consists of a portable electronic sensor with a unique serial number for identification purposes, and an iButton chip containing a unique identification number. The iButton chip can be used to identify a person, place or object. When the PES touches the iButton chip, the sensor reads the identification number of the iButton and also records the exact date and time of the touch, thus providing proof of the location of the employee carrying the PES. The data can be downloaded to an electronic storage device, by a choice of three methods, ie, a data chip, a TMD (USB) adaptor or a D-Point (GSM/GPRS) USB chip, using evaluation software such as Winkontrol 2007.
Depending on its type and design, a PES sensor has a maximum capacity of 14 000 readings. The ergonomically designed sensors, with a mass of 49 g and length 90 mm, provide an easy-to-handle solution for both employers and personnel being monitored.
Further reading:
FaceDepot-7B
Issue 1 2020, ZKTeco , Products
The FaceDepot-7B is an indoor facial recognition station with a slim design and 7-inch display.
Read more...
---
SpeedFace-V5
Issue 1 2020, ZKTeco , Products
The SpeedFace-V5 is a starter facial recognition terminal with a 5-inch touch display, multiple verification options with fingerprint, RFID and facial recognition.
Read more...
---
Walk-through metal detector and turnstile
Issue 1 2020, ZKTeco , Products
The MST150 is a turnstile from ZKTeco, designed with a built-in metal detector which enhances security levels and boosts the efficiency of security checkpoints. By combining inspection and access control, ...
Read more...
---
Duxbury Networking launches Solar Switch
November 2019 , IT infrastructure, Products
Duxbury Networking has launched its Solar Switch with tailored capabilities for applications in less-accessible areas where electricity is not available or not reliable.
Read more...
---
TruVision licence plate cameras
November 2019, UTC Fire & Security SSA , Products, CCTV, Surveillance & Remote Monitoring
TruVision ANPR cameras offer functionality for applications where vehicle access management is required based on licence plate.
Read more...
---
Cable theft detection and alerting system
November 2019, Elvey Security Technologies , Products
Cable theft monitoring and alerting system makes use of Permaconn devices and the Pocket Secure app for real-time alerting.
Read more...
---
IP video intercom system
November 2019, Hikvision South Africa , Products
Hikvision has released its second-generation IP video intercom system designed for door entry communication including video and security access.
Read more...
---
Camera Nest enclosure improves accessibility
November 2019, Elvey Security Technologies , Products
The launch of the South African made Camera Nest fundamentally changes the surveillance mounting and installation method.
Read more...
---
Live vehicle monitoring in estates
November 2019 , Products
The eTrac from BetaTrac allows estates to not only register vehicles as they enter the estate, but track their movements while there.
Read more...
---
Secutel's new bodycam
November 2019, Secutel Technologies , Products
The SecuTraq MP 5 all-in-one bodycam is a workforce tracking and management solution that empowers and protects your workforce.
Read more...
---