printer friendly version
Application security
November 2012
Cyber Security
Despite an array of security tools at their disposal, companies are still under cyber attack and, if one looks at the number of known successful attacks on business data and finances, it seems that the criminals are winning. Of course, in South Africa most of these breaches are not publicised because there is no requirement on the part of the company to acknowledge successful intrusions. This may change in the near future, but the reality is that publicising attacks is not the solution.
Some say that the embarrassment factor once a breach is public will force companies to tighten their digital perimeters as a risk mitigation measure. But then, what do they do about the internal threats from employees who see a vulnerability and decide to 'borrow' some company money to fund their weekend trip to the casino or support their neighbourhood syndicate? Most people in the know will tell you that the prevalence of internal fraud is far higher than external attacks.
The latest South African Cyber Threat Barometer for 2012/13 estimates that R2,65 billion was lost to cyber crime in the period from January 2011 to August 2012, with just over R660 million that was not recovered. To download the barometer for free, please go to www.securitysa.com/*cyberthreat-za (this is a shortened link that will take you to http://www.wolfpackrisk.com/wp-content/uploads/2012/10/SA%202012%20Cyber%20Threat%20Barometer_Hi_res.pdf).
At the recent CA Symposium in Johannesburg, Hi-Tech Security Solutions spoke to Ed Medcalf, regional commercial manager, CA Technologies, about the latest in application security.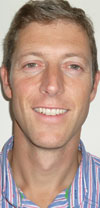 Ed Medcalf
While we all enjoy the technology available today that allows us to access the corporate network and applications from anywhere, using almost any device, the convenience is offset by a reduction in security because the perimeter of the business is now everywhere. If, for example, you log into an application while at the airport and someone watches you type in your password, if that password is your only defence, the watcher can now access whatever you can. Similarly, if you have malware on your mobile device courtesy of a funky app you downloaded, your personal details as well as your access credentials to corporate digital assets are also compromised.
Instead of monitoring data streams and stored data for known malware strings, as most antivirus applications do, Medcalf suggests it is time to monitor the context of application access rather than only the data. Add to this the context of the user's behaviour and the business has a good chance of stopping both internal and external shenanigans.
It is important to remember that a valid user will not need malware to access corporate systems as they are allowed, or even supposed to be there. However, if you know the user's normal behaviour, such as what applications he uses, what authority he has and where he accesses the system from, you can adjust the security protocols to grant access while remaining secure.
Medcalf gives the example of a CFO accessing sensitive data. If the CFO is authenticated and logs on from his office PC, continues with his normal behaviour at the times he usually does his work, he can be granted access transparently. If however, he logs in at midnight from an unknown device, the system can automatically insist on more security to ensure the access is legitimate, or even deny access because it is too risky.
If you are already monitoring the data going through applications, this added layer of security will not add any latency or slow the user at all. Medcalf adds that CA works with customers to set policies to implement this type of application security, looking at variables that make sense to the company, such as the number of times a user requests access, the value of transactions he normally handles, and whether he crosses boundaries like financial ceilings and so forth.
Naturally, application security based on behaviour is only one tool in the arsenal of protection companies need to take to secure their digital assets and bank accounts from internal and external threats.
The security process starts with authenticating users and making sure they have access to what they need to do their jobs. It also includes taking the time to create workable policies that set behavioural limits, such as how much money an individual can authorise for payment and who needs to verify the final payment etc.
It also means controlling access via mobile devices. If the CEO above accesses the network via his Galaxy Tablet and the company knows this device is his and has the relevant security installed, access is granted. If however, it is an unknown device, access can be denied or limited.
In the good old days, digital security was an application you could install and basically forget. Today it has become a craft that requires cooperation across different disciplines within the company, focused on developing a constantly evolving solution.
Credit(s)
Further reading:
Cyber futures in 2020
Issue 1 2020 , Cyber Security
MJ Strydom, managing director of cybersecurity specialist company, DRS, discusses what can be expected in 2020.
Read more...
---
Seven security trends for 2020
Issue 1 2020 , Cyber Security
What challenges await the security professional in 2020? Lukas van der Merwe looks at the trends for the year ahead.
Read more...
---
The instruments for investigation
Issue 1 2020, Technews Publishing , Security Services & Risk Management
Regardless of the reason for investigation, the investigation is only as good as the investigators.
Read more...
---
Security is not a single product solution
Issue 1 2020 , Cyber Security
Adopting a phased approach to security allows companies to develop a layered security posture to help control costs as well as the complexity.
Read more...
---
Do we really want simplicity?
Issue 1 2020, Technews Publishing , News
Everything today has to be simple, easy and fast. Even access to your bank account has to fit these adjectives and banks spend significant time and money trying to ensure their web and mobile interfaces ...
Read more...
---
Security events you can't miss in 2020
Issue 1 2020, Technews Publishing , News
Hi-Tech Security Solutions will host a number of focused events in 2020 to highlight the latest in security technology and the operational benefits they deliver.
Read more...
---
Leaders in risk and security: You have to know it to manage it
Issue 1 2020, Technews Publishing , Security Services & Risk Management
Hi-Tech Security Solutions profiles Nash Lutchman, Senior Vice President and Head of Protection Services at Sibanye-Stillwater.
Read more...
---
Trends 2020
Issue 1 2020, Technews Publishing , Editor's Choice
Hi-Tech Security Solutions asked a few people from diverse companies to join us in a round-table discussion about what they expect to see happening in their environments in the coming year.
Read more...
---
The move to services and RMR
Issue 1 2020, Merchant West, G4S South Africa, Technews Publishing , Integrated Solutions
Project work used to be the staple diet for system integrators, but that was before the services model changed the way businesses buy and use their security systems.
Read more...
---
Slow and steady wins the access race
Issue 1 2020, ZKTeco, Technews Publishing , Editor's Choice, Commercial (Industry)
The commercial sector is slow in migrating to new access control technologies, with the majority of companies remaining with card and fingerprint solutions.
Read more...
---