printer friendly version
Biometric mercy flights
November 2012
Access Control & Identity Management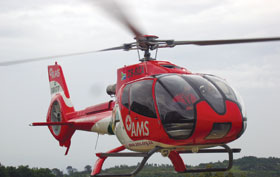 The SA Red Cross Air Mercy Service (AMS) was established in 1966 by the Red Cross Society and provides air ambulance, rural outreach and emergency rescue services to metropolitan areas and remote rural communities via fixed wing aircraft and helicopters. The air ambulance and rescue helicopters are crewed by teams of specially trained pilots, flight paramedics, doctors and rescue specialists.
"In 2009, AMS began building a new office next to its existing premises. The organisation approached Trac-Tech to add an access control system, as well as a time and attendance component to the new building. Trac-Tech installed Virdi biometric readers and the Time Register software with a VIP Payroll Translator for this application," said Trac-Tech sales manager, Marj Valasek.
When AMS completed the renovations of its old premises at the end of 2011, it again approached Trac-Tech to offer a solution for its access control. This involved the installation of Virdi biometric readers at various doors within the renovated area.
Farhaad Haffejee, corporate development manager at AMS, explained that the main reason for instituting an access control system was to restrict the access by unauthorised people into the hangars. "The aircraft need to be ready to fly at a moment's notice and we simply cannot afford to have the possibility of people tampering with them or any components that may be in the hangar. In addition, the system provides our own employees with the assurance of a high level of security."
Haffejee said that it was essential for the installation to take place at the end of 2011 when the annual shutdown takes place at Trac-Tech and they operate with a reduced staff component. "The Trac-Tech team were absolutely amazing. Their willingness to accommodate us over the festive season was beyond the call of duty. The installation began on 21 December 2011 and continued for seven working days."
The buildings, which cover an area of 1000 m², and the 1800 m² hangar, house 100 employees, all of whom are registered on the Trac-Tech system. One of the buildings has eight AC2100 Virdi readers with door accessories; while the other building has nine AC2100 and SR100 (slave) readers as well as one AC2100 reader with door accessories. Two employees from AMS underwent training on the Virdi readers and Trac-Tech software in order to ensure a smooth transition to the system.
"The service and equipment provided by Trac-Tech has been excellent. In addition to being very flexible and knowledgeable in their approach, they offered us a 65% discount on the system cost. This gesture has allowed AMS to take advantage of a system we would otherwise have struggled to afford," said Haffejee. "The professionalism of the installation means that we are able to concentrate on our core business, while our access control system ensures that only authorised people are allowed into the sensitive areas within the buildings and the hangars."
"We maintain the stance that an investment in community plays a major role in the success of the company. We have identified a number of non-profit organisations that we support in a number of ways, as our contribution to corporate social investment," said Valasek. "Trac-Tech began a social responsibility association with AMS in 2007 when we supplied them with an access control system for their offices near Cape Town Airport. Understanding the critical nature of the services that AMS performs, Trac-Tech has maintained a strong relationship with the organisation."
For more information contact Trac-Tech, 0861 100 199, info@trac-tech.co.za, www.trac-tech.co.za
Further reading:
Facial access control for ministry
Issue 1 2020, ZKTeco , Access Control & Identity Management
The Ministry of Culture in Saudi Arabia has adopted ZKTeco's facial recognition technology and fingerprint biometrics to manage access control into its building.
Read more...
---
New Door Pilot app from dormakaba
Issue 1 2020, dormakaba South Africa , Access Control & Identity Management
With new dormakaba Door Pilot, automated doors can also now be operated on the basis of remote control technologies. The system, comprising the Door Pilot app for smartphones and a Wi-Fi interface for ...
Read more...
---
Identity lifestyle
Issue 1 2020, Suprema , Access Control & Identity Management
Once the technology of the future, biometrics has quietly snuck into our daily lives through smartphones and access controls into our places of work.
Read more...
---
Securing BP's new head office
Issue 1 2020, ISF SFP , Access Control & Identity Management
ISF SFP was awarded the contract to secure the first development phase for Oxford Parks, the new head office for BP South Africa.
Read more...
---
Combining aesthetics and access control
Issue 1 2020, Turnstar Systems , Access Control & Identity Management
Prestigious law firm Bowman Gilfillan recently upgraded its physical security with the addition of four Turnstar Speedgate Express access control lanes.
Read more...
---
Video doorbells from Ring
Issue 1 2020 , Access Control & Identity Management
Ring has a number of video doorbells available in South Africa that run off batteries or power and enable users to answer their doors from anywhere.
Read more...
---
Centurion to unveil new product
Issue 1 2020, Centurion Systems , Access Control & Identity Management
Centurion Systems will be hosting its third Access Automation Expo this year, with dates confirmed for Durban, Johannesburg and Cape Town.
Read more...
---
Looking ahead with mobile access technologies
Access & Identity Management Handbook 2020, Technews Publishing, HID Global, dormakaba South Africa, Salto Systems Africa, Suprema, Gallagher , Access Control & Identity Management, Integrated Solutions
Given the broad use of smartphones around the world and the numerous technologies packed into these devices, it was only a matter of time before the access control industry developed technology that would ...
Read more...
---
Mobile access is more secure than card systems
Access & Identity Management Handbook 2020 , Access Control & Identity Management
The ability to use mobile phones as access credentials is one of the biggest trends in a market that historically has been slow in adopting new technology.
Read more...
---
This is the future. This is what we do.
Access & Identity Management Handbook 2020, ZKTeco , Access Control & Identity Management
ZKTeco has created a unique range of visible light facial recognition products combined with a flexible Android platform.
Read more...
---