printer friendly version
Reinforcing supply chain security
November 2012
Access Control & Identity Management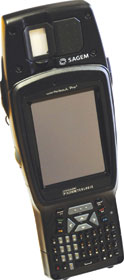 From loading a 6 metre container of goods at Durban docks, right through to placing items on a retailer's shelves in Johannesburg, the security of the entire logistics supply chain is dependent on controlling and tracking who did what, when and where with the goods. Using fingerprint authentications, Ideco supplies activity-based audit solutions that do exactly that.
"It is about using accurate identity data as a business tool," says Jan Huyser of Ideco. "Throughout an entire supply chain, we can digitally link activities with the people who are performing them. For each person in the chain, we can record their activity and then associate that information with a combination of their fingerprint data and other ID details."
Huyser sees the concept of fingerprint-based identity control as being critical within the logistics industry. "We know there is an underlying commonality of identity-related challenges. Being able to positively identify employees and contractors and what they are doing goes a long way to addressing them.
"Using GPRS-enabled mobile biometric terminals, Ideco can accurately manage identity and link this to a diversity of pre-specified and pre-programmed data fields. For example, in addition to recording the identity of a driver and details of his truck, we can capture re-fuelling and weighbridge readings and the identity of the person who entered them. The mobile device can even scan barcodes."
"On the same basis, we can record who cartonised a shipment, who packed it on a truck, who delivered it and who received it at a retailer. And we can do all this on a single handheld device."
In fact, any activity that is currently logged and signed-off as part of supply chain management process can be handled by a single mobile device. To further emphasise the range of data that can be captured by the device, Huyser cites the example of trucks entering and leaving either a central or satellite warehousing and distribution depot. "We can capture the details of the vehicle, tractor, trailers, containers and their seals.
"Having entered this data on the terminal, the driver then enters his own ID number which is automatically verified against his name via a GPRS link to Ideco's secure servers at MTN's data centre. The device can then send an SMS or e-mail notifying pre-specified recipients that the truck has either just arrived or has just left."
Web-based data access and reporting
All data relating to the truck driver's identity and related activities are uploaded in real-time to Ideco's servers. The entire data set can then be accessed through a Web browser, providing a complete, time-based report on every truck entering and leaving the depot.
Huyser points out that the centralised data storage and browser functionality means that multiple business units within the client's organisation can access the information. For example, operations and warehousing staff can use the data for their own, task-specific purposes relating to the arrival and departure of trucks and the containers they are carrying.
Clearly, the primary motivation for using an Applied Identity Control solution from Ideco is to reinforce security and to pro-actively deter and prevent criminality throughout the supply chain.
Huyser says,"Ideco is in the business of using accurate identity authentication as the basis for strengthening the security of all sorts of business transactions. Our experience and skills are in integrating fingerprint technology into identity-reliant systems and processes. We have an aptitude for assisting organisations to leverage the well-established and proven commercial benefits of fingerprint-based authentication.
"By applying rigorous identity controls on a digital, Web-enabled platform across supply chains, at the very least we are targeting reductions in shrinkage and instances of POD queries and claims."
Credit(s)
Further reading:
Facial access control for ministry
Issue 1 2020, ZKTeco , Access Control & Identity Management
The Ministry of Culture in Saudi Arabia has adopted ZKTeco's facial recognition technology and fingerprint biometrics to manage access control into its building.
Read more...
---
New Door Pilot app from dormakaba
Issue 1 2020, dormakaba South Africa , Access Control & Identity Management
With new dormakaba Door Pilot, automated doors can also now be operated on the basis of remote control technologies. The system, comprising the Door Pilot app for smartphones and a Wi-Fi interface for ...
Read more...
---
Identity lifestyle
Issue 1 2020, Suprema , Access Control & Identity Management
Once the technology of the future, biometrics has quietly snuck into our daily lives through smartphones and access controls into our places of work.
Read more...
---
Securing BP's new head office
Issue 1 2020, ISF SFP , Access Control & Identity Management
ISF SFP was awarded the contract to secure the first development phase for Oxford Parks, the new head office for BP South Africa.
Read more...
---
Combining aesthetics and access control
Issue 1 2020, Turnstar Systems , Access Control & Identity Management
Prestigious law firm Bowman Gilfillan recently upgraded its physical security with the addition of four Turnstar Speedgate Express access control lanes.
Read more...
---
Video doorbells from Ring
Issue 1 2020 , Access Control & Identity Management
Ring has a number of video doorbells available in South Africa that run off batteries or power and enable users to answer their doors from anywhere.
Read more...
---
Centurion to unveil new product
Issue 1 2020, Centurion Systems , Access Control & Identity Management
Centurion Systems will be hosting its third Access Automation Expo this year, with dates confirmed for Durban, Johannesburg and Cape Town.
Read more...
---
Looking ahead with mobile access technologies
Access & Identity Management Handbook 2020, Technews Publishing, HID Global, dormakaba South Africa, Salto Systems Africa, Suprema, Gallagher , Access Control & Identity Management, Integrated Solutions
Given the broad use of smartphones around the world and the numerous technologies packed into these devices, it was only a matter of time before the access control industry developed technology that would ...
Read more...
---
Mobile access is more secure than card systems
Access & Identity Management Handbook 2020 , Access Control & Identity Management
The ability to use mobile phones as access credentials is one of the biggest trends in a market that historically has been slow in adopting new technology.
Read more...
---
This is the future. This is what we do.
Access & Identity Management Handbook 2020, ZKTeco , Access Control & Identity Management
ZKTeco has created a unique range of visible light facial recognition products combined with a flexible Android platform.
Read more...
---