printer friendly version
Panoramic views at Shell
November 2012
CCTV, Surveillance & Remote Monitoring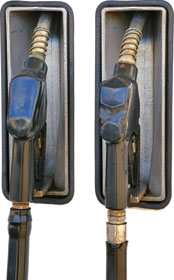 Shell South Africa is a wholly owned Shell subsidiary company. The South African company manages the activities of several affiliates in southern Africa.
Shell is one of the major oil companies in South Africa with extensive marketing and refining assets and a product portfolio that comprises a full range of fuels, lubricants, bitumen, solvents and other chemicals. It has a strong position in the southern African petrol, automotive diesel sectors. It holds a 17,8% market share with over 800 retail sites distributed throughout the region including sites with convenience stores and several highway site locations. One of Shell's latest revamped retail locations is the petrol service station in Kensington, Johannesburg.
Successful planning and construction of a new petrol station involves the cost efficiency of the labour, the structural engineering of the facility, and the safety and security of patrons and employees. With a high probability of incidents in such a heavily trafficked venue, video surveillance is a necessity to accurately monitor daily activities for identification purposes in the event of an incident.
These criteria applied when developing the revamp concept for Shell petrol service station in suburban Johannesburg. The contracting company, together with a South African systems integrator, sought out the most comprehensive and cost-effective security video surveillance solution for the new Shell petrol location.
Megapixel solution
Over the exterior of the new Shell petrol service station are three Arecont Vision's 180-degree panoramic view cameras, a 360 degree panoramic view camera keeps watch over all activities inside the store. The cameras are strategically positioned to offer panoramic views providing the ability to digitally zoom in for a close-up of specific areas of the larger image – such as a person's face or a licence plate number. An additional AV2100 2 megapixel camera is used to monitor activities at the store's cash registers.
The cameras outside the Shell station in Kensington are 8-megapixel, 180-degree panoramic IP network cameras enclosed in 6-inch domes. Each uses four 2-megapixel sensors and provides up to 6400 x 1200 resolution at 22 frames per second (fps). Light sensitivity is 0,2 lux at F2.0, and the cameras provide image cropping and up to four regions of interest. The cameras feature Arecont Vision's megavideo technology, and processes billions of operations per second.
The 360-degree panoramic view megapixel camera's capabilities are similar to the 180-degree panoramic model, except that its eight total megapixels (four 2 megapixel sensors) in a 6-inch dome provide 360-degree coverage. The camera also provides light sensitivity of 0,2 lux at F2.0, and image cropping with up to four regions-of-interest. The 2-megapixel camera deployed at the cash registers employs a 0,5-inch CMOS sensor to provide 1600 x 1200 resolution video at 24 fps, with light sensitivity of 0,1 lux at F1.4. Other features include forensic zooming on archived video, region-of-interest, image cropping and motion detection.
All the cameras are networked to a digital video recorder (DVR) with 6 terabytes of storage, supplied by Envision Surveillance. Wireless transmission of digital images at the station is facilitated by a Nanostation Ethernet Wireless Transmitter from Miro Distribution. The system is monitored locally from a management office on-site.
These cameras picture quality on recorded video is the same as live video providing detailed forensic evidence for presentation in court when required. The panoramic cameras also provide an overall view of the Kensington station that is useful as a management tool for end-user.
The benefit for Shell in Kensington is superior imaging performance, extended facility coverage capabilities and overall ROI. The system has already proven its value by providing positive identification in a situation involving employee pilferage and to positively identify a drunk driver to authorities.
"The Shell Petrol Kensington site represents a new trend in systems design employing megapixel cameras over wireless IP," said Ethan Maxon, Middle East & Africa regional sales manager of Arecont Vision. "We believe the implantation of this system configuration will be the model for similar installations in the future."
For more information contact Arecont Vision, +1 818 937 0485, emaxon@arecontvision.com, www.arecontvision.com
Further reading:
Reinventing network camera security
Issue 1 2020, Axis Communications SA , CCTV, Surveillance & Remote Monitoring
Now in its seventh generation and celebrating its 20th anniversary, the Axis ARTPEC chip was launched in 1999 designed to optimise network video.
Read more...
---
Cloud-based fleet and driver management
Issue 1 2020, Graphic Image Technologies , CCTV, Surveillance & Remote Monitoring
Graphic Image Technologies (GIT) has announced the availability of a cloud-based dashcam designed to improve on-the-road behaviour and assist in improving fleet management.
Read more...
---
Cathexis specialises in integration
Issue 1 2020, Cathexis Technologies , CCTV, Surveillance & Remote Monitoring
The integration of multiple systems is intrinsic and essential to the goal of creating an effective and efficient operational environment.
Read more...
---
Do wireless networks meet modern surveillance demands?
Issue 1 2020, Duxbury Networking, RADWIN , CCTV, Surveillance & Remote Monitoring
It is predicted that video will account for 15,1 zettabytes (1 zettabyte = 1 trillion gigabytes) of data annually, which is more than any other IoT application.
Read more...
---
Traffic doesn't have to be this way
Issue 1 2020, Dahua Technology South Africa, Axis Communications SA , CCTV, Surveillance & Remote Monitoring
More effective traffic management is something that would save us all a lot of frustration and wasted time, and it's one of the areas where AI and big data can have a significant impact.
Read more...
---
Dahua launches Hunter Series
Issue 1 2020, Dahua Technology South Africa , CCTV, Surveillance & Remote Monitoring
Dahua launches a new dual-PTZ camera that enables flexible and multi-scene panoramic monitoring.
Read more...
---
8 MP fisheye camera
Issue 1 2020, Dallmeier Electronic Southern Africa , CCTV, Surveillance & Remote Monitoring
Dallmeier's new 8 MP fisheye camera combines AI-supported object classification and H.265 in a compact design.
Read more...
---
Using ANPR to enhance security
Issue 1 2020, Duxbury Networking , CCTV, Surveillance & Remote Monitoring
Deep learning and AI-based algorithms enable ANPR cameras and their associated software to detect and recognise number plates with an extremely high level of accuracy.
Read more...
---
AI supercharges surveillance
Issue 1 2020 , CCTV, Surveillance & Remote Monitoring
The ability to analyse live video through AI techniques means that untapped footage from existing, passive cameras can be used to identify patterns, trends and anomalies.
Read more...
---
IDIS launches new cameras with on-board analytics
Issue 1 2020 , CCTV, Surveillance & Remote Monitoring
IDIS has launched a lineup of Edge VA bullet and dome cameras, featuring on-board analytics that will transform the efficiency of security operations.
Read more...
---