printer friendly version
Add-on video analytics
November 2012
Products
Making motion detection easy and exceptionally reliable
Geutebrück's G-Tect/VMX is a new video motion detection solution for professional use which is both extremely quick to set up and exceptionally reliable. It not only detects movement, but differentiates between potentially relevant moving objects and background changes. G-Tect/VMX continuously analyses and evaluates all picture contents, and regularly adjusts its understanding of the background. Thanks to the latest smart algorithms which continually adapt to the current image contents, G-Tect/VMX offers unprecedented accuracy at suppressing unwanted alarms caused by systematically occurring environmental effects such as moving foliage, rain, snow or headlights. It recognises these image changes resulting from weather as a systematically occurring background changes and therefore tolerates them.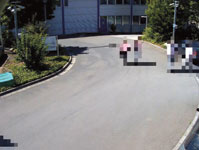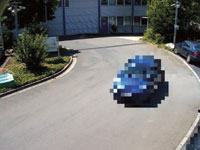 Setting up a sterile zone where any intruder triggers an alarm is a simple mouse-clicking operation. Configuring direction-dependent detection for a zone is quick and easy too. You can then copy settings across to other alarm zones and cameras with similar site conditions, for example to set up a series of cameras to monitor a fence. Finally, there is a single intuitive global sensitivity control to optimise all the settings. This minimalist design approach to system settings slashes the time required for system installation and makes it predictable.
G-Tect/VMX is designed for seamless integration in the Geutebrück system world and comes with licence-free activation of Geutebrück's classic VMD detector, to enable legendary dual sensor operation and the best possible protection of critical areas.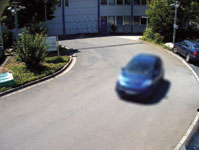 Masking moving image content
G-Tect/MoP is a new motion privacy (MoP) function which pixelates moving objects in live displays or in already archived image data. This Geutebrück innovation provides an additional data protection safeguard by reliably maintaining individual privacy when monitoring sensitive public areas.
The masking allows observers to identify any relevant incidents and to follow events in the scene in some detail but prevents them from recognising the identity of individual people or objects. Operators with appropriate system user rights can still access original unpixelated video for investigating important details in critical surveillance situations, and un-masked video can still be made available for evidential purposes.
For more information contact Geutebrück, +27 (0)11 867 6585,  charles@geutebruck.co.za,  www.geutebrueck.com
Further reading:
FaceDepot-7B
Issue 1 2020, ZKTeco , Products
The FaceDepot-7B is an indoor facial recognition station with a slim design and 7-inch display.
Read more...
---
SpeedFace-V5
Issue 1 2020, ZKTeco , Products
The SpeedFace-V5 is a starter facial recognition terminal with a 5-inch touch display, multiple verification options with fingerprint, RFID and facial recognition.
Read more...
---
Walk-through metal detector and turnstile
Issue 1 2020, ZKTeco , Products
The MST150 is a turnstile from ZKTeco, designed with a built-in metal detector which enhances security levels and boosts the efficiency of security checkpoints. By combining inspection and access control, ...
Read more...
---
Duxbury Networking launches Solar Switch
November 2019 , IT infrastructure, Products
Duxbury Networking has launched its Solar Switch with tailored capabilities for applications in less-accessible areas where electricity is not available or not reliable.
Read more...
---
TruVision licence plate cameras
November 2019, UTC Fire & Security SSA , Products, CCTV, Surveillance & Remote Monitoring
TruVision ANPR cameras offer functionality for applications where vehicle access management is required based on licence plate.
Read more...
---
Cable theft detection and alerting system
November 2019, Elvey Security Technologies , Products
Cable theft monitoring and alerting system makes use of Permaconn devices and the Pocket Secure app for real-time alerting.
Read more...
---
IP video intercom system
November 2019, Hikvision South Africa , Products
Hikvision has released its second-generation IP video intercom system designed for door entry communication including video and security access.
Read more...
---
Camera Nest enclosure improves accessibility
November 2019, Elvey Security Technologies , Products
The launch of the South African made Camera Nest fundamentally changes the surveillance mounting and installation method.
Read more...
---
Live vehicle monitoring in estates
November 2019 , Products
The eTrac from BetaTrac allows estates to not only register vehicles as they enter the estate, but track their movements while there.
Read more...
---
Secutel's new bodycam
November 2019, Secutel Technologies , Products
The SecuTraq MP 5 all-in-one bodycam is a workforce tracking and management solution that empowers and protects your workforce.
Read more...
---