printer friendly version
Low-bandwidth surveillance on the move
November 2012 CCTV, Surveillance & Remote Monitoring, Transport (Industry)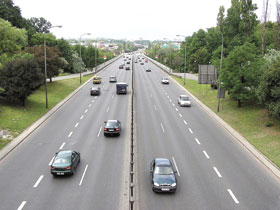 Crack down on goods-in-transit heists with live proactive mobile monitoring and surveillance.
Transporting goods, particularly high value consumer goods, has become an increasingly dangerous task in South Africa. Crime syndicates are known for targeting goods-in-transit vehicles, and theft of cargo has become a major issue for logistics companies.
The challenge with this is that these crimes usually occur when goods are 'on the move'. Technology, however, is the answer with live remote video monitoring solutions, designed specifically for the transportation sector that makes use of bandwidth optimisation.
These specialised solutions create a live video connection, enabling logistics and security organisations to keep a close eye on vehicles in the event of an emergency. By having the units enabled with GPS and bio-directional audio, control rooms are able to pinpoint vehicle location as well as view live video anywhere where there is cellular data coverage. This allows controllers to identify risky situations, and a host of other features enable a more proactive approach to protecting important assets, goods and people.
With an effective proactive monitoring and surveillance solution, transport and security companies can take advantage of several benefits. Live monitoring provides an accurate visual of the current location of the vehicles and their environment. If faced with a dangerous situation or threat, live video monitoring allows the control room to take action quickly. It enables fast and easy location of the trucks.
As time to respond is crucial with conviction of perpetrators, this technology significantly improves the opportunity to apprehend the perpetrators and recovery of goods. Live video streaming also enables better contact with drivers out in the field, and with a full monitoring and surveillance solution, can trigger alarms and live video feeds automatically with events such as the unauthorised opening of cargo doors, acting as a panic button for drivers in distress, automatically alerting control room operators to the event in the field.
These benefits are well understood, and the idea of mobile surveillance in the transport sector is not a new concept; however, it has been hindered by bandwidth issues and due to this, solutions have not delivered as expected. Streaming video typically requires large amounts of bandwidth, which becomes costly, and also relies on vehicles remaining within 3G coverage areas. When vehicles leave these areas, generally metropolitan hubs, most solutions are unable to continue streaming live video feeds. This leaves vehicles vulnerable and has limited the uptake and success of mobile surveillance and monitoring in the transportation sector.
Despite improvements with infrastructure and bandwidth availability in South Africa, the cost of bandwidth access has decreased. However, it remains costly and the 3G coverage is still an issue. In order for mobile surveillance solutions to provide constant video streaming footage, which is imperative for delivering the surveillance and extra security needed to curb theft in this sector, mobile digital video recorders (DVRs) need to work outside of 3G coverage areas, using EDGE and even GPRS. Live monitoring solutions should stream live video at reasonable quality over low bandwidth from any vehicle anywhere in the country. This requires sophisticated compression technology.
To ensure maximum benefit can be derived from live monitoring and surveillance solutions, there are several criteria that security and logistics companies should look for. The first is the ability to transmit high quality video footage over low bandwidth, from GPRS through to 3G coverage areas. Secondly, given today's increasingly mobile world, users should be able to access and view remote footage, both live and recorded, from client applications on a variety of devices, including PCs and notebooks, tablets and smartphones. Other features include the ability to integrate activation sensors and event detection, event notifications, and functionality to not only stream video, but record it onboard.
Cracking down on crimes such as goods-in-transit heists requires intelligent use of appropriate technology solutions, enabling a more proactive approach and provides evidence for law enforcement during and after the event. Live streaming and surveillance that delivers outside of 3G coverage areas enables security and logistics companies to offer more comprehensive protection and to retain improved control, protecting trucks, goods and people from crime syndicates.
For more information contact Graphic Image Technologies, +27 (0)11 483 0333, markc@git.co.za, www.git.co.za
Credit(s)
Further reading:
Reinventing network camera security
Issue 1 2020, Axis Communications SA , CCTV, Surveillance & Remote Monitoring
Now in its seventh generation and celebrating its 20th anniversary, the Axis ARTPEC chip was launched in 1999 designed to optimise network video.
Read more...
---
Cloud-based fleet and driver management
Issue 1 2020, Graphic Image Technologies , CCTV, Surveillance & Remote Monitoring
Graphic Image Technologies (GIT) has announced the availability of a cloud-based dashcam designed to improve on-the-road behaviour and assist in improving fleet management.
Read more...
---
Cathexis specialises in integration
Issue 1 2020, Cathexis Technologies , CCTV, Surveillance & Remote Monitoring
The integration of multiple systems is intrinsic and essential to the goal of creating an effective and efficient operational environment.
Read more...
---
Do wireless networks meet modern surveillance demands?
Issue 1 2020, Duxbury Networking, RADWIN , CCTV, Surveillance & Remote Monitoring
It is predicted that video will account for 15,1 zettabytes (1 zettabyte = 1 trillion gigabytes) of data annually, which is more than any other IoT application.
Read more...
---
Traffic doesn't have to be this way
Issue 1 2020, Dahua Technology South Africa, Axis Communications SA , CCTV, Surveillance & Remote Monitoring
More effective traffic management is something that would save us all a lot of frustration and wasted time, and it's one of the areas where AI and big data can have a significant impact.
Read more...
---
Dahua launches Hunter Series
Issue 1 2020, Dahua Technology South Africa , CCTV, Surveillance & Remote Monitoring
Dahua launches a new dual-PTZ camera that enables flexible and multi-scene panoramic monitoring.
Read more...
---
8 MP fisheye camera
Issue 1 2020, Dallmeier Electronic Southern Africa , CCTV, Surveillance & Remote Monitoring
Dallmeier's new 8 MP fisheye camera combines AI-supported object classification and H.265 in a compact design.
Read more...
---
Using ANPR to enhance security
Issue 1 2020, Duxbury Networking , CCTV, Surveillance & Remote Monitoring
Deep learning and AI-based algorithms enable ANPR cameras and their associated software to detect and recognise number plates with an extremely high level of accuracy.
Read more...
---
AI supercharges surveillance
Issue 1 2020 , CCTV, Surveillance & Remote Monitoring
The ability to analyse live video through AI techniques means that untapped footage from existing, passive cameras can be used to identify patterns, trends and anomalies.
Read more...
---
IDIS launches new cameras with on-board analytics
Issue 1 2020 , CCTV, Surveillance & Remote Monitoring
IDIS has launched a lineup of Edge VA bullet and dome cameras, featuring on-board analytics that will transform the efficiency of security operations.
Read more...
---