printer friendly version
Convergence of IT and video surveillance
November 2012 Integrated Solutions, Retail (Industry)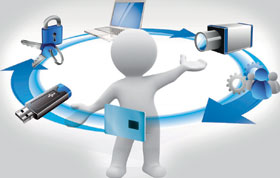 Proprietary is so yesterday, today it is all about convergence: As systems become more open and interface standards evolve, the lines between logical and physical security systems are becoming increasingly blurred. These days, by combining IT security and physical building security as well as networking security systems with operational IT applications, it is possible to create comprehensive concepts to address every possible aspect of corporate security.
Video systems are used for traditional surveillance tasks, and thus help to ensure security, serve as a deterrent, and for investigating incidents of theft, burglary or vandalism. With intelligent video analysis, suspicious situations can be detected automatically and security personnel alerted to the specific circumstances (eg, a suitcase left unsupervised on a railway station platform), and they offer many other possibilities, such as counting vehicles and people.
But even these traditional functions of video security are far surpassed by the options that become available with a network-based video system. Nowadays, with open platforms and interface standards it is easy to integrate IP video in third-party systems and create yet further added value as a host of new application opportunities are revealed. In particular, video systems are often integrated in IT security systems or operational IT applications.
Total corporate security
As a result of the latest technological developments, the disciplines of video security and IT are becoming more and more closely entwined. For example, the proprietary CCTV installations are becoming open systems, which not only make it easier for the IP-based security systems of different manufacturers to interact, now they are also being integrated in IT security systems.
The most significant factor in this trend has been the development of standardised interfaces, for example the Open Network Video Interface Forum (ONVIF). The declared intention of ONVIF is to establish a global interface standard for network video products. This enables devices from an enormous variety of manufacturers to be used together in a system. But besides this, ONVIF also facilitates the integration of video components in other systems, such as IT security systems, access control, fire protection, cash register systems and much more.
What this interconnection may look like is illustrated vividly by the convergence area – a development community that is working actively to remove the boundaries between individual logical and physical security systems and create a concept for total corporate security: from identity management to sophisticated access control mechanisms and even on-demand video surveillance.
An important component of such corporate security is the video system by Dallmeier. The video system can be integrated seamlessly in the overall solution. Video monitoring is triggered on-demand by the other IT system components: for example, if the access control system reports activity at one of the doors, or if a high-security server with sensitive data reports suspicious activity, the live images that are being captured are automatically recorded.
In this way, the video system is networked with other components, such as central identity management system or an access control and ID management system. At the same time, the identity management system initiates the creation of a range of access rights in the other IT systems, and transfers the necessary data to the convergence solution. Multifunctional ID badges fulfil the role of visual proof, access control, time logging and IT access. Thus, an employee can only log onto his computer if he is also registered as being physically present in the corresponding building area, that is to say, his ID card has been registered at the door.
Besides serving as an automatic verification of presence when sensitive data is accessed and ID-based release of documents at printers, many other security mechanisms can also be implemented. Video surveillance is also an important tool in redundant visual controls and is activated as necessary by the upstream IT system components.
Added value for customers
One of the most important beneficiaries of this merging of the video and IT disciplines is the customer, with the development of integrated industry-specific solutions. For example, video systems linked to cash register data are used widely in the retail industry, enabling video images to be searched according to many different criteria. In logistics, the latest video-RFID integrations add considerable value in questions surrounding process optimisation and documentation of the transfer of risk.
And here too, the video images are linked with the data of the respective other system, for example with data from a check-out operation. So, if irregularities are detected in the business process, this data too can be used to search the recorded video images without having to know the exact time when the incident took place. In this way, video systems are evolving increasingly into information systems with added value, and are also supporting and optimising business processes.
For more information contact Dallmeier electronic Southern Africa Office, +27 (0)11 979 4540, dallmeiersa@dallmeier.com, www.dallmeier.com
Further reading:
Building a nervous system for smart cities
Issue 1 2020, Pinnacle Instruments SA , Integrated Solutions
Build a central nervous system for smart cities, by employing real-time situation reporting and analysis that unites the powers of cloud computing, AI, IoT and big data.
Read more...
---
The secret to 5G security? Turn the network into a sensor
Issue 1 2020 , Integrated Solutions
We are about to make the leap from being a civilisation that uses networks to one that runs on them in a fundamental and inextricable way.
Read more...
---
The move to services and RMR
Issue 1 2020, Merchant West, G4S South Africa, Technews Publishing , Integrated Solutions
Project work used to be the staple diet for system integrators, but that was before the services model changed the way businesses buy and use their security systems.
Read more...
---
Global security industry adopts servistisation models
Issue 1 2020 , Integrated Solutions
New as-a-service business models are gaining traction because they reduce capital expenditure and cost of ownership, finds Frost & Sullivan.
Read more...
---
Looking ahead with mobile access technologies
Access & Identity Management Handbook 2020, Technews Publishing, HID Global, dormakaba South Africa, Salto Systems Africa, Suprema, Gallagher , Access Control & Identity Management, Integrated Solutions
Given the broad use of smartphones around the world and the numerous technologies packed into these devices, it was only a matter of time before the access control industry developed technology that would ...
Read more...
---
Scalable access solution
Access & Identity Management Handbook 2020 , Access Control & Identity Management, Integrated Solutions
Bosch Building Technologies makes access management simple, scalable and always available with Access Management System 2.0.
Read more...
---
Securing perimeters of secure locations
November 2019, Axis Communications SA, Modular Communications, Hikvision South Africa, Nemtek Electric Fencing Products, Technews Publishing, Stafix , Government and Parastatal (Industry), Perimeter Security, Alarms & Intruder Detection, Integrated Solutions
Hi-Tech Security Solutions asked a number of companies offering perimeter security solutions for their insights into protecting the boundaries of national key points.
Read more...
---
The safe city and its need for interoperability
November 2019 , Integrated Solutions, CCTV, Surveillance & Remote Monitoring
Interoperability continues to present one of the greatest challenges, particularly with video management systems, video recording devices and cameras.
Read more...
---
Analytics-driven solutions for smart infrastructure
November 2019, Bosch Building Technologies , Integrated Solutions
Video analytics technology can bring intelligence to infrastructure by delivering solutions for traffic flow, improved safety, smart parking, and data collection.
Read more...
---
Ten compliance trends in financial institutions
November 2019 , Security Services & Risk Management, Retail (Industry)
Regulatory reporting has grown in profile over the last number of years, with more budget and more employees dedicated to compliance activities than ever before.
Read more...
---