printer friendly version
Reditron redefines the concept of added value
November 2012
News
Following the management buyout of Norbain SA and its rebranding back to the Reditron name, Hi-Tech Security Solutions sat down with Reditron's CEO, Jan De Lange, to talk about what changes the company has implemented to continue success story in the South African security market.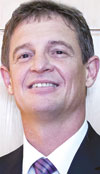 Jan De Lange
Starting out, De Lange says Reditron was in an enviable position as it took over a respected, going concern with a great staff complement when buying Norbain SA. The first challenge the company had to overcome was therefore not finding new customers, but putting the business into a position from which it would be able to leapfrog the traditional security distributors and offer more value to clients.
"There are many distributors in this market and most view themselves as value-added partners," De Lange says. "We understand that to succeed in the future we need to redefine what added value is and make sure we deliver value to our customers in every aspect of their relationship with us. Value today means more than quality products at low prices."
One area in which Reditron will differentiate itself is in the training it provides to clients. De Lange says the company is continually watching the market to understand what the end users require, what is available and devising ways in which it can help its channel.
"This requires more than just technical training," he explains. "We are focused on helping our channel deliver better service to their customers while reducing the costs involved. We can do this by offering solutions that allow for quicker, simpler installations using less material, but still delivering the quality the end customer wants."
Reditron will also be promoting its Rediview surveillance camera product line that will offer customers a quality product with a more flexible way of installing both IP and analogue cameras. The products have been designed to make it cheaper and easier to install, saving the installer money and time, while not reducing the quality of the service the cameras deliver.
Another area the company will focus on is allowing users to make better use of their copper cables to obtain high-definition images. New analogue technology, such as HD-SDI, allows users to upgrade their cameras without having to install new IP networks, while still gaining full HD video.
Reorganisation
The company has reorganised its structure to better serve customers and to meet specific governance requirements. The process was completed without any retrenchments, although a few staff members were promoted into new positions and a staff shareholding scheme was launched.
One of the benefits of the new organisational structure is that Reditron is in a better position to expand its operations into Africa. A new company, Reditron Africa has been formed and a new MD has being appointed to establish the brand throughout Africa.
De Lange says Reditron Africa will start serving the southern African region initially before pushing up into west and east Africa over time.
"Being a privately owned and funded company means we have been able to move quickly and make the changes in record time," notes De Lange. "Our primary goal is to make it easy to do business with Reditron and we will be launching an e-catalogue in the near future to enable our channel customers to purchase their equipment online.
"It is all about service. Our COO, Les Oates, a Reditron veteran, has been tasked with improving the service levels throughout the customer lifecycle on an ongoing basis. Whichever route customers choose to interact with us, they can be assured of the best service and support. Reditron is redefining the concept of added value in the security distribution market to ensure we keep ahead of the competition for years to come."
For more information contact Reditron, 087 802 CCTV (2288), marketing@reditron.co.za, www.reditron.co.za
Credit(s)
Further reading:
Online fleet management system
Issue 1 2020 , News
Fleet Domain's online Fleet Management Information System is reducing operating costs and improving safety for South African logistics firms.
Read more...
---
Digital insurance bundle for assets and devices
Issue 1 2020 , News
My CyberCare is a specialist provider of personal, and SMME online cyber insurance, cyber detection and cyber monitoring solutions for both local and global consumption.
Read more...
---
IDEMIA to supply Morocco's national electronic ID cards
Issue 1 2020, IDEMIA , News
IDEMIA will supply Morocco with national electronic ID cards and introduce a secured digital identity online services platform.
Read more...
---
Rockwell Automation to acquire Avnet
Issue 1 2020, Rockwell Automation , News
Rockwell Automation announced it has signed an agreement to acquire privately held Avnet Data Security, an Israeli-based cybersecurity provider with over 20 years' experience providing cybersecurity services.
Read more...
---
The instruments for investigation
Issue 1 2020, Technews Publishing , Security Services & Risk Management
Regardless of the reason for investigation, the investigation is only as good as the investigators.
Read more...
---
Do we really want simplicity?
Issue 1 2020, Technews Publishing , News
Everything today has to be simple, easy and fast. Even access to your bank account has to fit these adjectives and banks spend significant time and money trying to ensure their web and mobile interfaces ...
Read more...
---
Longse Distribution to become LD Africa
Issue 1 2020, LD Africa , News
Brendon Whelan, sales manager for Longse Distribution, announced that the company officially changed its name to LD Africa as of 20 January 2020.
Read more...
---
Three expos in one
Issue 1 2020 , News
Looking ahead to 2020 Vision: combined Securex South Africa, A-OSH EXPO and Facilities Management Expo 2020 promises to be even bigger and better.
Read more...
---
Security events you can't miss in 2020
Issue 1 2020, Technews Publishing , News
Hi-Tech Security Solutions will host a number of focused events in 2020 to highlight the latest in security technology and the operational benefits they deliver.
Read more...
---
David Shapiro to chair ESDA
Issue 1 2020, ESDA (Electronic Security Distributors Association , News
The Electronic Security Distributors' Association (ESDA), established in 1989, has elected David Shapiro as its chairperson for 2020.
Read more...
---