printer friendly version
Appointments
November 2012
News
HP appoints new HP Enterprise Security product sales manager

Lorna Hardie
HP has announced the appointment of Lorna Hardie as the HP enterprise security product (ESP) sales manager for South Africa and Africa.
"Lorna will be working closely with the pre-sales and respective software teams, and more specifically with Clive Brindley, the HP Software country manager for South Africa," says Frank van Rees, MD, HP South Africa. "Together, their goal is to ensure success for HP ESP and that the local market benefits from the sound experience and offering we can bring."
HP's Enterprise Security Solutions Portfolio comprises the combination of solutions encompassing over 160 products and services from HP ArcSight, Tipping Point and Fortify.
Hardie is a veteran at HP, having worked for the company for over 12 years. She brings with her a diverse and extensive career including managing the Imaging and Printing Division for English Africa, and Channel for Southern Africa. She also served as HP Networking country manager for South Africa, and more recently global account executive responsible for Nedbank and MTN South Africa.
Thompson appointed to SAIDSA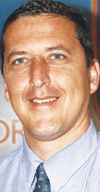 Shane Thompson
Shane Thompson, operations manager of the Domestic Alarm Division, Enforce Security Services has been voted onto the KZN coastal regional committee of SAIDSA (the South Africa Intruder Detection Services Association). Thompson was born and raised in Durban. He matriculated from New Forest High and later spent 12 years serving in the South African police services. In his spare time he plays soccer, a sport he has been playing since the age of 6. He is married and has an 8-year old son.
Hotti sales manager at Centurion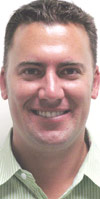 Michael Hotti
Centurion Systems has appointed Michael Hotti as head office sales manager. No stranger to the world of commerce, Hotti holds a BSc in Industrial Operation Management (with an emphasis on industrial engineering) from the North-Eastern State University in Oklahoma and has extensive experience in commercial architecture and project management, as well as key account management.
He will be overseeing the management and organisation of Centurion's head office sales department, frequently liaising with customers as well as heading up promotion and marketing in his new capacity as sales manager.
Brand New Technologies appoints new sales executive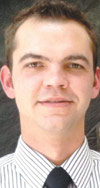 Etienne Basson
Brand New Technologies has announced the appointment of Etienne Basson as its new sales executive. He will be focused on identity management solutions and will serve various key roles in the business ranging from new business development, account management to bid management.
Basson started his career in the information technology sector and gained experience as lecturer, marketer, and business administrator. He became involved with enterprise IT system migrations in the international aviation sector. He gained international trade experience working in the imports and exports sector focused primarily on international banking. He was then invited to focus his efforts on managing the manufacturing of biometrically enabled IT systems for a government project. Basson joined a renewable energy development team and managed project finance, electrical engineering and procurement resources for a renewable energy project which was approved by government.
New regional MD roles for ADT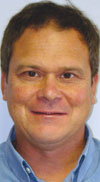 Clive Humphrey
As part of ADT's organisational transformation, Clive Humphrey has been appointed regional MD, Central Region for ADT South Africa. Humphrey has been with ADT since 2007 and has numerous years of management experience both from within and outside of the security industry. He also has training and experience in human resources, organisational development and industrial studies. He was previously MD of the Northern Region. In his new position he will be responsible for the continued focus and drive for growth across ADT's central region.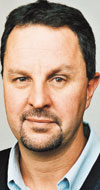 Mike Kidson
Mike Kidson has been appointed as regional MD, Northern Region for ADT South Africa. Kidson has been with ADT since 1998 and draws from almost 14 years of management experience through his previous roles as head of department for technical and community security services in the Central Region and most recently as GM for Operations in that region. Kidson's technical background as well as his experience within the community security space positions him well to formulate both growth and defensive strategies in his new position.
New appointment at Enforce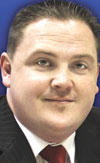 Jayson Weideman
Jayson Weideman has been appointed national sales and marketing manager, Electronics Division, Enforce Security Services.
Smith joins Centurion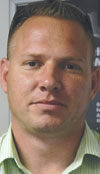 Walter Smith
Walter Smith has recently joined the ranks of Centurion Systems in the position of external sales representative responsible for servicing Johannesburg's East Rand and surrounds, as well as the south. His duties will include paying regular visits to existing Centurion clients, establishing relationships with potential clients, and assisting with internal sales and training at Centurion's Jet Park branch.
An East Rand native, Walter has been active in the security industry for the past 11 years, first having cut his teeth as an installer of automation, security and surveillance equipment and graduating to a distributorship/reseller arena.
Olivier counts for Comb

Gina Olivier
Gina Olivier has joined Comb Communications as bookkeeper. She has put in a great deal of dedicated effort and is striving to maintain 100% accuracy and transparency in the company's accounting system.
Marais GM for Comb

Siska Marais
Siska Marais has been promoted to general manager for Comb Communications. Her appointment will add value to the company, which believes her work ethic, capability and integrity will be an example and inspiration to all members of the team.
Further reading:
Online fleet management system
Issue 1 2020 , News
Fleet Domain's online Fleet Management Information System is reducing operating costs and improving safety for South African logistics firms.
Read more...
---
Digital insurance bundle for assets and devices
Issue 1 2020 , News
My CyberCare is a specialist provider of personal, and SMME online cyber insurance, cyber detection and cyber monitoring solutions for both local and global consumption.
Read more...
---
IDEMIA to supply Morocco's national electronic ID cards
Issue 1 2020, IDEMIA , News
IDEMIA will supply Morocco with national electronic ID cards and introduce a secured digital identity online services platform.
Read more...
---
Rockwell Automation to acquire Avnet
Issue 1 2020, Rockwell Automation , News
Rockwell Automation announced it has signed an agreement to acquire privately held Avnet Data Security, an Israeli-based cybersecurity provider with over 20 years' experience providing cybersecurity services.
Read more...
---
Do we really want simplicity?
Issue 1 2020, Technews Publishing , News
Everything today has to be simple, easy and fast. Even access to your bank account has to fit these adjectives and banks spend significant time and money trying to ensure their web and mobile interfaces ...
Read more...
---
Longse Distribution to become LD Africa
Issue 1 2020, LD Africa , News
Brendon Whelan, sales manager for Longse Distribution, announced that the company officially changed its name to LD Africa as of 20 January 2020.
Read more...
---
Three expos in one
Issue 1 2020 , News
Looking ahead to 2020 Vision: combined Securex South Africa, A-OSH EXPO and Facilities Management Expo 2020 promises to be even bigger and better.
Read more...
---
Security events you can't miss in 2020
Issue 1 2020, Technews Publishing , News
Hi-Tech Security Solutions will host a number of focused events in 2020 to highlight the latest in security technology and the operational benefits they deliver.
Read more...
---
David Shapiro to chair ESDA
Issue 1 2020, ESDA (Electronic Security Distributors Association , News
The Electronic Security Distributors' Association (ESDA), established in 1989, has elected David Shapiro as its chairperson for 2020.
Read more...
---
Dimension Data debuts fifth business
Issue 1 2020 , News
Dimension Data has launched its fifth business in the MEA region, Dimension Data Security, aimed at helping organisations in the region address the challenges of today's rapidly evolving threat landscape.
Read more...
---