printer friendly version
Hemispheric camera with video analysis tool
October 2012 CCTV, Surveillance & Remote Monitoring, Products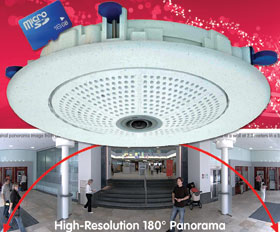 The Mobotix Q24M-Sec hemispheric camera, which can capture an entire room with no blind spots, now includes the integrated MxAnalytics video analysis tool. MxAnalytics is a tool for process optimisation or marketing purposes and can be used in small retail stores as well as in public buildings such as museums or airports.
Heat map
Which shelves in the shop are attracting the most customers? Which products at the exhibition booth hold the attention of the visitors most? Which waiting areas in the departure hall are preferred on Mondays between 8 am and 12 pm.? MxAnalytics makes it possible to capture and evaluate the movement of people or objects in the live image. The most frequented areas are highlighted in colour on a heat map. The areas with the most movement are displayed in red, and those with little movement in blue.
Counting lines
Using counting lines to count people and objects and generate observation data is a valuable tool. How many people pass by a specific entrance in an hour or a day? And what direction were they coming from? The results of the video motion analysis can be saved as daily, weekly or monthly reports in a table and exported via various interfaces. Whether via Web, e-mail or as a MxControlCenter prompt, the reports are automatically collected in the camera and can be easily accessed or sent at any time. This can take place automatically and individually for any number of addressees.
Reduce costs
In addition to the count feature, the analysis of statistical behaviour data makes an essential contribution to process optimisation, thus further reducing costs.
Mobotix cameras like the Q24M differ from most traditional video systems thanks to their decentralised system architecture. Each camera includes a high-speed computer with long-term memory. It is no longer necessary to use a computer or server to record or analyse image material. Video analysis takes place in the camera, without network load. This reduces total costs and maintains the system's high performance. MxAnalytics is available free of charge with the latest firmware V.4.1.4.11 and from the Mobotix website with no usage restrictions. It can also be easily integrated into all older Q24M-Sec models via software update.
The new release (2.5.2) of the free MxControlCenter video management software supports MxAnalytics. This allows evaluating the results from different cameras in a more convenient manner. The update enables the configuration of MxAnalytics on a Q24M camera and subsequent analysis of the created and stored data. MxControlCenter 2.5.2 can be downloaded free of charge from the Mobotix Web site.
Mobotix is continuing to develop MxAnalytics for image data processing inside the camera for the Q24 initially. The camera needs little maintenance and can be discreetly integrated into any environment thanks to its elegant design and compact size. The next step will be the integration into further Mobotix camera models.
For more information, contact Raine Sadie, IAC, +27 (0)12 657 3600, raine@iacontrol.co.za
Credit(s)
Further reading:
Drones and cybersecurity?
October 2019 , CCTV, Surveillance & Remote Monitoring
Hacker drones can eavesdrop electronically on conversations, can perform network attacks, or can create fake wireless access points.
Read more...
---
The importance of XDR for cyber protection
October 2019 , Cyber Security, Products
35% of South African organisations are expecting an imminent cyberattack and a further 31% are bracing for it to happen within a year, according to local research conducted by Trend Micro.
Read more...
---
Body-worn cameras transforming security
October 2019 , CCTV, Surveillance & Remote Monitoring, Security Services & Risk Management
Police Service Northern Ireland now has over 7 000 officers using 2 500 cameras covering approximately 173 000 incidents each year.
Read more...
---
Camera Selection Guide 2019
CCTV Handbook 2019 , CCTV, Surveillance & Remote Monitoring
The Camera Selection Guide 2019 includes a range of IP, analogue, thermal and speciality cameras aimed at a broad range of surveillance functions.
Read more...
---
Intelligent analytics and the brains to match
September 2019, Bosch Building Technologies , CCTV, Surveillance & Remote Monitoring, Integrated Solutions
What if the brains behind our security cameras could be trained to improve their cognitive ability to pay attention, learn, and problem-solve according to specific rules and situations?
Read more...
---
AI-powered autonomous Drone-in-a-Box
September 2019 , CCTV, Surveillance & Remote Monitoring, Integrated Solutions
Organisations in the mining, energy and industrial, oil and gas, ports and terminals sectors can optimise security and business operations, whilst reducing risks and operational costs
Read more...
---
Cybersecurity for video surveillance systems
September 2019, Mobotix , Cyber Security, CCTV, Surveillance & Remote Monitoring
Video surveillance systems are increasingly accessible over any IP network, which has led to the rise of potential cyberattack.
Read more...
---
What are the cybersecurity issues in video surveillance?
November 2019, Axis Communications SA , Editor's Choice, CCTV, Surveillance & Remote Monitoring, Cyber Security
he importance of the data captured by surveillance cameras – and what can be done with it – has led to a new breed of cybercriminals, looking for insights to steal and sell.
Read more...
---
The safe city and its need for interoperability
November 2019 , Integrated Solutions, CCTV, Surveillance & Remote Monitoring
Interoperability continues to present one of the greatest challenges, particularly with video management systems, video recording devices and cameras.
Read more...
---
A platform approach to safer and smarter cities
November 2019, Milestone Systems , CCTV, Surveillance & Remote Monitoring
Selecting the right platform to manage the vast data collected from smart and safe cities is critical to the ultimate success of the project.
Read more...
---