printer friendly version
Safety first in new University of Cape Town residence
September 2012
Fire & Safety
A new integrated fire and security protection system now ensures the safety of residents and visitors on the premises of a new University of Cape Town residence.
Early in 2012, Obz Square opened its doors to students – a mixed-gender residence – offering accommodation for up to 990 students in independent single en suite rooms. Special features of this 7-storey building on the Main Road, Observatory, include female-only floors and highly specialised electronic systems that enable universal access for the disabled.
Primary contractor, Neil Muller Construction, moved onto an existing site during 2010 and started works that included demolition and site clearing. The project took 20 months to completion. The resulting building accommodates 900 students in single rooms, house wardens in independent apartments and allows a mixed-use zone for retail and resident facilities on the ground floor. There are in addition two levels of basement parking for up to 1000 vehicles. It was a fast track project with tight deadlines.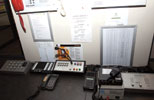 Comprehensive PA, evacuation, universal access monitoring and access control systems at the main security desk.
As a high occupation density building with a sensitive mix of occupants in a busy street, building security is of paramount importance.
Consulting engineers, Solution Station, designed a fire and security protection system, with technical advice and input from FireSpec. As fire and security systems consultant and contractor, FireSpec was responsible for the installation. The system was installed to tight deadlines before handover of the building to the client late in 2011. The systems are a good example of integrated security, fire and other low-voltage security systems.
FireSpec CEO, Leo Slootmans, explains that besides being able to undertake the installation right through to sign-off, they were also able to become involved at the design stage, which greatly aided the process of integration. "The systems are an outstanding example of integrated security and fire, low voltage security systems", he says. As one of the final contractors on site, they worked to a very tight schedule to ensure project completion on time. The work was signed off by Cape Town's Fire Chief in November of 2011.
It is significant that the contractor was able to become involved at the design stage. This greatly aided the process of integration. Integrated systems included access control, fire detection, fire suppression, CCTV, PA systems, evacuation systems, integration of air conditioning, lift signals and access control for the accommodation, monitoring of alarm systems, air conditioning, fire escape doors and intercoms are centralised.
Undertaking a tour of the behind-the-scenes security in the building one is aware of complete 360-degree planning and attention to detail. Backing this is modern technology, a testament to how effectively the security and fire system industries have tapped into modern IT and electronics technologies.
The control room
All security, fire detection and other controls feed through to a centralised control room located in the main lobby near the main turnstiles.
Building controllers have access to separate control units for each system – including evacuation, intercom, access point control and CCTV monitors. Behind the control room is the electronic/server support room, which is access controlled and fire-protected. It contains the electronic nerve centre for the functioning of these services.
CCTV, fire detection, evacuation and PA systems
These are located at all central positions such as common rooms and walkways. Fire detection units are visible outside the ceiling board. Special detectors are also located behind the ceilings in order to provide an early warning of smoke, when it travels out of sight inside the cavities.
Intercom points predominate all the main passageways, of which a number of these points are universally accessible to allow easy usage by persons in wheelchairs. (There is also a unit in each universal access room).

Turnstiles are controlled by access card through the main security system.
These communication services are independent of evacuation systems and allow controllers to freely converse with individuals making the enquiry. Visitor and other announcements are made via well positioned loudspeaker units on each floor. The building planners went to exceptional lengths to make the building both safe and accessible to the disabled. For residents with physical challenges or handicaps, there are special needs rooms. Special panic buttons are installed in the special toilets for the disabled. In addition, there are no less than six refuge zones where persons with disabilities may converge to find a safe location pending evacuation.
From the ongoing and operational safety perspective, the high standards set by the building planners are expected to continue with the appointment of FireSpec as responsible for ongoing system servicing and maintenance. FireSpec executive in charge of the UCT project, Cecil Meyer, says this building is just part of an ongoing rollout of electronic system integration across all buildings within UCT.
For more information contact FireSpec, +27 (0)21 685 1111, leo@firespec.co.za, www.firespec.co.za
Further reading:
Fire Beam Xtra covers up to 160 metres
October 2019, Technoswitch , Products, Fire & Safety
The Fire Beam overcomes traditional beam detection challenges where building movement and accessibility made beam detection unreliable and laborious to commission and maintain.
Read more...
---
Emergency voice communication system
October 2019, Technoswitch , Products, Fire & Safety
The Technoswitch Emergency Voice Communication Systems concept offers fire telephone and disabled refuge systems, as well as integrating emergency assist alarm systems in a single solution.
Read more...
---
Fast detection of smoke and flames
October 2019, Bosch Building Technologies , Editor's Choice, CCTV, Surveillance & Remote Monitoring, Fire & Safety
Video-based fire detection AVIOTEC from Bosch has been optimised for tunnels to provide early and reliable detection of smoke and flames in these dark environments.
Read more...
---
Choosing the right fire detection system
August 2019, FDIA (Fire Detection Installers Association) , Fire & Safety
Charles Thiong'o from the FDIA highlights important factors to consider when choosing a fire detection system.
Read more...
---
Local security technology manufacturer
August 2019, Technoswitch , Fire & Safety
Technoswitch, a South-African manufacturer, importer and distributor of fire detection and suppression equipment turned 45 this year.
Read more...
---
Fire detection and suppression for server cabinets
August 2019, Technoswitch , Fire & Safety
The TEC601, designed and manufactured by Technoswitch, is an all-in-one fire and extinguishing rack-mountable control system designed to protect electronic equipment in 19-inch server room cabinets.
Read more...
---
ORYX conventional fire panel range
August 2019, Technoswitch , Fire & Safety
The ORYX range of conventional panels from Technoswitch offers 2, 4 and 8 zone options, including weatherproof versions (with or without DIN rail) specifically suited to industrial applications.
Read more...
---
Next generation BlazeCut T-series
August 2019, Technoswitch , Fire & Safety
Designed to protect small enclosed spaces with greater risk of fire, the BlazeCut T-series system is easy to install.
Read more...
---
Emergency lighting and fire detection combination
August 2019 , Fire & Safety, Products
Hochiki Europe has launched FIREscape+, a system which combines emergency lighting, fire detection and wayfinding technology.
Read more...
---
Introducing Gulf Security Technology
August 2019, UTC Fire & Security SSA , Fire & Safety
Gulf Security Technology manufactures more than 16 million detectors and modules and more than 120 thousand control panels per year, making it one of the largest fire detection manufacturers in the world.
Read more...
---