printer friendly version
Working on Fire implements time and attendance system
September 2012
Fire & Safety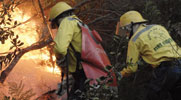 The implementation of a mobile fingerprint-based time and attendance system has made it easier for Working on Fire (WoF) to verify days on duty to facilitate payment of the 4700-plus fire fighters operating from 160 bases countrywide. The system is supplied by ERS Biometrics.
WoF is a government funded Expanded Public Works Programme, launched in 2003. The programme is managed by a private company, FFA Operations, which in turn is part of the FFA Group of Companies. WoF also operates internationally in Mozambique, Tanzania, Malawi, Uganda, Ghana, Australia, North and South America, and Europe. As the salary bill of some 5000 employees, from fire fighters to managerial personnel is paid by the Department of Environmental Affairs, the requirement is for strict checks and balances on payroll claims.
Trevor Abrahams, MD of FFA Operations, says that this award-winning programme not only provides an essential service, but also much needed job creation and social upliftment. Young men and women are recruited from marginalised communities to bases situated within 5 kilometres from where they live. "Some 85% of our recruits are under 35 years old with 50% between the age of 18 to 25. Women make up 33% of our total fire fighters, the highest percentage of female fire fighters in the world."
Intensive training
At the training academy in Nelspruit, recruits undergo 21 days of intensive training. The academy also offers 41-day advanced courses for specialised fire-fighting-related skills and crew leader training. To ensure that the units remain self-sufficient, other courses such as first aid, chain saw operation, chef and general life skills are provided.
The programme operates on several levels to provide an integrated wildfire management structure. It works in close co-operation with partners such as Cape Nature, SAN Parks, forestry companies, Eskom and registered Fire Protection Associations (FPAs), where landowners are organised in associations, to predict, prevent and manage wildland fire risks in a defined area.
During quiet seasons, crews are used in fire prevention such as burning firebreaks and clearing fuel loads. WoF also runs fire awareness programmes at local schools and communities by helping rural people to understand fire with emphasis on prevention and suppression.
Parallel T&A
IT executive manager for FFA Group of Companies, Ancil Lee, explained that the Biometrics T&A systems would run in parallel to the manual timesheet system currently used to enable comparative verification on payroll claims, as well as serve as a failover in the event of a disruption in service of the automated system.
ERS is to supply a total 227 fingerprint devices that have the dual advantage of either being used as a mobile unit or fixed in a tamperproof enclosure on bases.
"I thoroughly researched available fingerprint systems. The ERS devices met our criteria in a much-needed robust design for working in our harsh environments, the capability to work on remote locations via GPRS and the capacity to identify the fire fighters from multiple fingerprints."
With the existing manual system, crew leaders capture the data on timesheets on a daily basis which is sent to the regional managers and then to the GM for the province for sign off before being sent to the payroll team for processing.
Lee noted that as it is a government requirement that there is payroll verification and sign-off before upload into the payroll system, the T&A process cannot be fully automated. "Once signed off, the ERS Biometrics T&A system will produce a file that will be uploaded into the payroll system. This means that there will not be a need for recapturing or further human intervention to move the data from the T&A system into the payroll system."
For more information contact ERS Biometrics, 086 112 3438, info@ersbiometrics.co.za, www.ersbiometrics.co.za
Further reading:
Different types of fires
Fire & Safety
Fire is a powerful force of nature; according to SafeQuip, a distributor of fire-related equipment; understanding the different types of fires and how to combat them is essential for safety and protection.
Read more...
---
SafeQuip introduces lithium fire extinguishers
Fire & Safety Products & Solutions
With the use of Lithium batteries increasing in many types of portable devices and battery storage solutions, SafeQuip, in partnership with AVD Lithex, is introducing a fire extinguisher aimed at suppressing and extinguishing, and also preventing re-ignition of lithium fires.
Read more...
---
Modern warehouses come with added fire risk
Fire & Safety Transport (Industry)
Along with increased investments in modern warehousing in Africa, there is also a need to focus on protecting warehouses from crime, however, fire can arguably be a greater danger to business continuity.
Read more...
---
How to prevent solar inverter short-circuits and fires
Fire & Safety
With many South Africans installing inverters as part of solar power systems to mitigate the impact of load shedding in homes and at businesses, users need to be aware of the potential fire risks.
Read more...
---
Fidelity SecureFire steps into critical fire response space
News & Events Fire & Safety
With the majority of fire stations around the country being crippled by a lack of resources to offer effective responses, Fidelity Fire Solutions has launched its own 'first responder' model, Fidelity SecureFire.
Read more...
---
Long-distance connectivity with Simplex ES Net Life Safety
Johnson Controls Global Products Fire & Safety Products & Solutions
ES Net Network Bridge allows fire alarm system data to be transmitted across distant buildings via a customer's existing network infrastructure, improving system-wide monitoring and control in facilities and campuses where life safety networks are often widely dispersed.
Read more...
---
Elvey Group and Technoswitch part ways
Elvey Security Technologies Fire & Safety News & Events
The Elvey Group (a division of the Hudaco Group of Companies) is relinquishing its distributorship of the Technoswitch brand, following Hudaco's acquisition of Brigit Fire.
Read more...
---
From one month to 10 minutes
Dahua Technology South Africa Fire & Safety
Dahua has integrated technology with the inspection mode of the photovoltaic power station in order to create a robust system that can monitor the fire situation in the power plant and its surrounding areas 24/7.
Read more...
---
Protecting poultry processing plant
Technoswitch Fire Detection & Suppression Fire & Safety
Grain Field Chickens, based in Reitz in the Orange Free State Province, features all the typical fire detection challenges one would expect to encounter in a food processing facility.
Read more...
---
Fire prevention for energy systems
Technoswitch Fire Detection & Suppression Fire & Safety
With the significant push towards renewable energy, such as wind and solar, the demand for battery energy storage systems has grown exponentially, as has the need for fire safety solutions for these environments.
Read more...
---