printer friendly version
Take-away surveillance
September 2012
CCTV, Surveillance & Remote Monitoring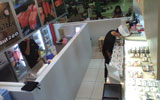 Malaysia is one of Southeast Asia's top travel destinations, possessing an extensive range of attractions and activities that cater for the cosmopolitan shopper, culture enthusiast, history buff and nature lover. The airport is always filled with travellers.
The constant flock of tourists has kept the businesses in the airport thriving, yet at the same time, brings various safety concerns to the owners and the airport authorities. Sushi2Go, located at one of the terminals inside Kuala Lumpur International Airport, recently experienced a surveillance system setup. The solution and the equipment were provided by Vivotek and Taching Electronic, distributor of Vivotek in Malaysia.
Sushi2Go is a Japanese fast food restaurant specialising in sushi take-out services, in particular for busy travellers who are always on the go. According to Steve Chow, sales manager of Taching Electronic, the owner of Sushi2Go was in the process of developing business strategies to enhance his business and improve sales performances. Security cameras could not only help track the traffic flow and the general surroundings of his store but also maintain quality control for better customer services. Most importantly, they play a vital role in combatting criminal activities, such as internal as well as external thefts, robberies, vandalism and other incidents resulting in inventory shrinkage.
Professional implementation project
Though it was the first time for the owner of Sushi2Go to deploy a surveillance system for his store, he was well aware of the benefits and importance of high-megapixel and high-definition cameras. He approached Taching Electronic for its expertise and consultation on the system design and implementation process with the layout plan of the store. After reviewing comparisons between analogue cameras and network-based high-megapixel cameras, the owner of Sushi2Go chose Vivotek IP8132 as the monitoring device.
Vivotek IP8132 is a good solution for indoor surveillance as it tends to blend in well with the interior design. This compact model becomes a favourite of many system integrators, particularly for installation against the wall. With adjustable mounting brackets, the IP8132 can be easily installed at various spots, corners, angles and other tight spaces on the premises, features predominantly prevalent in the retail vertical market because the end-user often needs to supervise multiple areas, such as the office, the storage, the push-carts, the entry point, each of the kiosks, each of the cash registers, each of the line-ups and many more. A hassle-free installation process facilitates the possibility of having such demands met because the installers can mount the camera practically anywhere on site.
Other considerations which prompted the store owner to go with the Vivotek IP8132 included 1-megapixel sensor, viewing resolution of 1280x800 at 30 frames per second (fps), tamper detection, multiple streams, bandwidth saving functions, privacy button to pause monitoring and more.
The store owner was also satisfied with the 32-channel recording software that came with the camera. With Vivotek iViewer, he was able to view and access footages real-time via his smartphone or tablet. According to Hughie Dang, senior sales executive of Taching Electronic, the store owner has seen better performances from his staff and the quality of the service has also improved as a result.
For more information contact Vivotek, +886 2 8245 5282, [email protected], www.vivotek.com
Further reading:
Minimising fire risks in automotive logistics
Hikvision South Africa CCTV, Surveillance & Remote Monitoring Products Logistics (Industry)
Automotive logistics company uses thermal imaging solution from Hikvision to ensure its stores of lithium batteries for electric vehicles never overheat and cause a fire.
Read more...
---
Axis launches P3265-LVE dome camera
Axis Communications SA Products CCTV, Surveillance & Remote Monitoring
Based on ARTPEC-8 — the latest Axis system-on-chip (SoC) — Axis' latest dome high-performance camera includes a deep learning processing unit (DLPU), and cybersecurity features.
Read more...
---
Smart car parking solution eases traffic flow
Dahua Technology South Africa CCTV, Surveillance & Remote Monitoring Integrated Solutions Products
Ethiopia's first smart parking lot, designed to improve traffic flow and management efficiency, has been built and installed using Dahua Technology's smart parking solutions.
Read more...
---
VMS 7.2 supports the investigation process and adds cloud capabilities
CCTV, Surveillance & Remote Monitoring Integrated Solutions Products
Qognify has launched the second release of its VMS, including extended support for body-worn video, additional functionalities to support investigations, and a new web client architecture. VMS 7.2 addresses the increasing use of body-worn video (BWV) across many sectors.
Read more...
---
The future of AIoT
Hikvision South Africa News CCTV, Surveillance & Remote Monitoring
Hikvision hosted its 2022 Shaping Intelligence Summit in Bali, Indonesia, on 29-30 November, where the company, its customers, and technology and solution partners, looked into the future of AIoT and explored paths to shared success.
Read more...
---
A comprehensive video solution for retail
LD Africa Retail (Industry) CCTV, Surveillance & Remote Monitoring Products
Retail Intellect is a comprehensive, flexible solution for retailers that matches technologies to ensure point-of-sale safety and security with video analytics.
Read more...
---
Understanding customers better using AI
Secutel Technologies Retail (Industry) CCTV, Surveillance & Remote Monitoring Products
With in-store analytics of consumer behaviour, retailers can improve store performance and boost the productivity of their business.
Read more...
---
Benefits beyond just security
CCTV, Surveillance & Remote Monitoring
Store cameras are boosting customer experience and sales, as well as preventing losses, finds market research e-book from IDIS.
Read more...
---
Hikvision unveils first 'True 8K' NVRs
Hikvision South Africa CCTV, Surveillance & Remote Monitoring Products
The new M-Series NVRs can be used with a host of Hikvision cameras, and are ideal for environments where a wide field of view and extremely high image resolution are needed.
Read more...
---
AI in video analytics
CCTV, Surveillance & Remote Monitoring Integrated Solutions
AI (artificial intelligence), has been developed and debated ever since the first computers were invented, and while the most revolutionary incarnations are not yet here, AI-based technologies are widely used today.
Read more...
---