printer friendly version
Performance management and productivity surveillance
September 2012
CCTV, Surveillance & Remote Monitoring
Video cameras are a standard feature in any modern business security strategy, but many organisations fail to leverage the true value of their CCTV and remote monitoring solutions. Security cameras and remote monitoring solutions have a use that extends beyond security and theft prevention: they can in fact also be used as tools for performance management and monitoring, particularly in remote sites, helping organisations to become more productive and more efficient, and getting real value out of a solution that is often seen as a grudge purchase.
Larger organisations today are often geographically distributed across the country, with sites that are outside of major hubs and towns. Overseeing these remote locations to obtain an accurate view of performance as well as to monitor these sites for operational reasons can prove to be a challenging task. Managers are often required to travel to these destinations, which is time consuming and expensive, not to mention its effect on the carbon footprint of the company. Site visits also provide only limited visibility, as they can only account for the time when a manager was physically on site. CCTV solutions with remote monitoring capabilities can be used to solve these challenges, ensuring organisations can monitor multiple distributed sites without the need for a constant physical presence.
Improving visibility, productivity and accountability
Providing constant offsite monitoring for performance management purposes has a number of benefits. It not only reduces travel time and costs, and the associated carbon footprints that go along with travel, but also aids in improving visibility, productivity and accountability. Improved performance is a result of this since constant monitoring will ensure that employees are productive, and not just when the manager is on site. This 'big brother' aspect assists with long-term behavioural changes which delivers further improvements to productivity.
CCTV with remote monitoring can also help organisations to identify employees who are not adhering to policies and procedures, in real-time, so that corrective action can be taken quickly. It is also possible to monitor when staff arrive and leave, so that time sheets can be verified, along with numerous other applications.
While remote monitoring solutions are not new, bandwidth has traditionally been an inhibiting factor, hindering organisations from taking advantage of the benefits of CCTV with remote monitoring. While bandwidth is now cheaper and more affordable than ever, video footage can still consume large amounts of data throughput. With this in mind, it is important to look for a solution that offers compression technology which reduces video streams to improve throughput speeds and lessen bandwidth usage.
It is also important that remote monitoring sites be able to view footage in real-time. Because of bandwidth limitations it is vital that CCTV and remote monitoring solutions are also able to support ultra-low bandwidths, to allow remote sites to access live content at low bitrates, while also enabling users to access the high resolution footage should this be necessary. Sophisticated solutions are also able to link remote networks so that users can monitor remote sites using GSM, ADSL, GPRS, EDGE, 3G, VSAT and DigitNet technologies.
Bandwidth and device efficient
These ultra-efficient solutions can stream video at lower bitrates and also enable this footage to be viewed on smartphones or tablets, allowing for continuous monitoring from anywhere where there is a WiFi signal. This is particularly useful as the mobile revolution takes grip and business users increasingly make use of mobile devices, providing more flexibility and the ability to monitor anytime, anywhere.
There are many industries and areas where CCTV can be used to ensure remote sites are monitored effectively, including mining, manufacturing and healthcare. All of these industries often have remote sites that need to be monitored and can benefit from ensuring that behaviours meet certain standards, not only from a productivity aspect, but from legislation and regulatory aspects as well. Even in organisations with a single branch, it is not possible to watch all areas at all times, so using CCTV cameras as a performance monitoring and management tool can provide enormous benefit.
Security solutions are often a grudge purchase, so it is important to ensure that value and return on investment (ROI) for these systems can be maximised. Using CCTV for internal performance management as well as for security purposes can help organisations to accurately monitor multiple sites, increase visibility and improve behaviours. What all of this adds up to is an immediate benefit to an organisation's bottom line, through reduced expenses, improved productivity and improved operations.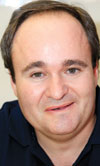 Mark Chertkow
For more information contact Graphic Image Technologies, +27 (0)11 483 0333, markc@git.co.za, www.git.co.za
Credit(s)
Further reading:
Camera Selection Guide 2019
September 2019 , CCTV, Surveillance & Remote Monitoring
The Camera Selection Guide 2019 includes a range of IP, analogue, thermal and speciality cameras aimed at a broad range of surveillance functions.
Read more...
---
Intelligent analytics and the brains to match
September 2019, Bosch Building Technologies , CCTV, Surveillance & Remote Monitoring, Integrated Solutions
What if the brains behind our security cameras could be trained to improve their cognitive ability to pay attention, learn, and problem-solve according to specific rules and situations?
Read more...
---
AI-powered autonomous Drone-in-a-Box
September 2019 , CCTV, Surveillance & Remote Monitoring, Integrated Solutions
Organisations in the mining, energy and industrial, oil and gas, ports and terminals sectors can optimise security and business operations, whilst reducing risks and operational costs
Read more...
---
Cybersecurity for video surveillance systems
September 2019 , Cyber Security, CCTV, Surveillance & Remote Monitoring
Video surveillance systems are increasingly accessible over any IP network, which has led to the rise of potential cyberattack.
Read more...
---
A platform approach to innovation and value
September 2019, Technews Publishing , Editor's Choice, CCTV, Surveillance & Remote Monitoring, Integrated Solutions, IT infrastructure
Moving to the platform model of doing business holds tremendous advantages for end users and smaller developers, but also for the whole technology supply chain.
Read more...
---
Back to manufacturer uniformity?
September 2019, Dallmeier Electronic Southern Africa , CCTV, Surveillance & Remote Monitoring
Decision makers often have to choose between an all-inclusive, complete solution from one manufacturer and the products and services of several different providers.
Read more...
---
Open does not always mean easy integration
September 2019, VERACITECH, Technews Publishing , Editor's Choice, CCTV, Surveillance & Remote Monitoring, Integrated Solutions
Customers who opt for best-of-breed solutions will have to rely on their integrators to develop customised integrated solutions for them.
Read more...
---
The impact of AI on the surveillance industry
September 2019, G4S South Africa, Hikvision South Africa, Myertal Tactical Security, Technews Publishing , Editor's Choice, CCTV, Surveillance & Remote Monitoring
What the impact of AI will be on companies, the services and solutions they supply, as well as on the jobs people do.
Read more...
---
Video analytics and AI
September 2019, Axis Communications SA, Dallmeier Electronic Southern Africa , Hikvision South Africa, Technews Publishing, Dahua Technology South Africa , Editor's Choice, CCTV, Surveillance & Remote Monitoring, Integrated Solutions
Artificial intelligence has the potential to deliver real benefits in the world of video analytics and many companies are already delivering customer benefits.
Read more...
---
Cloudy with a chance of AI
September 2019 , Editor's Choice, CCTV, Surveillance & Remote Monitoring, Integrated Solutions
One local company has developed an AI solution that can be added to existing surveillance installations, offering 24-hour intelligence.
Read more...
---