printer friendly version
Performance management and productivity surveillance
September 2012
CCTV, Surveillance & Remote Monitoring
Video cameras are a standard feature in any modern business security strategy, but many organisations fail to leverage the true value of their CCTV and remote monitoring solutions. Security cameras and remote monitoring solutions have a use that extends beyond security and theft prevention: they can in fact also be used as tools for performance management and monitoring, particularly in remote sites, helping organisations to become more productive and more efficient, and getting real value out of a solution that is often seen as a grudge purchase.
Larger organisations today are often geographically distributed across the country, with sites that are outside of major hubs and towns. Overseeing these remote locations to obtain an accurate view of performance as well as to monitor these sites for operational reasons can prove to be a challenging task. Managers are often required to travel to these destinations, which is time consuming and expensive, not to mention its effect on the carbon footprint of the company. Site visits also provide only limited visibility, as they can only account for the time when a manager was physically on site. CCTV solutions with remote monitoring capabilities can be used to solve these challenges, ensuring organisations can monitor multiple distributed sites without the need for a constant physical presence.
Improving visibility, productivity and accountability
Providing constant offsite monitoring for performance management purposes has a number of benefits. It not only reduces travel time and costs, and the associated carbon footprints that go along with travel, but also aids in improving visibility, productivity and accountability. Improved performance is a result of this since constant monitoring will ensure that employees are productive, and not just when the manager is on site. This 'big brother' aspect assists with long-term behavioural changes which delivers further improvements to productivity.
CCTV with remote monitoring can also help organisations to identify employees who are not adhering to policies and procedures, in real-time, so that corrective action can be taken quickly. It is also possible to monitor when staff arrive and leave, so that time sheets can be verified, along with numerous other applications.
While remote monitoring solutions are not new, bandwidth has traditionally been an inhibiting factor, hindering organisations from taking advantage of the benefits of CCTV with remote monitoring. While bandwidth is now cheaper and more affordable than ever, video footage can still consume large amounts of data throughput. With this in mind, it is important to look for a solution that offers compression technology which reduces video streams to improve throughput speeds and lessen bandwidth usage.
It is also important that remote monitoring sites be able to view footage in real-time. Because of bandwidth limitations it is vital that CCTV and remote monitoring solutions are also able to support ultra-low bandwidths, to allow remote sites to access live content at low bitrates, while also enabling users to access the high resolution footage should this be necessary. Sophisticated solutions are also able to link remote networks so that users can monitor remote sites using GSM, ADSL, GPRS, EDGE, 3G, VSAT and DigitNet technologies.
Bandwidth and device efficient
These ultra-efficient solutions can stream video at lower bitrates and also enable this footage to be viewed on smartphones or tablets, allowing for continuous monitoring from anywhere where there is a WiFi signal. This is particularly useful as the mobile revolution takes grip and business users increasingly make use of mobile devices, providing more flexibility and the ability to monitor anytime, anywhere.
There are many industries and areas where CCTV can be used to ensure remote sites are monitored effectively, including mining, manufacturing and healthcare. All of these industries often have remote sites that need to be monitored and can benefit from ensuring that behaviours meet certain standards, not only from a productivity aspect, but from legislation and regulatory aspects as well. Even in organisations with a single branch, it is not possible to watch all areas at all times, so using CCTV cameras as a performance monitoring and management tool can provide enormous benefit.
Security solutions are often a grudge purchase, so it is important to ensure that value and return on investment (ROI) for these systems can be maximised. Using CCTV for internal performance management as well as for security purposes can help organisations to accurately monitor multiple sites, increase visibility and improve behaviours. What all of this adds up to is an immediate benefit to an organisation's bottom line, through reduced expenses, improved productivity and improved operations.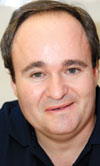 Mark Chertkow
For more information contact Graphic Image Technologies, +27 (0)11 483 0333, markc@git.co.za, www.git.co.za
Credit(s)
Further reading:
Smart water management
Axis Communications SA CCTV, Surveillance & Remote Monitoring Integrated Solutions
South Africa is currently facing a water crisis, with scarcity and inefficient water management posing significant challenges to sustainable, consistent access to water. Smart technology and powerful partnerships may offer a proactive solution to SA's water crisis.
Read more...
---
Helping retailers optimise monitoring and security
Guardian Eye Retail (Industry) CCTV, Surveillance & Remote Monitoring
From a smart retail perspective, it is crucial to understand that monitoring stock and other assets through camera surveillance and a variety of Internet of Things (IoT) sensors stretches further than the stores themselves.
Read more...
---
Empowering Istanbul's public transportation
Dahua Technology South Africa CCTV, Surveillance & Remote Monitoring Integrated Solutions
Dahua's intelligent transportation solution, using technologies like DSM and AI-based passenger flow counting, has facilitated an intelligent system upgrade for nearly 6 400 minibuses and electric buses in Istanbul.
Read more...
---
Smart manufacturing redefined
Hikvision South Africa CCTV, Surveillance & Remote Monitoring Industrial (Industry)
AI and intuitive visualisation technology allows managers to monitor manufacturing sites, production, and operational processes, and to respond in real time in the event of an issue – helping to drive efficiency and productivity.
Read more...
---
AI is getting smarter, and critical infrastructure is set to benefit
Axis Communications SA CCTV, Surveillance & Remote Monitoring
With technology advancing at an astonishing pace, AI has emerged as a defining trend in today's business arena. Enterprises across all sectors are prioritising this technology, embracing its transformative potential to drive change and growth.
Read more...
---
Collaboration delivers integrated and holistic security
Guardian Eye CCTV, Surveillance & Remote Monitoring News Integrated Solutions
Guardian Eye and Lytehouse have partnered to integrate their speciality solutions and provide a holistic security offering that overcomes the fragmentation of security systems and services.
Read more...
---
Manage security systems remotely
Hikvision South Africa CCTV, Surveillance & Remote Monitoring IT infrastructure Products
Hikvision launched a new generation of smart managed switches that, in conjunction with the Hik-Partner Pro mobile app, enable installers to remotely deploy and configure security systems with comprehensive operation and maintenance capabilities.
Read more...
---
Synology enhances functions for advanced surveillance integration
Technews Publishing CCTV, Surveillance & Remote Monitoring IT infrastructure Products
With the capability to function as both an API client and server, Surveillance Station offers a versatile platform for integration, whether it's embedding video streams into other platforms or overlaying external data onto recorded video.
Read more...
---
SMART Surveillance Conference 2023
Technews Publishing Editor's Choice CCTV, Surveillance & Remote Monitoring Conferences & Events
Some people think the future is all about cloud technologies, but the SMART Surveillance conference demonstrated that AI is making edge surveillance much more attractive, over distributed sites, than ever before.
Read more...
---
Supporting CCTV intelligence with small and big data
Leaderware Editor's Choice CCTV, Surveillance & Remote Monitoring
The increasing development of AI and its role in enhancing investigation-led surveillance, and the increasing capacity of control rooms and local analysts to deliver data in return, can increase the synergy between intelligence and surveillance.
Read more...
---