printer friendly version
Emergency response displays
September 2012
News & Events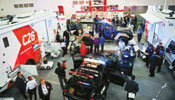 AG Neovo has announced that Mexican security and telecomms integrator TSN has débuted a mobile command control centre truck which features high-specification display units from AG Neovo.
The C26 truck was unveiled at Expo Seguridad 2012 in Mexico City where visitors saw the vehicle's ability to use radio, satellite and telecommunications to give responders the information they need to make life-saving decisions at emergency scenes. AG Neovo displays are generally used in the kind of demanding, harsh environments in which the TSN truck will operate.
The truck uses three AG Neovo product lines, the SX-Series, RX-Series and TX-Series, which have an integrated image enhancer working from the company's Advanced Image Platform. The enhancer reproduces CCTV images at resolutions of up to 625/PAL (620/NTSC) TV lines and quality is further improved by Anti-Burn-in protection against ghost imaging.
Detail in video feeds from CCTV cameras surrounding the TSN truck can make a life or death difference at disaster sites. The C26 vehicle operators also need to see footage transmitted to them over networks in order to increase their situational awareness and improve decision-making. The AG Neovo displays are assisting in this by providing total communications interoperability through versatile connectivity. Equipment for such an environment must be extremely robust. The AG Neovo SX-19P and RX-W22 displays have a metal casing while many competitive products use plastic, and it features edge-to-edge NeoV protective lass which can defend the screen from the impact of a 227 g free-falling steel ball from a height of 200 cm.
Users of the TSN truck appreciate the advanced optical touch technology of the AG Neovo TX-W42 display which can be activated with a gloved hand and is proving invaluable as rescue team members communicate with base. Crews on long operations also appreciate the energy efficiency of the TX-W42 and SX-19P which are powered by the truck's 120 V diesel generator and 110 V battery bank.
Further reading:
Pentagon appointed as Milestone distributor
Elvey Security Technologies News & Events Surveillance
Milestone Systems appointed Pentagon Distribution (an Elvey Group company within the Hudaco Group of Companies) as a distributor. XProtect's open architecture means no lock-in and the ability to customise the connected video solution that will accomplish the job.
Read more...
---
Re-introduction of the booking system
PSiRA (Private Security Ind. Regulatory Authority) News & Events
[Sponsored] PSiRA is reintroducing the booking system for branch visits. Effective Monday, 4 December 2023, clients will be required to book a slot to visit any PSiRA branch.
Read more...
---
From the editor's desk: A sad but exciting goodbye
Technews Publishing News & Events
Welcome to the final monthly issue of SMART Security Solutions. This is the last issue of the year and the last monthly issue we will print. The SMART Security Solutions team wishes all our readers and advertisers a relaxing festive season and a peaceful and prosperous 2024.
Read more...
---
Regal celebrates successful golf day
Regal Distributors SA News & Events
Regal Distributors held its first official Regal Golf Day on 18 October at the Glendower Golf Course in Johannesburg. SMART Security Solutions was there on a hot summer's day to meet many players and sponsors around the course.
Read more...
---
Gallagher Security releases Command Centre v9
Gallagher News & Events Access Control & Identity Management Integrated Solutions
Richer features, greater integrations, with the release of Gallagher Security's Command Centre v9 security site management software designed to integrate seamlessly with various systems and hardware.
Read more...
---
Regal launches direct-to-branch WhatsApp communication
Regal Distributors SA News & Events
With a quick scan of a QR code and a few taps on your phone, installers, integrators, technicians or even end-users can chat directly with the team at their preferred Regal branch via WhatsApp
Read more...
---
FM Expo highlights industry trends and challenges
Securex South Africa News & Events Facilities & Building Management
Keeping tabs on what is happening within the building/facilities management arena can be frustrating, however, a quick way to find out what current trends, challenges, and solutions are available can be found at the Facilities Management Expo.
Read more...
---
South Africa shows a 1200% increase in deepfake fraud
News & Events Risk Management & Resilience
Sumsub released its third annual Identity Fraud Report of the year, analysing identity fraud across industries and regions based on millions of verification checks across 28 industries and over 2 million fraud cases.
Read more...
---
Projections for 2024's Advanced Threats Landscape
News & Events Information Security
Kaspersky Global Research and Analysis Team (GReAT) experts offer insights and projections for 2024 in the Kaspersky Security Bulletin, with a focus on the evolution of Advanced Persistent Threats (APT).
Read more...
---
Helping South African university students and staff to stay safe
News & Events
Buzzer is a free mobile app that allows users to quickly and easily report incidents of crime, violence, or harassment to campus security and other relevant authorities.
Read more...
---