printer friendly version
Emergency response displays
September 2012
News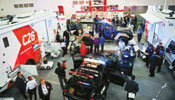 AG Neovo has announced that Mexican security and telecomms integrator TSN has débuted a mobile command control centre truck which features high-specification display units from AG Neovo.
The C26 truck was unveiled at Expo Seguridad 2012 in Mexico City where visitors saw the vehicle's ability to use radio, satellite and telecommunications to give responders the information they need to make life-saving decisions at emergency scenes. AG Neovo displays are generally used in the kind of demanding, harsh environments in which the TSN truck will operate.
The truck uses three AG Neovo product lines, the SX-Series, RX-Series and TX-Series, which have an integrated image enhancer working from the company's Advanced Image Platform. The enhancer reproduces CCTV images at resolutions of up to 625/PAL (620/NTSC) TV lines and quality is further improved by Anti-Burn-in protection against ghost imaging.
Detail in video feeds from CCTV cameras surrounding the TSN truck can make a life or death difference at disaster sites. The C26 vehicle operators also need to see footage transmitted to them over networks in order to increase their situational awareness and improve decision-making. The AG Neovo displays are assisting in this by providing total communications interoperability through versatile connectivity. Equipment for such an environment must be extremely robust. The AG Neovo SX-19P and RX-W22 displays have a metal casing while many competitive products use plastic, and it features edge-to-edge NeoV protective lass which can defend the screen from the impact of a 227 g free-falling steel ball from a height of 200 cm.
Users of the TSN truck appreciate the advanced optical touch technology of the AG Neovo TX-W42 display which can be activated with a gloved hand and is proving invaluable as rescue team members communicate with base. Crews on long operations also appreciate the energy efficiency of the TX-W42 and SX-19P which are powered by the truck's 120 V diesel generator and 110 V battery bank.
Further reading:
Paxton opens first experience centre in South Africa
Paxton News Access Control & Identity Management
The new Paxton Experience Centre in Johannesburg is now open and welcoming security installers and end users who want to see Paxton's products in action.
Read more...
---
Paratus signs re-seller agreement with Starlink for Africa
News IT infrastructure
Pan-African telco and network services provider Paratus Group announced it has entered an agreement as a distributor for Starlink's high-speed services across the African continent, available immediately in Mozambique, Kenya, Rwanda and Nigeria.
Read more...
---
4IR is opportunity
News
In South Africa, digitalisation remains 'at a nascent stage' which means significant work still has to be done when it comes to addressing skills development around 4IR in the country.
Read more...
---
Five ways to reduce your cyber insurance premiums
Security Services & Risk Management News
With the global costs of cybercrime expected to soar to $13 trillion within the next five years, cyber insurance is booming as organisations try to mitigate the risk of financial losses.
Read more...
---
Client satisfaction boosted by 85% at Thungela Mine
Thorburn Security Solutions News Security Services & Risk Management Mining (Industry)
Thorburn Security, a division of Tsebo Solutions Group, has announced its recent collaboration with Kwa-Zulu Natal security company, Ithuba Protection Services, as part of its Enterprise Supplier Development (ESD) initiatives across Africa.
Read more...
---
Fidelity SecureFire steps into critical fire response space
News Fire & Safety
With the majority of fire stations around the country being crippled by a lack of resources to offer effective responses, Fidelity Fire Solutions has launched its own 'first responder' model, Fidelity SecureFire.
Read more...
---
The state of edge security report
News IT infrastructure
Edge computing has grown from being a niche use case in a handful of industries to offering a major opportunity for enterprises across industries to spread computing power around the world.
Read more...
---
CHI selects NEC XON as trusted cybersecurity partner
News Cyber Security Industrial (Industry)
CHI Limited, Nigeria's leading market player in fruit juices and dairy products, has engaged in a strategic cybersecurity partnership with NEC XON, a pan-African ICT systems integrator.
Read more...
---
Collaboration delivers integrated and holistic security
Guardian Eye CCTV, Surveillance & Remote Monitoring News Integrated Solutions
Guardian Eye and Lytehouse have partnered to integrate their speciality solutions and provide a holistic security offering that overcomes the fragmentation of security systems and services.
Read more...
---
Kaspersky appoints new GM for Africa
News Cyber Security
Kaspersky has announced the appointment of Andrew Voges as the new General Manager for Africa to boost regional market positioning and enterprise protection.
Read more...
---