printer friendly version
Big Brother goes into the bushveld
September 2012
CCTV, Surveillance & Remote Monitoring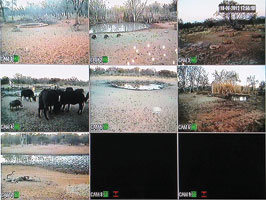 While CCTV is widely associated with crime prevention in buildings and city centres, it is increasingly being used in a wide range of other applications including wildlife surveillance.
The versatility of the technology caught the attention of Marius Barnard, owner of Thwane Safaris Africa, a 10 000 acre game ranch in the municipal area of Lephalale, 'the heartbeat of the Waterberg bushveld' in Limpopo Province. Thwane Safaris offers a host of wildlife species, the most popular being impala, kudu, zebra, blue wildebeest, bush buck, blesbok, nyala, warthog, bush pigs, crocodiles, eland, giraffe and buffalo.
Keen to enhance service levels and his overall wildlife offering to his visitors, Barnard wanted to find a way of keeping abreast of wildlife movements. He also wanted an alternative to the traditional trek-and-dart method of checking on the condition of his animals, particularly those too dangerous to approach and inspect on foot.
"I wanted to be able to identify the most popular watering holes at any given time, without having to drive to them, some of which are up to seven kilometres away from the main lodge," explains Barnard, whose property is considered to be one of the best bow hunting ranches in Africa. "This information would allow us to plan game drive routes that would take visitors directly to the most popular section of the ranch. It would also enable hunters to see where the animals are and accordingly take up their positions at the various hides."
The solution
The solution to Barnard's requirements needed "some serious out-of-the-box thinking", says Ryan Nortmann, branch manager for Elvey Security Technologies on the West Rand. He and Dewald Minnaar, owner of Prefect Protection Services and a security installation professional in his own right, joined forces to come up with a system that would totally empower the business owner through the use of technology.
"We designed a CCTV system that could operate over a long distance without the need to dig multiple, kilometre-long trenches for cabling," says Nortmann. "The system comprises a Dahua DVR, seven IR bullet cameras, 2,4 GHz and 5,8 GHz long-range video transmitters and receivers (supplied by DAKA Technologies), solar panels and regulators, and Elvey's 105ah deep cycle batteries."
The DVR
Nortmann says the Dahua 16-channel DVR was chosen due to an impressive range of features that would ensure the successful execution of the wildlife surveillance plan. "Not only can the DVR display live feed from all 16 channels on to a monitor, but the display split allows for the viewing of 1/4/9 or 16 channels. This will allow Barnard to customise the watering holes he wants his patrons to view. Further, the DVR offers H.264 compression on the video recordings and G.711 compression on audio recordings, thereby providing high quality game viewing and excellent audio quality in terms of the surrounding bird life. It also comes standard with a 1&@160;TB SATA hard drive, to which an additional six hard drives can be added, thereby providing scope for expansion."
Minnaar continues: "The DVR has a built-in web browser which will allow Mr Barnard to log in remotely from his smartphone while driving so that he can see in advance what animals are at the waterhole. He can also play back events on his smartphone and change the system settings."
The cameras
The cameras used in the Thwane Safaris system were chosen because of their 600TVL high-resolution picture quality. They boast 42 IR pieces for enhanced image quality at 0 Lux at 30 to 40 metres as well as a Varifocal lens of 2,8-11 mm, which allows for narrow or wide-angle viewing of the watering hole.
Another feature that made this particular camera right for the job is its signal-to-noise ratio. At more than 52 dB, it equates to a much crisper, clearer picture with less noise, which is the ideal for game viewing. What is more, these cameras can operate on just 12 volts, allowing them to draw power from the solar-charged battery.
As a result of connecting solar panels and regulators to each camera, powering up the system is a simple task, says Nortmann. During the day, the solar panels charge the 105ah deep cycle batteries, which provide power for the cameras and transmitters during the evening.
"The installation was extremely easy as is the case with all Dahua DVRs, since they are essentially plug-and-play with just a little bit of programming required," says Minnaar. According to him, any professional CCTV installer would be able to program the system fairly quickly.
"I recently visited Thwane Safaris and joined the other guests in front of a huge television in the main lodge to watch the watering holes. What is more, there are televisions in every room so that guests can watch the animals at any time of the day or night in private," says Nortmann proudly.
He concludes: "Barnard is extremely satisfied with both the installation and the user-friendliness of the DVR. He also believes it would be an important tool in the fight against game poaching owing to its ability to monitor remote areas."
For more information contact Elvey Security Technologies, +27 (0)11 401 6700, tasha.smith@elvey.co.za, www.elvey.co.za
Credit(s)
Further reading:
Camera Selection Guide 2019
September 2019 , CCTV, Surveillance & Remote Monitoring
The Camera Selection Guide 2019 includes a range of IP, analogue, thermal and speciality cameras aimed at a broad range of surveillance functions.
Read more...
---
Intelligent analytics and the brains to match
September 2019, Bosch Building Technologies , CCTV, Surveillance & Remote Monitoring, Integrated Solutions
What if the brains behind our security cameras could be trained to improve their cognitive ability to pay attention, learn, and problem-solve according to specific rules and situations?
Read more...
---
AI-powered autonomous Drone-in-a-Box
September 2019 , CCTV, Surveillance & Remote Monitoring, Integrated Solutions
Organisations in the mining, energy and industrial, oil and gas, ports and terminals sectors can optimise security and business operations, whilst reducing risks and operational costs
Read more...
---
Cybersecurity for video surveillance systems
September 2019 , Cyber Security, CCTV, Surveillance & Remote Monitoring
Video surveillance systems are increasingly accessible over any IP network, which has led to the rise of potential cyberattack.
Read more...
---
A platform approach to innovation and value
September 2019, Technews Publishing , Editor's Choice, CCTV, Surveillance & Remote Monitoring, Integrated Solutions, IT infrastructure
Moving to the platform model of doing business holds tremendous advantages for end users and smaller developers, but also for the whole technology supply chain.
Read more...
---
Back to manufacturer uniformity?
September 2019, Dallmeier Electronic Southern Africa , CCTV, Surveillance & Remote Monitoring
Decision makers often have to choose between an all-inclusive, complete solution from one manufacturer and the products and services of several different providers.
Read more...
---
Open does not always mean easy integration
September 2019, VERACITECH, Technews Publishing , Editor's Choice, CCTV, Surveillance & Remote Monitoring, Integrated Solutions
Customers who opt for best-of-breed solutions will have to rely on their integrators to develop customised integrated solutions for them.
Read more...
---
The impact of AI on the surveillance industry
September 2019, G4S South Africa, Hikvision South Africa, Myertal Tactical Security, Technews Publishing , Editor's Choice, CCTV, Surveillance & Remote Monitoring
What the impact of AI will be on companies, the services and solutions they supply, as well as on the jobs people do.
Read more...
---
Video analytics and AI
September 2019, Axis Communications SA, Dallmeier Electronic Southern Africa , Hikvision South Africa, Technews Publishing, Dahua Technology South Africa , Editor's Choice, CCTV, Surveillance & Remote Monitoring, Integrated Solutions
Artificial intelligence has the potential to deliver real benefits in the world of video analytics and many companies are already delivering customer benefits.
Read more...
---
Cloudy with a chance of AI
September 2019 , Editor's Choice, CCTV, Surveillance & Remote Monitoring, Integrated Solutions
One local company has developed an AI solution that can be added to existing surveillance installations, offering 24-hour intelligence.
Read more...
---