printer friendly version
Resolving the security threat
September 2012
Cyber Security
The advent of wireless networking and the wireless transmission of data have brought the benefits of convenience, flexibility and significantly lower installation costs to the video surveillance industry. However, there is more to wireless technology than wireless CCTV cameras and cable-free IP (Internet Protocol) surveillance. There is the dark side of potential security breaches, usually perpetrated by laptop toting war drivers looking for unprotected or unencrypted networks to hack into.
A wireless surveillance network could present those intent on gaining unauthorised access to a corporate network with an ideal gateway, allowing them to hook up to the network and its often geographically dispersed servers and copy-sensitive data, steal identities or commit any number of fraudulent acts, including the placement of sniffer software and other malware.
Unfortunately, many organisations pay little attention to the security of the video surveillance network, probably in the mistaken belief that the modern wireless version – now connected to the corporate network – represents as little threat as the old, replaced, analogue system.
That said, high-quality megapixel resolution digital cameras and network-based IP cameras represent realistic options for new-generation security projects, which can include building management and access control, because of the considerable benefits their technology brings to the process. These include motion detection, behaviour recognition and thermal/infrared imaging for low-light conditions as well as the option to integrate other IP-based intrusion detection systems, complemented by a variety of active and passive alarms and customisable control methods.
However relevant and important these features, they must never be allowed to override the need for security protection.
Securing wireless
The first step towards ensuring the security of a wireless infrastructure is data encryption which encodes the information transmitted over the infrastructure. It is advisable to use the strongest form supported by the network. The Wireless Protected Access (WPA) protocol and more recent WPA2 have supplanted the older and less-secure Wireless Encryption Protocol (WEP).
One of the best ways to protect a wireless network and its links is through the use of a virtual private network (VPN). VPNs secure communications by creating impenetrable tunnels through which the encrypted data travels. Many companies provide VPN service to their mobile and offsite workers and similar services can be adopted for surveillance systems too.
An important step in the process is to establish control over the network to authorise, limit or block access to the infrastructure based on authentication, location and needs assessments. The network management solution selected to perform these tasks should have the ability to correlate and sort large volumes of threat data while providing complete visibility and control of the security environment. It should also deliver compliance enablement and, if possible, support an audit process while providing open interoperability with third party devices.
Threat management
Leading systems today offer an array of forensic tools together with native voice over IP support and the ability to upgrade or combine intrusion detection systems (IDS) and intrusion prevention systems (IPS) in the same application and within the same appliance.
Several methods can be used to detect threats, including signature-based and anomaly-based detection as well as stateful protocol analysis – the process of comparing predetermined profiles of generally accepted definitions of benign protocol activity for each protocol state against observed events to identify deviations.
With these defences in place, it is safe to integrate wireless networks into a broad-based business communications infrastructure. In fact, the trend towards converged, multi-service networks is very much part of today's corporate landscape as organisations move to rationalise technology spending by permitting voice, video and data to run over a common communications infrastructure.
While networks continue to grow organically, some have evolved into convoluted technology nightmares. However, it is possible to plan a strategy that ensures service level targets set by an organisation's user community are equally met by data, voice and video systems – including video surveillance systems – without undue complexity or cost.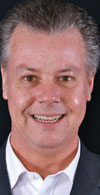 Martin May
For more information contact Enterasys Networks, +27 (0)11 531 9600, mmay@enterasys.co.za, www.enterasys.com
Further reading:
Insights from the 2023 Cloud Security Report
News Cyber Security
Increased costs, compliance requirements, hybrid and multi-cloud complexities, reduced visibility, and a lack of skilled practitioners cause organisations to slow or adjust their cloud adoption strategies.
Read more...
---
New algorithm for OT cybersecurity risk management
Industrial (Industry) Cyber Security News Commercial (Industry)
OTORIO's new risk management model and attack graph analysis algorithm technology, calculates OT cybersecurity threats and provides risk mitigation actions, prioritised according to actual exposure and potential impact on operations.
Read more...
---
Veeam finds 93% of cyberattacks target backup storage
Cyber Security
Veeam unveils the results of its 2023 Ransomware Trends Report, showing cyber insurance is becoming too expensive and 21% of organisations are unable to recover their data after paying the ransom.
Read more...
---
Cybersecurity providers must first protect themselves
Cyber Security
In a joint advisory released by cybersecurity agencies across the United States, UK, Australia, Canada and New Zealand, managed security service providers (MSSPs) have been warned of a sharp increase in cyberattacks targeting their systems.
Read more...
---
Cyber attackers used over 500 tools and tactics in 2022
Cyber Security News
The most common root causes of attacks were unpatched vulnerabilities and compromised credentials, while ransomware continues to be the most common 'end game' and attacker dwell time is shrinking – for better or worse.
Read more...
---
Addressing the SCADA in the room
Industrial (Industry) Cyber Security
Few other sectors command the breadth of purpose-built and custom devices necessary to function, as the industrial and manufacturing industries. These unique devices create an uncommon risk that must be assessed and understood to fully protect against incoming attacks.
Read more...
---
Recession or stress?
Cyber Security News
The economic landscape has seen many technology companies lay off vast numbers of employees, but for cybersecurity, the picture looks very different – a dynamic mixture of excitement, challenges and toxicity.
Read more...
---
Vulnerabilities in industrial cellular routers' cloud management platforms
Industrial (Industry) Cyber Security Security Services & Risk Management
Research from OTORIO, a provider of operational technology cyber and digital risk management solutions, unveils cyber risks in M2M protocols and asset registration that expose hundreds of thousands of devices and OT networks to attack
Read more...
---
NEC XON appoints Armand Kruger as Head of Cybersecurity
News Cyber Security
NEC XON has announced the appointment of Armand Kruger as the Head of Cybersecurity. Kruger will oversee all cybersecurity offerings including cybersecurity strategy, programmes, and executive advisory.
Read more...
---
Caesar Tonkin new head of cybersecurity business, Armata
News Cyber Security
Vivica Holdings has announced the appointment of cybersecurity expert Caesar Tonkin to head up its cybersecurity business Armata, which provides technology solutions and niche expertise needed to help businesses better protect themselves.
Read more...
---