printer friendly version
Disconnecting video surveillance
September 2012
Cyber Security
One of the most significant technology advancements in the video surveillance industry is the increasing adoption of wireless technology to link cameras to the surveillance network.
This trend has been spurred by the convergence of legacy analogue and new-generation digital technologies which is encouraging the adoption of high-quality, megapixel resolution cameras and the incorporation in network-based IP (Internet Protocol) cameras, along with the proliferation of IP-based peripheral components such as alarms, intrusion detection systems and a variety of control methods.
The video surveillance marketplace is being boosted by demands from government and municipal institutions as well as enterprise security system managers for the integration of these systems into larger security ecosystems. New technologies such as motion detection, behaviour detection and thermal / infrared cameras as well as video content analytics are becoming increasingly accepted and integrated into intelligent, IP-based video systems thanks to innovations from semiconductor and applications vendors as well as the wireless networking industry vendors.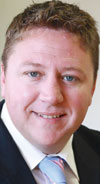 Andy Robb
Riptide of change
These moves represent a 'riptide of change for the industry' which is also being rapidly advanced by users' needs to monitor more locations, span ever-larger geographic areas, view clearer images and automatically analyse increasing volumes of data in real time.
Wireless technology is a key player. It affords flexibility, convenience and cost advantages over wired networks.
Two of the major benefits of wireless technology for the video surveillance industry are installation speed and simplicity. Installing a wireless network is fast, obviating the need to pull cable through walls and ceilings. Camera positioning is easier as a result. The long-term cost benefits are greatest in dynamic environments requiring frequent moves and changes, often characteristics of an evolving security requirement.
In this light, wireless systems can be configured in a variety of topologies to meet the needs of specific applications and installations. What is more, configurations are easily changed and range from peer-to-peer networks suitable for a small number of cameras to full infrastructure, IP networks linking cameras to sophisticated intrusion detection and prevention systems and integrated network management systems.
The market is teeming with new, high-definition IP camera options, complemented by the latest software and a variety of wireless communication, control and management systems. The cameras are also backed by a plethora of leading-edge storage, distribution and analytics solutions capable of recognising potential security breaches without human involvement. In addition to equipment choice, some of the important challenges currently facing network designers today include selecting vendor and reseller partners capable of incorporating new-generation systems into both existing corporate wired and emerging wireless networks and then integrating them with the latest information management systems.
Their success in meeting these challenges will determine whether they are able to give management and security officers the visibility they require into the myriad processes associated with surveillance in the broadest sense.
For more information contact Duxbury Networking, +27 (0)11 351 9800, [email protected], www.duxbury.co.za
Credit(s)
Further reading:
Industrial control systems under attack
News Cyber Security
According to Kaspersky ICS CERT statistics, from January to September 2022, 38% of computers in the industrial control systems (ICS) environment in the META region were attacked using multiple means.
Read more...
---
OSINT: A new dimension in cybersecurity
Cyber Security
The ancient Chinese strategist Sun Tzu noted, you should always try to know what the enemy knows and know more than the enemy.
Read more...
---
Sasol ensures Zero Trust for SAP financials with bioLock
Technews Publishing Editor's Choice Cyber Security Security Services & Risk Management
Multi-factor authentication, including biometrics, for SAP Financials from realtime North America prevents financial compliance avoidance for Sasol.
Read more...
---
Building a holistic application security process
Altron Arrow Cyber Security
Altron Arrow asks what it means to build a holistic AppSec process. Learn what's involved in a holistic approach and how to get started.
Read more...
---
Managing data privacy concerns when moving to the cloud
Cyber Security
While the cloud offers many business benefits, it can also raise concerns around compliance, and some organisations have taken the approach of staying out of the cloud for this reason.
Read more...
---
Accelerating your Zero Trust journey in manufacturing
IT infrastructure Cyber Security Industrial (Industry)
Francois van Hirtum, CTO of Obscure Technologies, advises manufacturers on a strategic approach to safeguarding their businesses against cyber breaches.
Read more...
---
The democratisation of threats
Cyber Security
Bugcrowd looks at some of the primary vulnerabilities the world faced in 2021, and the risks moving forward with growing attack surfaces and lucrative returns on crime.
Read more...
---
Protecting yourself from DDoS attacks
Cyber Security Security Services & Risk Management
A DDoS attack, when an attacker floods a server or network with Internet traffic to prevent users from accessing connected online services, can be costly in both earnings and reputation.
Read more...
---
Exploiting Android accessibility services
Cyber Security
Pradeo Security recently neutralised an application using Android accessibility services that exploits the permission to perform fraudulent banking transactions.
Read more...
---
Cyber resilience is more than cybersecurity
Technews Publishing Editor's Choice Cyber Security Integrated Solutions IT infrastructure
Hi-Tech Security Solutions held a round-table discussion focusing on cyber resilience and found that while the resilience discipline includes cybersecurity, it also goes much further.
Read more...
---