printer friendly version
Disconnecting video surveillance
September 2012
Information Security
One of the most significant technology advancements in the video surveillance industry is the increasing adoption of wireless technology to link cameras to the surveillance network.
This trend has been spurred by the convergence of legacy analogue and new-generation digital technologies which is encouraging the adoption of high-quality, megapixel resolution cameras and the incorporation in network-based IP (Internet Protocol) cameras, along with the proliferation of IP-based peripheral components such as alarms, intrusion detection systems and a variety of control methods.
The video surveillance marketplace is being boosted by demands from government and municipal institutions as well as enterprise security system managers for the integration of these systems into larger security ecosystems. New technologies such as motion detection, behaviour detection and thermal / infrared cameras as well as video content analytics are becoming increasingly accepted and integrated into intelligent, IP-based video systems thanks to innovations from semiconductor and applications vendors as well as the wireless networking industry vendors.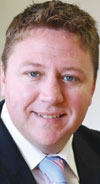 Andy Robb
Riptide of change
These moves represent a 'riptide of change for the industry' which is also being rapidly advanced by users' needs to monitor more locations, span ever-larger geographic areas, view clearer images and automatically analyse increasing volumes of data in real time.
Wireless technology is a key player. It affords flexibility, convenience and cost advantages over wired networks.
Two of the major benefits of wireless technology for the video surveillance industry are installation speed and simplicity. Installing a wireless network is fast, obviating the need to pull cable through walls and ceilings. Camera positioning is easier as a result. The long-term cost benefits are greatest in dynamic environments requiring frequent moves and changes, often characteristics of an evolving security requirement.
In this light, wireless systems can be configured in a variety of topologies to meet the needs of specific applications and installations. What is more, configurations are easily changed and range from peer-to-peer networks suitable for a small number of cameras to full infrastructure, IP networks linking cameras to sophisticated intrusion detection and prevention systems and integrated network management systems.
The market is teeming with new, high-definition IP camera options, complemented by the latest software and a variety of wireless communication, control and management systems. The cameras are also backed by a plethora of leading-edge storage, distribution and analytics solutions capable of recognising potential security breaches without human involvement. In addition to equipment choice, some of the important challenges currently facing network designers today include selecting vendor and reseller partners capable of incorporating new-generation systems into both existing corporate wired and emerging wireless networks and then integrating them with the latest information management systems.
Their success in meeting these challenges will determine whether they are able to give management and security officers the visibility they require into the myriad processes associated with surveillance in the broadest sense.
For more information contact Duxbury Networking, +27 (0)11 351 9800, info@duxnet.co.za, www.duxbury.co.za
Further reading:
The song remains the same
Sophos Information Security
Sophos report found that telemetry logs were missing in nearly 42% of the attack cases studied. In 82% of these cases, cybercriminals disabled or wiped out the telemetry to hide their tracks.
Read more...
---
How hackers exploit our vulnerabilities
Information Security Risk Management & Resilience
Distractions, multi-tasking, and emotional responses increase individuals' vulnerability to social engineering, manipulation, and various forms of digital attacks; 74% of all data breaches included a human element.
Read more...
---
Projections for 2024's Advanced Threats Landscape
News & Events Information Security
Kaspersky Global Research and Analysis Team (GReAT) experts offer insights and projections for 2024 in the Kaspersky Security Bulletin, with a focus on the evolution of Advanced Persistent Threats (APT).
Read more...
---
Veeam and Sophos in strategic partnership
Information Security
Veeam and Sophos unite with a strategic partnership to advance the security of business-critical backups with managed detection and response for cyber resiliency, and to quickly recover impacted data by exchanging critical information.
Read more...
---
When technology is not enough
Information Security
[Sponsored] Garith Peck, Executive Head of Department for Security at Vodacom Business, writes about the importance of creating a cybersecurity strategy in a world where threats never sleep.
Read more...
---
Reinforcing cyber defences in a world of evolving threats
Sophos Information Security
[Sponsored Content] In South Africa, the urgency to amplify cybersecurity measures is underscored by alarming statistics revealing the continued vulnerability of organisations to ransomware and other sophisticated cyberattacks.
Read more...
---
Trellix detects collaboration by cybercriminals and nation states
News & Events Information Security
Trellix has released The CyberThreat Report: November 2023 from its Advanced Research Centre, highlighting new programming languages in malware development, adoption of malicious GenAI, and acceleration of geopolitical threat activity.
Read more...
---
SA enterprises can benefit from AI-driven cybersecurity
AI & Data Analytics Information Security
Cybercrime is big business, and threat actors deploy cutting-edge tools to carry out attacks. Fortunately, cybersecurity is constantly evolving to meet and counter the threats they face.
Read more...
---
Cyber threat anticipation
NEC XON Information Security Risk Management & Resilience
The ever-increasing number of sophisticated attacks on the horizon means organisations must evolve and adapt their cybersecurity strategies to protect their data, systems, and reputation.
Read more...
---
Africa Online Safety Fund announces grant winners
News & Events Information Security
The Africa Online Safety Fund (AOSF) has announced the winners of this year's grants; among them are five organisations operating in South Africa to educate people about online risks.
Read more...
---