printer friendly version
A global interface standard
September 2012
CCTV, Surveillance & Remote Monitoring
The Open Network Video Interface Forum, ONVIF for short, has set itself the goal of creating a global interface standard for network video products. This standard allows the use of devices from various manufacturers together in one system. In 2009, Dallmeier became a contributing member and has since been actively involved in the development of the ONVIF standard, particularly through Daniel Fiala. We asked him about his role and his personal opinion.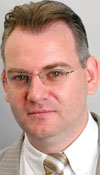 Daniel Fiala
How did you get involved with ONVIF?
Fiala: As part of my job with Dallmeier I am also responsible for the area of integration and interfaces. And so ONVIF is also one of my responsibilities. As project manager, I integrated ONVIF with our cameras and also helped in preparing the integration of ONVIF into the recorders. Additionally, I purposely dedicate a certain amount of my work time to tasks related to the ONVIF organisation itself.
ONVIF is an open forum and anybody can contribute in order to improve the concept of ONVIF as such and to expand it. This means that I am trying to drive ONVIF forward, while being totally independent from our company's interests. However, as an active member we do know about developments ahead of time and can then implement them right away.
What is your job at ONVIF?
Fiala: First, I worked as the head of the Application Programmer's Guide working group, where the work was mainly about creating a manual on how integrators, respectively management systems, need to handle ONVIF. In other words, we created a document that would help people to better understand ONVIF and the underlying concept. This work gave me the chance to get closely acquainted with the specifications. Based on my previous experience ONVIF has now offered me the post as head of the Technical Support Working Group. It is my job to help the ONVIF members with questions about specifications and their applications.
The market repeatedly criticises the discrepancy between marketing statements and reality. What is your opinion on that?
Fiala: One should take a quick look at the evolution of ONVIF in order to answer that question. The forum was only established in 2008 and that year the first version of the specifications was finalised. That is a very short timeframe. So, it is understandable that these specifications were not perfect or covered all areas 100%. Also, there was a certain room for manoeuvre as to how to interpret specific parts. That is also the reason why it happened that despite passing the ONVIF test, two products did not properly interact in practice.
Is there already a solution for this problem?
Fiala: Yes, there is. ONVIF holds regular workshops, the so-called plug fests, where all members test their systems against one another, and Dallmeier has also been attending these workshops for the past few years. Another issue is that the number of required acceptance tests is continuously increasing. In the beginning, the conformance assessment for a single product included just 30 tests, by now there are about 280. Through these tests many of the incompatible interpretations were eliminated and the required behaviour was more thoroughly standardised.
In addition ONVIF is currently working on Conformance Profiles. They describe a set of functions and technologies that must be supported by both the client and the device in order to communicate with each other. This changes the nature of the tests: Going forward, we will not just simply test if a product is 'conformant' or 'non-conformant'. We will also test the availability of specific functions. Depending on the results, the relevant product receives corresponding sub-certificates.
If, for example, the function 'Streaming' is tested, the successful product receives an 'S'stamp. If both a device and a client have an 'S', the products can safely communicate with each other. That significantly increases transparency.
Is ONVIF also used outside of video surveillance?
Fiala: Yes. And Dallmeier showed that it is possible at the Convergence Area with demonstrations of the integration of access control, identity management, card management, IT security and video surveillance.
And that works via ONVIF?
Fiala: If possible, ONVIF uses only technologies that are already established in the market. One of those basic technologies is Web services, which has a very high potential for fast integration. Web services is an abstract framework which is independent of operating systems and programming languages. So, a platform was created where all devices speak the same language, even if the dialects are still different as is the case at the Convergence Area.
Our colleagues from partner companies, for example, were able to send first commands to our camera within half a day, even though they had never worked with video technology before. People who have experience with device integration know what an outstanding achievement that is. Such a fast integration would be impossible with manufacturer-specific protocols.
So, you think that ONVIF is a success?
Fiala: Let us use a little example here: Currently there are over 1300 ONVIF-certified products from more than 100 vendors. Around 1200 of those are cameras. This means that one ONVIF-compliant management system can address around 1200 cameras by some 70 manufacturers. And it can do so using just one single protocol. So, I would definitely say that ONVIF is a success.
For more information contact Dallmeier Southern Africa Office, +27 (0)11 979 4540, [email protected], www.dallmeier.com
Further reading:
Antarctic surveillance
Dahua Technology South Africa CCTV, Surveillance & Remote Monitoring
Dahua Technology donated 15 security cameras to different scientific bases in the Argentine region of Antarctica; the cameras were especially developed to handle the harsh climate and extreme weather conditions in the area.
Read more...
---
Deep learning engine set to supercharge end-to-end solutions
CCTV, Surveillance & Remote Monitoring
IDIS, manufacturer of South Korean-made video technology, will be displaying an exciting line-up of end-to-end video solutions that include the latest advances in AI-powered video analytics for businesses of any size, at this year's Intersec.
Read more...
---
Realistic image quality even in dark environments
Dahua Technology South Africa CCTV, Surveillance & Remote Monitoring
The 4K video surveillance market size is expected to grow at 9 percent CAGR (compound annual growth rate), which is primarily driven by the increasing demand for public safety and security services.
Read more...
---
Cloud-based forensic video searching
CCTV, Surveillance & Remote Monitoring
Arcules introduces Forensic Video Search to empower rapid event identification within its video cloud service, providing a critical tool to help businesses identify specific objects or events in seconds.
Read more...
---
Minimising fire risks in automotive logistics
Hikvision South Africa CCTV, Surveillance & Remote Monitoring Products Logistics (Industry)
Automotive logistics company uses thermal imaging solution from Hikvision to ensure its stores of lithium batteries for electric vehicles never overheat and cause a fire.
Read more...
---
Axis launches P3265-LVE dome camera
Axis Communications SA Products CCTV, Surveillance & Remote Monitoring
Based on ARTPEC-8 — the latest Axis system-on-chip (SoC) — Axis' latest dome high-performance camera includes a deep learning processing unit (DLPU), and cybersecurity features.
Read more...
---
Smart car parking solution eases traffic flow
Dahua Technology South Africa CCTV, Surveillance & Remote Monitoring Integrated Solutions Products
Ethiopia's first smart parking lot, designed to improve traffic flow and management efficiency, has been built and installed using Dahua Technology's smart parking solutions.
Read more...
---
VMS 7.2 supports the investigation process and adds cloud capabilities
CCTV, Surveillance & Remote Monitoring Integrated Solutions Products
Qognify has launched the second release of its VMS, including extended support for body-worn video, additional functionalities to support investigations, and a new web client architecture. VMS 7.2 addresses the increasing use of body-worn video (BWV) across many sectors.
Read more...
---
The future of AIoT
Hikvision South Africa News CCTV, Surveillance & Remote Monitoring
Hikvision hosted its 2022 Shaping Intelligence Summit in Bali, Indonesia, on 29-30 November, where the company, its customers, and technology and solution partners, looked into the future of AIoT and explored paths to shared success.
Read more...
---
A comprehensive video solution for retail
LD Africa Retail (Industry) CCTV, Surveillance & Remote Monitoring Products
Retail Intellect is a comprehensive, flexible solution for retailers that matches technologies to ensure point-of-sale safety and security with video analytics.
Read more...
---