printer friendly version
Intelligent parking from EOH
September 2012
Security Services & Risk Management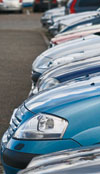 EOH Intelligent Infrastructure has secured the exclusive rights to represent the global leader in intelligent parking, Germany's Scheidt & Bachmann in South Africa.
Scheidt & Bachmann was founded in 1872 as a mechanical engineering company. In 1966, the company moved into the production of parking control equipment as the first forays into automated parking management began. The company focuses on off-street parking, such as mall and multi-story parking lots.
Thomas Dibbern, director of international operations at Scheidt & Bachmann says the company was among the first to recognise the potential of what was then new microprocessor technology in automated systems. Since then it has expanded its parking solutions globally and is today the leader in this field in over 50 countries.
Dibbern stresses that Scheidt & Bachmann does not focus on 'pay and display' or 'pay on foot' solutions, of which there are many solutions available. The solutions the company develops will include these options, but are combined with high quality, innovative hardware and software products designed and manufactured in Germany.
Innovative solutions
"The parking industry has moved from simple ticket dispensing and barrier-based hardware products to include more intricate and innovative software solutions," explains Dibbern. "As such, we have developed intuitive interface displays, including mobile apps for innovative parking applications."
With the software solutions it has on offer, Dibbern says it can provide local companies with integrated parking solutions that go beyond opening and closing barriers. The company's systems are designed to integrate with existing business systems, such as SAP ERP applications, retail loyalty programmes, CCTV operations and more.
This provides valuable business intelligence as well as operational information to companies. Dibbern offers the example of a car hitting a parking barrier. Automated alarms in Scheidt & Bachmann's system will alert a control room as soon as the accident occurs, displaying and saving the video footage to ensure the company concerned will have clear evidence of the event, including the activity immediately before and after the accident.
Loyalty and validation programmes in retail operations can also be integrated with the system, allowing retailers to reward or discount loyal customers automatically without requiring any additional administrative work.
The ticketing systems Scheidt & Bachmann supports include the popular magnetic stripe tickets, but also those with barcode as well as chip or coin tickets, which save money and support the environment through reduced printing and maintenance costs.
"We are also able to empower clients to manage multiple dispersed car parks from a central control room in real time," adds Dibbern. "We currently have a customer in the UK managing 25 car parks across the country from one control room. From there operators can manage all the company's operations and dispatch guards or maintenance technicians as soon as a problem is detected."
Local focus
Scheidt & Bachmann is now focusing on the South African market where it sees great potential for intelligent parking applications. Dibbern says the time is right to transform the South African parking industry into an intelligent parking industry with integrated solutions that deliver real business value.
The company selected EOH Intelligent Infrastructure as its South African partner because of its long history in the access control market, as well as its reputation as a systems integrator of choice. This means that not only can EOHii deliver Scheidt & Bachmann's intelligent parking solutions, but can also call on its years of experience in integrating these with various business systems, even assisting in the development of new applications.
"Scheidt & Bachmann is the perfect choice for EOH Intelligent Infrastructure as well as our IT partners in the EOH group," says EOHii's Michael Labuschagne, who will be driving the intelligent parking division within the group. Labuschagne has years of experience in the intelligent parking environment and is already talking to and quoting local customers on the Scheidt & Bachmann solutions that are available from Stanley.
For more information, contact Michael Labuschagne, +27 (0)11 844 3200, [email protected]
Credit(s)
Further reading:
South African business readies for a journey to the cloud
Security Services & Risk Management
There is an increasing demand for cloud services in the country, driven by the need to use advanced technologies such as AI while also providing hybrid workers access to data, regardless of their location.
Read more...
---
South Africa can accelerate its move to smart cities
Security Services & Risk Management
What global smart city leaders have in common is that they have built on, and developed existing infrastructure, transforming it iteratively; South Africa is well positioned to adopt this approach.
Read more...
---
Where does SA logistics stand as far as cybersecurity is concerned?
Logistics (Industry) Security Services & Risk Management
Lesiba Sebola, director of information technology at Bidvest International Logistics, says it is paramount to safeguard IT infrastructure given how central it has become to operations.
Read more...
---
The Deposita Protector 3000 d-s1
Deposita Security Services & Risk Management
The Protector 3000 d-s1, designed for medium-sized enterprises, improves the level of security at the business and helps optimise resources by streamlining cash-handling processes.
Read more...
---
Top fraud trends to watch in 2023
News Security Services & Risk Management
Even though financial concerns remain a significant obstacle for companies in implementing new anti-fraud technologies, 60% of businesses expect an increase in their anti-fraud technology budgets in the next two years.
Read more...
---
Be cautious when receiving deliveries at home
News Perimeter Security, Alarms & Intruder Detection Security Services & Risk Management
Community reports of residents being held up at their gate when collecting fast food deliveries at home are once again surfacing.
Read more...
---
Sasol ensures Zero Trust for SAP financials with bioLock
Technews Publishing Editor's Choice Cyber Security Security Services & Risk Management
Multi-factor authentication, including biometrics, for SAP Financials from realtime North America prevents financial compliance avoidance for Sasol.
Read more...
---
Protecting yourself from DDoS attacks
Cyber Security Security Services & Risk Management
A DDoS attack, when an attacker floods a server or network with Internet traffic to prevent users from accessing connected online services, can be costly in both earnings and reputation.
Read more...
---
Crossing the chasm
Editor's Choice News Security Services & Risk Management Training & Education
Industry reports suggest that in the next ten years, millions of jobs could go unfilled because there simply are not enough people to fill them.
Read more...
---
Records in place now, not later
Editor's Choice Security Services & Risk Management
It is important, after an incident, to have records in place as soon as possible. Too often the matter is left for the day when the company is going to court, or a disciplinary hearing is scheduled.
Read more...
---