printer friendly version
Independent security risk assessment
September 2012
Security Services & Risk Management
Many people ask why they need to have a security risk assessment done. The answer is actually very straightforward; a security risk assessment is an information gathering investigation which exposes your possible problem areas and vulnerabilities so that you can do something about them.
Most people believe that security is simply a matter of putting in an alarm system or some burglar bars and indeed, this is what most security companies have led the public to perceive as adequate security. Truth be known, most criminals know more about your home alarm system than you do. An alarm does not protect you . . . it merely warns you. Most criminals also know how to get over an electric fence and through burglar bars. Burglar bars and electric fences do not stop criminals, they merely slow them down.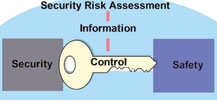 In order to put proper security and safety measures in place you need to be in control, and to be in control you need information. A security risk assessment provides you with that information which puts you in control in the event that your security is breached.
Because of the fact that most security companies are primarily concerned with moving product or selling services, they will stop giving you advice as soon as these typical and partly effective measures have been put into place. However, really securing your home or business is a three pronged strategy involving deterrents along with knowledge and preparedness. This is where an independent security risk assessment is invaluable.
Poking, probing and snooping around
Rather than simply advising you to buy the most expensive alarm system on the market, an independent security risk assessor will inspect your home, poke around your property, research your lifestyle and snoop around your neighbourhood to find out exactly where your vulnerabilities are and what factors are likely to tempt criminals to target your home or business. Once he has neutralised these factors, he will make sure that the security measures you already have in place are all in good working order as well as establishing whether or not they will be effective within the context of your unique circumstances and lifestyle.
He may recommend additional products if your present setup is inadequate or create a system for you from scratch if you do not yet have any security installed. But most of all, an independent security risk assessor concerns himself with putting you in control of your own safety.
While we like to believe that security measures will keep criminals out, this kind of thinking is simply not realistic – especially not in this day and age where violent crime abounds. An independent security risk assessor knows that experienced criminals are capable of finding their way through any system if they are determined enough.
Most people rely so heavily on their security measures that they never stop to consider what they will actually do in case of a security breach. As a result, if they find themselves having to face an incident, they panic, act irrationally, and unwittingly endanger themselves and their families.
An independent security risk assessor will not only create the best possible measures for keeping criminals out, he will also assume the possibility of a security breach and provide you with a safety plan so that you are able to manage your circumstances in case of this eventuality.
A safety plan will enable you to stay in control of the situation as it unfolds while at the same time mobilising resources swiftly and keeping yourself and your family out of harm's way while you wait for help to arrive. This is one of the most neglected, and yet one of the most important, aspects of an holistic security plan.
Information is power. You cannot make competent decisions without it and this is as true in security as it is in every other field. Alwinco is an independent security risk assessment consulting company with 30 years of experience under its belt. Years of experience reverse engineering crime scenes has given it an intimate working knowledge of criminal tactics and crime fighting.
This is the third article in the series from Alwinco discussing the various aspects of a comprehensive risk assessment.
For more information contact Alwinco, +27 (0)71 319 4735, [email protected], www.alwinco.co.za
Further reading:
Be aware of privacy and cybercrimes issues
Security Services & Risk Management Cyber Security Retail (Industry)
Artificial intelligence (AI) is being deployed to help shoppers make better choices, but retailers must be aware of their obligations under personal privacy and cybercrimes laws.
Read more...
---
Millions in energy savings
Security Services & Risk Management
Massmart partners with Green Wave and Schneider Electric for a BMS system that optimises operations while already saving millions of rand in energy usage.
Read more...
---
From Hill Street Blues, to Hillbrow, to managing risk for BMW
Technews Publishing Editor's Choice News Security Services & Risk Management
Jane-Eleanor Morrison's success story starts from growing up in the stressful pre-democracy times in KZN, moves through a successful career in SAPS. to BMW South Africa where she is now the risk control manager.
Read more...
---
Hard times, increased crime
Technews Publishing Security Services & Risk Management Integrated Solutions IT infrastructure
Hi-Tech Security Solutions spoke to Mezuzah Security Services to find out what is happening in the real world, and how security companies are dealing with the added pressure inherent to the South African market.
Read more...
---
The cost of safety
iFacts Technews Publishing Security Services & Risk Management
In June 2022, the South African police statistics showed that crime had increased significantly. According to the SAPS, 6083 people were murdered over the quarter (up 22%), the equivalent of 68 people a day.
Read more...
---
A guide to employing a new guarding company
Security Services & Risk Management
Outsourcing guarding has become necessary for businesses to mitigate crime, loss and compliance risks, provided you have done your due diligence.
Read more...
---
Why LiFePO4 batteries are the future
Regal Distributors SA Security Services & Risk Management
Because the LiFePO4 battery is denser than the sealed lead acid battery, it's able to store and discharge more energy, giving you more power, for more appliances, for longer.
Read more...
---
Business continuity during outages
Security Services & Risk Management
rotecting technical equipment from unplanned outages is important if a company is to maintain business continuity and safeguard critical equipment.
Read more...
---
Obscure Technologies adds OneTrust to portfolio
Security Services & Risk Management
Cybersecurity specialist Obscure Technologies has announced the formation of a strategic alliance with OneTrust, a provider of Trust Intelligence.
Read more...
---
Three ways to prevent non-delivery
Security Services & Risk Management
By using an escrow platform, you can pay for the item, but the funds are held in a trust account until you receive the item and are happy it's what you ordered.
Read more...
---