printer friendly version
Hudaco record blanket drive honours Mandela Day
September 2012
News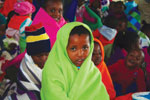 More than one thousand blankets were collected for under-privileged children by employees of the Hudaco Group in support of Mandela Day on 18 July 2012.
Mandela Day, which has been officially recognised throughout the world since 2008, is not only a tribute to South Africa's ex-president, who turned 94 this year, but also a call to action for people to give to the less fortunate, explains Hudaco Group human resources and transformation executive, Jonny Masinga.
"The event, which acknowledges the 67 years of his life that Madiba gave to fighting for justice and human rights, calls for people to give 67 minutes of their time on that day to charity or to serving their communities in some way. In so doing, they will be making the world a better place and accordingly ensuring that his legacy lives on."
The Hudaco Group, which comprises of 17 businesses, set out this year to collect 250 quality blankets for Afrika Tikkun, an international non-government organisation (NGO) that provides education, health and social services to the under-privileged in South African townships.
"Our staff, who come from all walks of life, heeded – and exceeded – the call, collecting 1016 high-quality blankets," says Masinga. "It was an over-whelming response, made even more special when we delivered the blankets and witnessed first-hand the pure joy on the faces of each and every child in the four Afrika Tikkun Gauteng branches."
Not only will the blankets provide much-needed warmth for children but they will also serve as a constant reminder that people care and that there is hope for the future, he believes. "And maybe someday, in turn, they will be encouraged and in a position to do the same for others."
Further reading:
Olarm launches the Olarm LINK
Olarm Perimeter Security, Alarms & Intruder Detection News Products
Building on the success of smart-enabling, monitoring and controlling alarm panels and electric fences, Olarm has a new solution for customers to integrate gates, garage doors, pumps and other electrical products with the Olarm APP and Olarm PRO communicator.
Read more...
---
Ultimate smart monitoring and reliability
Olarm Perimeter Security, Alarms & Intruder Detection News Products
Olarm is gearing up to unveil its latest product, the Olarm MAX, set to be available in late 2023, which will redefine smart monitoring by offering unparalleled connectivity options and functionality.
Read more...
---
Insights from the 2023 Cloud Security Report
News Cyber Security
Increased costs, compliance requirements, hybrid and multi-cloud complexities, reduced visibility, and a lack of skilled practitioners cause organisations to slow or adjust their cloud adoption strategies.
Read more...
---
New algorithm for OT cybersecurity risk management
Industrial (Industry) Cyber Security News Commercial (Industry)
OTORIO's new risk management model and attack graph analysis algorithm technology, calculates OT cybersecurity threats and provides risk mitigation actions, prioritised according to actual exposure and potential impact on operations.
Read more...
---
Robots: a security opportunity or a threat?
Editor's Choice News Conferences & Events
Professor Martin Gill, Director of Perpetuity Research & Consultancy International and the School of Criminal Justice at the University of South Africa (UNISA), will be holding a Global Thought Leadership Security webinar on 22 June 2023 to discuss the contentious issue of robots operating in the security industry.
Read more...
---
UNISA sponsors Securex seminars
Editor's Choice News Conferences & Events
As part of UNISA's 150-year birthday celebrations, UNISA has sponsored the Securex Theatre Seminar Programme, which will include a number of prominent industry specialists, academics and security practitioners focusing on a number of themes.
Read more...
---
Facilities Management Seminar Theatre
Securex South Africa News
The free-to-attend Facilities Management Seminar Theatre, powered by Broll, delivers information on the latest market trends, thereby keeping attendees up to date on solutions and technology centred on increasing facility system optimisation.
Read more...
---
The latest security trends at Securex South Africa 2023
Securex South Africa News Conferences & Events Training & Education
Security technology evolves at a blistering pace, so it's important to keep up to date with changing trends in order to ensure maximised safety of human and personal assets. The Securex Seminar Theatre, powered by UNISA, is the place to be.
Read more...
---
Sustainability School opens for enrolment
Education (Industry) News Security Services & Risk Management
Three-part programme, first developed for Schneider Electric employees, is now available for free for companies worldwide. Attendees learn how to future-proof their businesses and accelerate their decarbonisation journeys.
Read more...
---
From the editor's desk: Get Smart
Technews Publishing News
Welcome to the fourth issue of Hi-Tech Security Solutions for 2023, which is also the first issue of Smart Security Solutions. As noted in previous issues, Hi-Tech Security Solutions has been rebranded to Smart Security Solutions.
Read more...
---