printer friendly version
C3 Shared Services and Fike announce partnership
September 2012
News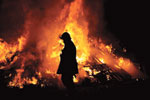 C3 Shared Services has announced it has secured a business partnership with Fike, a supplier of products and services that protect people and critical assets from dangers such as fire, explosion, and over-pressurisation.
C3 will mainly be concentrating on the SigniFire range of intelligent fire detection from Fike. SigniFire is a flame, smoke and reflective flame detection solution. The camera-based detection system visually detects the presence of fire or smoke at its source, independent of airflow in the area. SigniFire is a critical advantage for early warning fire detection, identifying and reacting to fire situations in their earliest stages and protecting lives and property.
Brendon Cowley, business development director for C3, says, "The advantages of this intelligent system are numerous. Firstly, there is the advantage of the early warning detection capabilities which greatly minimises the damage that fire can cause if not caught early enough and also allows for a speedy reaction from the appropriate response team to deal with the fire on hand.
"Secondly, SigniFire, video smoke and flame detection technology, is an authorised initiating device per NFPA 72, National Fire Code and SigniFire is FM approved and UL listed for the purpose of flame and smoke detection. Thirdly, the visual verification of fire is hugely advantageous over your traditional methods of smoke or fire detection and can often be used to pinpoint the cause of the fire, a tool that can be used to prevent the same situation from recurring."
"Fike Video is excited to partner with C3SS as it is a recognised leader in South Africa as a high-end security integrator with an excellent track record and reputation for total customer service," stated Mac Mottley, GM, Fike Video Image Detection.
For more information contact C3 Shared Services, +27 (0)11 312 2041, marketing@c3ss.com, www.c3ss.com
Credit(s)
Further reading:
Olarm launches the Olarm LINK
Olarm Perimeter Security, Alarms & Intruder Detection News Products
Building on the success of smart-enabling, monitoring and controlling alarm panels and electric fences, Olarm has a new solution for customers to integrate gates, garage doors, pumps and other electrical products with the Olarm APP and Olarm PRO communicator.
Read more...
---
Ultimate smart monitoring and reliability
Olarm Perimeter Security, Alarms & Intruder Detection News Products
Olarm is gearing up to unveil its latest product, the Olarm MAX, set to be available in late 2023, which will redefine smart monitoring by offering unparalleled connectivity options and functionality.
Read more...
---
Insights from the 2023 Cloud Security Report
News Cyber Security
Increased costs, compliance requirements, hybrid and multi-cloud complexities, reduced visibility, and a lack of skilled practitioners cause organisations to slow or adjust their cloud adoption strategies.
Read more...
---
New algorithm for OT cybersecurity risk management
Industrial (Industry) Cyber Security News Commercial (Industry)
OTORIO's new risk management model and attack graph analysis algorithm technology, calculates OT cybersecurity threats and provides risk mitigation actions, prioritised according to actual exposure and potential impact on operations.
Read more...
---
Robots: a security opportunity or a threat?
Editor's Choice News Conferences & Events
Professor Martin Gill, Director of Perpetuity Research & Consultancy International and the School of Criminal Justice at the University of South Africa (UNISA), will be holding a Global Thought Leadership Security webinar on 22 June 2023 to discuss the contentious issue of robots operating in the security industry.
Read more...
---
UNISA sponsors Securex seminars
Editor's Choice News Conferences & Events
As part of UNISA's 150-year birthday celebrations, UNISA has sponsored the Securex Theatre Seminar Programme, which will include a number of prominent industry specialists, academics and security practitioners focusing on a number of themes.
Read more...
---
Facilities Management Seminar Theatre
Securex South Africa News
The free-to-attend Facilities Management Seminar Theatre, powered by Broll, delivers information on the latest market trends, thereby keeping attendees up to date on solutions and technology centred on increasing facility system optimisation.
Read more...
---
The latest security trends at Securex South Africa 2023
Securex South Africa News Conferences & Events Training & Education
Security technology evolves at a blistering pace, so it's important to keep up to date with changing trends in order to ensure maximised safety of human and personal assets. The Securex Seminar Theatre, powered by UNISA, is the place to be.
Read more...
---
Sustainability School opens for enrolment
Education (Industry) News Security Services & Risk Management
Three-part programme, first developed for Schneider Electric employees, is now available for free for companies worldwide. Attendees learn how to future-proof their businesses and accelerate their decarbonisation journeys.
Read more...
---
From the editor's desk: Get Smart
Technews Publishing News
Welcome to the fourth issue of Hi-Tech Security Solutions for 2023, which is also the first issue of Smart Security Solutions. As noted in previous issues, Hi-Tech Security Solutions has been rebranded to Smart Security Solutions.
Read more...
---