printer friendly version
IBM's integrated security framework
August 2012
Cyber Security
To address the increasing need for an integrated security offering to deal with the growing security threats businesses face, IBM launched IBM Security Systems (ISS) late last year following its purchase of Q1 Labs. Joe Ruthven, business unit executive, IBM Security Systems, IBM Middle East and Africa, spoke to Hi-Tech Security Solutions about the new division.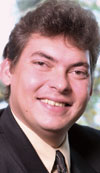 Joe Ruthven
Ruthven says the company had security products in its software portfolio before the Q1 acquisition, but not an integrated Security Information and Event Management (SIEM) system that could consolidate security threats in real-time. Now there is a single brand with a single team behind the security drive.
There are for key trends in the market driving the need for an integrated security offering in business, according to Ruthven. These are:
* The explosion of data in all areas of business, much of it not being secured appropriately.
* Nobody can deny the growth of mobile computing and this is creating a serious security vulnerability. Users are far too trusting when it comes to downloading apps and business must take the appropriate measures to protect itself.
* Cloud computing is also creating a headache for businesses and consumers as they adopt strategies that could see their data held by third parties in a variety of locations.
* Attacks on business IT are also increasing, not only in frequency, but also in sophistication. It's no longer malware or kids having fun, but organised crime is profiting from hacking attacks, making hacking in its various forms the third most lucrative crime in the world.
These trends, among others have made security a pressing concern for business, a concern ISS is addressing through its unified offering. Ruthven says there are four dimensions to ISS's service.
* People: Companies need to ensure the right people have access to the right privileges and access to do their jobs efficiently, but they also need to ensure that the wrong people don't have access to information they don't need, or may want to access for nefarious purposes.
* Data: Securing data is somewhat lower on organisations' priorities, but with mobile and cloud services becoming more popular, as well as the rise of 'big data' along with governance requirements, managing your data is becoming more important than ever.
* Infrastructure: Business is good at securing its infrastructure, but securing the perimeter is no longer enough to protect from attacks.
* Applications: Applications are also under pressure, not from an access perspective, but also regarding how they behave. Again, this is especially relevant in the mobile space.
To support its security service, IBM also has its X-Force research team that monitors the security market. Its IBM X-Force Trend and Risk Report is produced twice per year and provides statistical information about all aspects of threats that affect Internet security, including software vulnerabilities and public exploitation, malware, spam, phishing, Web-based threats, and general cyber criminal activity.
Credit(s)
Further reading:
Introducing adaptive active adversary
Cyber Security Products
New adaptive active adversary protection; Linux malware protection enhancements; account health check capabilities; an integrated zero trust network access (ZTNA) agent for Windows and macOS devices; and improved frontline defences against advanced cyberthreats and streamline endpoint security management.
Read more...
---
Eleven steps to an effective ransomware response checklist
Editor's Choice Cyber Security
Anyone is a viable target for ransomware attacks and should have a plan in place to deal with a worst-case scenario. Fortinet offers this ransomware attack response checklist to effectively deal with an active ransomware attack.
Read more...
---
Blurring the lines between data management and cybersecurity
Cyber Security IT infrastructure
In the past, data management and cybersecurity would fall under separate domains, but with more organisations making the shift to the cloud, data management and data protection have merged, essentially blurring the lines between the two.
Read more...
---
Recession? Do not skimp on cybersecurity
Cyber Security Security Services & Risk Management
While economists are studying their crystal balls, businesses have to prepare for the worst, and preparing for a recession means cutting costs and refocusing resources; however, they must ensure they do not end up creating an enormous risk.
Read more...
---
Organisations are increasing modern data protection for cloud workloads
Cyber Security
The Veeam Cloud Protection Trends Report for 2023 identifies what is driving IT leaders to change strategies, roles and methods related to both production and protection of cloud-hosted workloads.
Read more...
---
Cybersecurity in Africa: The challenges and solutions
Training & Education Cyber Security
Africa faces a significant challenge when it comes to the availability and distribution of cybersecurity talent and secure IT infrastructures. Facing this challenge will require supporting and nurturing the next generation of security graduates and professionals.
Read more...
---
Zero Trust to dominate 2023
Cyber Security Access Control & Identity Management
Traditional ways of safeguarding data are no longer sufficient in 2023. Zero Trust has emerged as a more proactive way for businesses to keep their systems, data, and networks protected against compromise.
Read more...
---
From the editor's desk: Drive to survive
Technews Publishing News
Nobody is surprised by the horrible driving habits of many people on South Africa's roads. Lack of policing, except when collecting money, and the related overall acceptance and encouragement by government ...
Read more...
---
AI's take on physical security trends
Technews Publishing Editor's Choice
In Issue 1 every year, Hi-Tech Security Solutions looks at expected trends in the security industry, incorporating views from different sources. This year is no different, except we have a new contributor, ChatGPT from OpenAI.
Read more...
---
HID Technology Seminar
Technews Publishing HID Global News Access Control & Identity Management Products
HID Global's technology seminar introduced partners and distributors to the company's new Signo range of readers and highlighted the benefits and global growth of mobile access credentials.
Read more...
---