printer friendly version
IBM's integrated security framework
August 2012
Cyber Security
To address the increasing need for an integrated security offering to deal with the growing security threats businesses face, IBM launched IBM Security Systems (ISS) late last year following its purchase of Q1 Labs. Joe Ruthven, business unit executive, IBM Security Systems, IBM Middle East and Africa, spoke to Hi-Tech Security Solutions about the new division.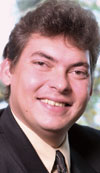 Joe Ruthven
Ruthven says the company had security products in its software portfolio before the Q1 acquisition, but not an integrated Security Information and Event Management (SIEM) system that could consolidate security threats in real-time. Now there is a single brand with a single team behind the security drive.
There are for key trends in the market driving the need for an integrated security offering in business, according to Ruthven. These are:
* The explosion of data in all areas of business, much of it not being secured appropriately.
* Nobody can deny the growth of mobile computing and this is creating a serious security vulnerability. Users are far too trusting when it comes to downloading apps and business must take the appropriate measures to protect itself.
* Cloud computing is also creating a headache for businesses and consumers as they adopt strategies that could see their data held by third parties in a variety of locations.
* Attacks on business IT are also increasing, not only in frequency, but also in sophistication. It's no longer malware or kids having fun, but organised crime is profiting from hacking attacks, making hacking in its various forms the third most lucrative crime in the world.
These trends, among others have made security a pressing concern for business, a concern ISS is addressing through its unified offering. Ruthven says there are four dimensions to ISS's service.
* People: Companies need to ensure the right people have access to the right privileges and access to do their jobs efficiently, but they also need to ensure that the wrong people don't have access to information they don't need, or may want to access for nefarious purposes.
* Data: Securing data is somewhat lower on organisations' priorities, but with mobile and cloud services becoming more popular, as well as the rise of 'big data' along with governance requirements, managing your data is becoming more important than ever.
* Infrastructure: Business is good at securing its infrastructure, but securing the perimeter is no longer enough to protect from attacks.
* Applications: Applications are also under pressure, not from an access perspective, but also regarding how they behave. Again, this is especially relevant in the mobile space.
To support its security service, IBM also has its X-Force research team that monitors the security market. Its IBM X-Force Trend and Risk Report is produced twice per year and provides statistical information about all aspects of threats that affect Internet security, including software vulnerabilities and public exploitation, malware, spam, phishing, Web-based threats, and general cyber criminal activity.
Credit(s)
Further reading:
Governing cybersecurity from the top as a strategic business enabler
Cyber Security
C-Suite executives still do not take cybersecurity seriously enough, while boards are not nearly as engaged in cybersecurity as they are in other areas of oversight.
Read more...
---
It is time to take a quantum leap in IoT cybersecurity
Drive Control Corporation Cyber Security
IoT has become integrated everywhere, including enterprises. While it offers many benefits, such as increased productivity and the rollout of mission critical applications, it can also lead to (enterprise) cyber-attack vulnerabilities.
Read more...
---
What to do in the face of growing ransomware attacks
Technews Publishing Cyber Security Security Services & Risk Management
Ransomware attacks are proliferating, with attackers becoming more sophisticated and aggressive, and often hitting the same victims more than once, in more than one way.
Read more...
---
Texecom launches the Midnight Black Collection
Technews Publishing Perimeter Security, Alarms & Intruder Detection Products
Working in harmony with darker environments, the Midnight Black Collection has been created for businesses and sites that require or prefer a security solution which offers discreet protection that compliments their surroundings.
Read more...
---
SAN market set for growth
Technews Publishing News IT infrastructure
Storage-area network (SAN) market to hit US$ 26,86 billion in revenue by the end of 2029 due to factors like widespread adoption of Hybrid SAN-NAS solutions.
Read more...
---
Optimising remote technical support
Technews Publishing Asset Management, EAS, RFID Products
Sanden Intercool Kenya improves efficiency, removes manual processes with FIELDForce from MACmobile, making its technical backup and support staff more productive, while also optimising record keeping.
Read more...
---
Can we reduce cyberattacks in 2023?
Cyber Security
Zero-trust cybersecurity strategy with simplicity and risk reduction at the heart is mandatory to reduce exponential cyberattacks in 2023, says GlobalData.
Read more...
---
Key success factors that boost security resilience
Cyber Security
Adoption of zero trust, secure access service edge and extended detection and response technologies, all resulted in significant increases in resilient outcomes, as are executive support and cultivating a security culture.
Read more...
---
Enterprise threats in 2023
News Cyber Security
Large businesses and government structures should prepare for cybercriminals using media to blackmail organisations, reporting alleged data leaks, and purchasing initial access to previously compromised companies on the darknet.
Read more...
---
Free-to-use solar score for South African homes
Technews Publishing Editor's Choice
The LookSee Solar Score is one of the first of its kind to provide insight into the potential of solar power for South Africa's residential properties.
Read more...
---