printer friendly version
Piping hot cash
August 2012
Security Services & Risk Management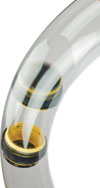 GPT, a Bidvest company, has developed a new system to protect and recycle cash. While pneumatic tube systems, and specifically the Sumetzberger system, are nothing new in the market, a new application of the system promises to be the nemesis of cash in transit heists and armed robberies in stores.
Imagine a world where you don't have to keep a big float in the store because cash can reach you 10 minutes after a request through a tube system? The system was originally developed for hospitals to transport medicines, but is now being used in a variety of applications. The Sumetzberger system, distributed and implemented by GPT, is a computer driven engine that can be programmed to deliver to or from a specific point.
The system was first implemented by Europcar to move keys, but the market soon realised the anti-crime advantages. Cash can now be transported via a tube directly to a drop safe, minimising the risk of theft.
Ryno Joubert, a business consultant for GPT, says that the Sumetzberger system fits in perfectly with the GPT business strategy. Sumetzberger is about process optimisation. Having exclusive sub-Saharan distribution rights extends the GPT strategy to all valuables and not just cash. GPT can now provide customers with a turnkey solution. The tube system fits in with a variety of products, including note counters, coin sorters, counterfeit detectors and drop safes. In retail centres, cash can be transported straight from tills to cash centres, enabling cashiers to keep tills almost empty and request cash within minutes.
Additional savings
An added value is the saving on insurance due to much lower cash levels in store. In taking CIT away from shopping centres, the need for firearms and resultant risk to consumers is removed, whereas under the current system there can be up to 380 weapons at a shopping centre on any given day to protect cash in transit.
Cash is now managed through a closed loop recycling solution, in other words the cash stays in the shopping centre and is recycled between groups of stores. Even when maintenance is required on the system, the cash is not retrievable. Another advantage is huge cost savings, especially on cash-in-transit and insurance costs while dramatically improving client service. When change or a product such as a cellphone is required, the cashier does not have to leave his or her workstation to retrieve the objects. It arrives immediately via the tube and can be handed over to the client. It is no longer necessary to send a client from pillar to post. The customer can have one point of contact.
The system can be used by anybody that has a need to move cash or anything else small enough to fit into the cylinder, such as medicines, cellphones or jewellery. The system is robust making mistakes and incorrect deliveries a thing of the past. It is made up of a motor, a control panel, a computer with software and diverters.
Each station gets an IP address and each diverter has an optical sensor. The carrier moves at 6 m per second. If a cylinder does not reach the next diverter within the stipulated time, the system reverts and pulls everything back to the original station. Even cutting the pipe to get to the money will not work due to the fact that the system works on pressure, releasing the pressure will cause the system to stop.
Reporting included
Software includes a reporting system providing feedback on the amount of transactions from each station, times per transaction, problems in system and peak times. It can also include a scheduler, avoiding peak times where each retailer can only draw or send at a specific time. The 'secure receive function' provides a facility where each receiver is given an ID card programmed with a code. The only way to release the carrier is with the ID card.
In addition, each carrier has a radio frequency identification (RFID) tag programmed to deliver to a specific station. The carrier therefore automatically sees which station it is intended for. In such, carriers are dedicated to work stations and cannot be used by other stations.
The pneumatic tube system was originally developed in Austria in 1921. The Sumetzberger system was developed in 1961 and today it is one of the technology leaders in the world and is represented in more than 40 countries. There are 3500 systems implemented globally. The system has been endorsed by Business Against Crime, Standard Bank and the SBVs (cash centres). To date, the system has had a 100% success rate. When a fault occurs, it will automatically send an e-mail to a technologist who will respond, before the client is aware of a problem.
Wanda van Vuuren, sales and marketing director of GPT, says that this is a much needed anti-crime solution for South Africa. "It will even assist the banks in not having to draw as much cash from the Reserve Bank."
For more information contact Global Payment Technologies (GPT), +27 (0)11 997 6600, www.gpt.co.za
Further reading:
Employee screening trends
iFacts Security Services & Risk Management
Criminal record checks still the most popular background check conducted around the world, but global employee screening trends are changing according to iFacts.
Read more...
---
South African business readies for a journey to the cloud
Security Services & Risk Management
There is an increasing demand for cloud services in the country, driven by the need to use advanced technologies such as AI while also providing hybrid workers access to data, regardless of their location.
Read more...
---
What to do in the face of growing ransomware attacks
Technews Publishing Cyber Security Security Services & Risk Management
Ransomware attacks are proliferating, with attackers becoming more sophisticated and aggressive, and often hitting the same victims more than once, in more than one way.
Read more...
---
South Africa can accelerate its move to smart cities
Security Services & Risk Management
What global smart city leaders have in common is that they have built on, and developed existing infrastructure, transforming it iteratively; South Africa is well positioned to adopt this approach.
Read more...
---
Where does SA logistics stand as far as cybersecurity is concerned?
Logistics (Industry) Security Services & Risk Management
Lesiba Sebola, director of information technology at Bidvest International Logistics, says it is paramount to safeguard IT infrastructure given how central it has become to operations.
Read more...
---
The Deposita Protector 3000 d-s1
Deposita Security Services & Risk Management
The Protector 3000 d-s1, designed for medium-sized enterprises, improves the level of security at the business and helps optimise resources by streamlining cash-handling processes.
Read more...
---
Top fraud trends to watch in 2023
News Security Services & Risk Management
Even though financial concerns remain a significant obstacle for companies in implementing new anti-fraud technologies, 60% of businesses expect an increase in their anti-fraud technology budgets in the next two years.
Read more...
---
Be cautious when receiving deliveries at home
News Perimeter Security, Alarms & Intruder Detection Security Services & Risk Management
Community reports of residents being held up at their gate when collecting fast food deliveries at home are once again surfacing.
Read more...
---
Sasol ensures Zero Trust for SAP financials with bioLock
Technews Publishing Editor's Choice Cyber Security Security Services & Risk Management
Multi-factor authentication, including biometrics, for SAP Financials from realtime North America prevents financial compliance avoidance for Sasol.
Read more...
---
Protecting yourself from DDoS attacks
Cyber Security Security Services & Risk Management
A DDoS attack, when an attacker floods a server or network with Internet traffic to prevent users from accessing connected online services, can be costly in both earnings and reputation.
Read more...
---