printer friendly version
PSIM in the city
August 2012
Integrated Solutions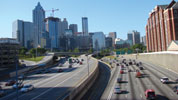 CNL Software partnered with CIBER to provide the Atlanta Police Department with an integrated suite of emergency dispatch applications that allow call takers and dispatchers to manage incident information more efficiently.
Ensuring the safety and security of citizens and visitors is key to the success and progress of any city. This is especially true for Atlanta. The City covers 8376 square miles, is home to over 5 million people in the metropolitan area, hosts over 35 million visitors per year and is protected by 1639 police officers.
Over the years, Atlanta has become more reliant on the use of visual intelligence to help identify and resolve safety and security incidents faster and more precisely. The city had invested in a number of surveillance systems to provide law enforcement and security professionals with visual intelligence through the eye of a camera, well before first responders had arrived.
The next step for the city is to expand and leverage the fully functioning Video Integration Centre (VIC) powered by IPSecurityCenter to bring together disparate, legacy video systems and additionally, to use the large number of private cameras located in the city, from sources ranging from the Publix supermarket in Buckhead to the Georgia State University.
"The city required that the solution chosen to protect its citizens, commerce and infrastructure was a tried and trusted technology, proven within the safe city framework", explains Matthew Kushner, president, CNL Americas. "IPSecurityCenter was selected not only because it has been deployed in cities, including Washington DC and Manchester in the UK, but also because it has a proven track record in providing the resilience and scalability needed to connect, manage and distribute the huge amount of data generated by the City."
As with any enterprise level system, there is a constant need to increase the system, both in terms of the number of users, geographic coverage and new functionality. IPSecurityCenter offers Atlanta an easy migration path to incorporate new technologies such as gunshot detection systems, tracking systems and smart video such as LPR and analytics. The integration capability that IPSecurityCenter offers will enable the city to reach all new technologies and legacy systems, both public and private, that are required to realise its vision for public-private partnerships in the foreseeable future.
For more information contact CNL Software EMEA, +44 1483 480088, adlan.hussain@cnlsoftware.com
Further reading:
Integrated transportation security
Guardian Eye AI & Data Analytics Integrated Solutions Logistics (Industry)
HG Travel installs an AI-powered camera system integrated across 115 vehicles throughout a fleet comprising 160 vehicles of different sizes, along with predictive and self-monitoring tools to track tyre condition, fuel consumption and theft, and overall vehicle maintenance.
Read more...
---
Embracing next-generation surveillance for safer cities
Surveillance Integrated Solutions AI & Data Analytics
With the South African government highlighting the importance of building smart cities by integrating advanced technologies to make them more resilient and liveable, the role of next-generation network video and surveillance technologies cannot be ignored.
Read more...
---
Gallagher Security releases Command Centre v9
Gallagher News & Events Access Control & Identity Management Integrated Solutions
Richer features, greater integrations, with the release of Gallagher Security's Command Centre v9 security site management software designed to integrate seamlessly with various systems and hardware.
Read more...
---
Zero Trust in 2024
Mantis Security Integrated Solutions IoT & Automation
The rapid development of artificial intelligence (AI) applications and uses in 2024 will profoundly impact security operations and AI-driven analytics, which can enhance threat detection, anomaly identification and predictive maintenance.
Read more...
---
Integrating farming and security solutions for productivity
Security BIS Agriculture (Industry) Integrated Solutions
Security challenges are a harsh reality in South Africa, particularly for those in remote areas. Sadly, recurring rural crimes like farm attacks and livestock theft are part of the farming community's lives.
Read more...
---
Optimise operations in healthcare
Cathexis Technologies Integrated Solutions
Hospitals can see thousands of people gathering daily to provide medical care, seek help, visit loved ones, or undertake essential support or administrative work. Protecting everyone is critical to maintaining a safe environment.
Read more...
---
Hikvision unveils range of network speakers
Hikvision South Africa Integrated Solutions
Hikvision has recently unveiled its latest audio product line, featuring various advanced network speakers. Each product is designed to meet different application needs, ensuring flexibility and adaptability across numerous environments.
Read more...
---
HDR multi-camera solution for autonomous mobility
IoT & Automation Integrated Solutions
e-con Systems has launched the STURDeCAM31, a small form factor camera that has been engineered to make autonomous mobility safer by ensuring reliable and superior imaging quality even in challenging outdoor lighting conditions.
Read more...
---
Integrating control rooms and response
WatchManager Integrated Solutions Residential Estate (Industry)
Control rooms have become a standard in large estates, and remote control rooms are finding a home even in smaller estates due to cost efficiencies and the increasing reliability of analytics and artificial intelligence.
Read more...
---
The difference between a SOP and a SOP
Residential Estate (Industry) Integrated Solutions Security Services & Risk Management Risk Management & Resilience
SOPs are a touchy issue that need careful attention and automation to ensure they deliver the desired security results. Beyond design and automation, implementation is the ultimate road to success.
Read more...
---