printer friendly version
MIC cameras integrate with lowering system
August 2012
CCTV, Surveillance & Remote Monitoring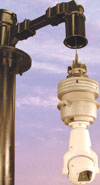 Bosch Security Systems has announced the successful integration of its MIC Series 550 high-speed pan-tilt-zoom cameras with MG Squared's Lowering System – a device used frequently in intelligent transportation systems and secure perimeter installations. The combination makes it even easier and safer to install and maintain pole-mounted MIC Series 550 cameras in these settings.
"With their rugged design, MIC Series 550 cameras are rapidly gaining popularity for monitoring roadways around the world," said Willem Ryan, senior product marketing manager, Bosch Security Systems. "MG Squared's advanced technology provides customers with the ability to mount our equipment at the best heights and locations for their traffic surveillance requirements while providing easier and safer access to the cameras for any future maintenance needs."
MIC Series cameras provide 550 TVL resolution with 36x or 28x optical zoom for sharp images even at great distances. The flat window with a long-life silicone wiper and optional washer system enables customers to capture images that are free from distortion in dry and wet conditions.
Built to survive harsh environments, MIC Series cameras feature an IP 68/NEMA 6P-rated housing to ensure complete protection against dust and water ingress without the need for pressurisation. And, for reliable operation in tough roadway applications, the cameras can withstand 209 km per hour sustained winds and gusts up to 290 km per hour, as well as shock and vibration up to 20 g and 2.0 g respectively.
With a Lowering System from MG Squared, MIC Series camera installation and maintenance can be performed on the ground by one technician, eliminating the need for bucket trucks, cone crews or lane closures. This provides tremendous cost savings as well as a more efficient and safer work process. It also frees design engineers from previous limitations on mounting heights, since pole and camera locations are no longer determined by where or how high a bucket truck can reach.
"Independent studies and reports have shown an estimated 80 to 92% life cycle savings in video surveillance maintenance costs when customers incorporate a lowering system," says Martin Manners, III, vice president and general counsel, MG Squared. "Integration with the MIC Series 550 gives customers a rugged PTZ camera that will survive the most challenging conditions along the world's busiest highways and secure facilities."
For more information contact Bosch Security Systems - South Africa & Sub-Sahara Africa, +27 (0)11 651 9838, Christine.Smit@za.bosch.com, www.boschsecurity.co.za
Credit(s)
Further reading:
Qognify VMS adds support for Pelco IP camera series
CCTV, Surveillance & Remote Monitoring Products
The latest IP camera series from Pelco can now be used with Qognify's advanced video solution for corporate and enterprise projects, increasing the overall number of camera models and third-party devices supported in Qognify VMS to more than 6 500.
Read more...
---
VIVOTEK launches VAST Security Station
CCTV, Surveillance & Remote Monitoring Products
VIVOTEK officially launched its AI security system, VAST Security Station (VSS), in March, available to users in three flexible tiers: VSS Lite, VSS Standard, and VSS Professional.
Read more...
---
Keeping students, staff and communities safe
Vumacam News CCTV, Surveillance & Remote Monitoring Security Services & Risk Management
South African schools are facing increasing security challenges, making effective surveillance systems more important than ever. To address this issue, Vumacam is offering advanced security solutions with security partners, aimed at keeping students, staff, and the community safe.
Read more...
---
Helping to care for zoo animals
Hikvision South Africa CCTV, Surveillance & Remote Monitoring
Zoo keeps an eye on the safety of animals and visitors through the installation of Hikvision 4 MP turret, 12 MP Fisheye cameras, as well as PTZs, NVRs and central management system.
Read more...
---
Boosting digital-intelligent transformation and AI applications
Dahua Technology South Africa CCTV, Surveillance & Remote Monitoring Products
2022 has been a year full of development and innovation for Dahua. The company has launched various upgrades to its existing product portfolio as well as an artillery of new products and solutions that address specific needs/problems in society.
Read more...
---
Arcules and IMMIX announce integration
News CCTV, Surveillance & Remote Monitoring Products
Arcules has announced that its integration with Immix Central Station and Guard Force is available. The integration provides Central Station and Guard Force users a way to manage, verify, and respond to security events, while using Arcules-managed video feeds.
Read more...
---
Developing an effective CCTV control room culture
Leaderware Editor's Choice CCTV, Surveillance & Remote Monitoring Training & Education
Organisational culture in organisations can be seen as the set of values, practices, focus, standards and behaviours, and ways of interacting with others that are accepted and subscribed to by the people who work there.
Read more...
---
Eagle Eye Networks releases 2023 Video Surveillance Trends Report
Eagle Eye Networks News CCTV, Surveillance & Remote Monitoring
Eagle Eye Networks has released the 2023 Trends in Video Surveillance ebook, identifying five trends that will have the largest impact on businesses around the globe in 2023.
Read more...
---
Stainless steel 8 MP dome
Axis Communications SA Products CCTV, Surveillance & Remote Monitoring
Enclosed in marine-grade stainless steel (SS 316L) and DNV-certified, the AXIS Q3538-SLVE can withstand the corrosive effects of seawater and cleaning chemicals.
Read more...
---
Enhanced image clarity and enriched AI functions
Dahua Technology South Africa CCTV, Surveillance & Remote Monitoring Products
The IPC WizMind S series is equipped with multiple intelligent functions, offers adaptability, and comes in plastic-free packaging, enabling better image performance, promoting environmental sustainability, and providing global clients with smarter vision with a stronger surveillance shield.
Read more...
---