printer friendly version
MIC cameras integrate with lowering system
August 2012
CCTV, Surveillance & Remote Monitoring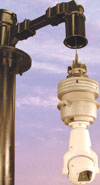 Bosch Security Systems has announced the successful integration of its MIC Series 550 high-speed pan-tilt-zoom cameras with MG Squared's Lowering System – a device used frequently in intelligent transportation systems and secure perimeter installations. The combination makes it even easier and safer to install and maintain pole-mounted MIC Series 550 cameras in these settings.
"With their rugged design, MIC Series 550 cameras are rapidly gaining popularity for monitoring roadways around the world," said Willem Ryan, senior product marketing manager, Bosch Security Systems. "MG Squared's advanced technology provides customers with the ability to mount our equipment at the best heights and locations for their traffic surveillance requirements while providing easier and safer access to the cameras for any future maintenance needs."
MIC Series cameras provide 550 TVL resolution with 36x or 28x optical zoom for sharp images even at great distances. The flat window with a long-life silicone wiper and optional washer system enables customers to capture images that are free from distortion in dry and wet conditions.
Built to survive harsh environments, MIC Series cameras feature an IP 68/NEMA 6P-rated housing to ensure complete protection against dust and water ingress without the need for pressurisation. And, for reliable operation in tough roadway applications, the cameras can withstand 209 km per hour sustained winds and gusts up to 290 km per hour, as well as shock and vibration up to 20 g and 2.0 g respectively.
With a Lowering System from MG Squared, MIC Series camera installation and maintenance can be performed on the ground by one technician, eliminating the need for bucket trucks, cone crews or lane closures. This provides tremendous cost savings as well as a more efficient and safer work process. It also frees design engineers from previous limitations on mounting heights, since pole and camera locations are no longer determined by where or how high a bucket truck can reach.
"Independent studies and reports have shown an estimated 80 to 92% life cycle savings in video surveillance maintenance costs when customers incorporate a lowering system," says Martin Manners, III, vice president and general counsel, MG Squared. "Integration with the MIC Series 550 gives customers a rugged PTZ camera that will survive the most challenging conditions along the world's busiest highways and secure facilities."
For more information contact Bosch Security Systems - South Africa & Sub-Sahara Africa, +27 (0)11 651 9838, [email protected], www.boschsecurity.co.za
Credit(s)
Further reading:
Antarctic surveillance
Dahua Technology South Africa CCTV, Surveillance & Remote Monitoring
Dahua Technology donated 15 security cameras to different scientific bases in the Argentine region of Antarctica; the cameras were especially developed to handle the harsh climate and extreme weather conditions in the area.
Read more...
---
Deep learning engine set to supercharge end-to-end solutions
CCTV, Surveillance & Remote Monitoring
IDIS, manufacturer of South Korean-made video technology, will be displaying an exciting line-up of end-to-end video solutions that include the latest advances in AI-powered video analytics for businesses of any size, at this year's Intersec.
Read more...
---
Realistic image quality even in dark environments
Dahua Technology South Africa CCTV, Surveillance & Remote Monitoring
The 4K video surveillance market size is expected to grow at 9 percent CAGR (compound annual growth rate), which is primarily driven by the increasing demand for public safety and security services.
Read more...
---
Cloud-based forensic video searching
CCTV, Surveillance & Remote Monitoring
Arcules introduces Forensic Video Search to empower rapid event identification within its video cloud service, providing a critical tool to help businesses identify specific objects or events in seconds.
Read more...
---
Minimising fire risks in automotive logistics
Hikvision South Africa CCTV, Surveillance & Remote Monitoring Products Logistics (Industry)
Automotive logistics company uses thermal imaging solution from Hikvision to ensure its stores of lithium batteries for electric vehicles never overheat and cause a fire.
Read more...
---
Axis launches P3265-LVE dome camera
Axis Communications SA Products CCTV, Surveillance & Remote Monitoring
Based on ARTPEC-8 — the latest Axis system-on-chip (SoC) — Axis' latest dome high-performance camera includes a deep learning processing unit (DLPU), and cybersecurity features.
Read more...
---
Smart car parking solution eases traffic flow
Dahua Technology South Africa CCTV, Surveillance & Remote Monitoring Integrated Solutions Products
Ethiopia's first smart parking lot, designed to improve traffic flow and management efficiency, has been built and installed using Dahua Technology's smart parking solutions.
Read more...
---
VMS 7.2 supports the investigation process and adds cloud capabilities
CCTV, Surveillance & Remote Monitoring Integrated Solutions Products
Qognify has launched the second release of its VMS, including extended support for body-worn video, additional functionalities to support investigations, and a new web client architecture. VMS 7.2 addresses the increasing use of body-worn video (BWV) across many sectors.
Read more...
---
The future of AIoT
Hikvision South Africa News CCTV, Surveillance & Remote Monitoring
Hikvision hosted its 2022 Shaping Intelligence Summit in Bali, Indonesia, on 29-30 November, where the company, its customers, and technology and solution partners, looked into the future of AIoT and explored paths to shared success.
Read more...
---
A comprehensive video solution for retail
LD Africa Retail (Industry) CCTV, Surveillance & Remote Monitoring Products
Retail Intellect is a comprehensive, flexible solution for retailers that matches technologies to ensure point-of-sale safety and security with video analytics.
Read more...
---