printer friendly version
Aspirating smoke detection on the gallop
August 2012
Fire & Safety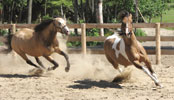 The Australian Equine and Livestock Events Centre (AELEC) is owned by the Tamworth Regional Council and was opened in 2008 as a state-of-the-art facility located in the major regional hub of Tamworth, NSW Australia.
The development was designed to provide facilities for the promotion of Australia's equine industry and world-class livestock events including: show jumping, hacking, dressage, rodeo, campdrafting, team penning, cutting, ponies, harness, miniatures, alpacas and dogs.
In 2010, more than 200 event use days were catered for including 12 230 head of cattle, 5321 horses and 4651 individual competitors.
The AELEC facility was originally required to have a sprinkler system installed to meet the 'deemed to satisfy' building regulatory requirements for the class and size of construction. In view of the type of construction and operation it was recommended that an alternate engineered solution be installed to meet the regulatory performance requirements of the Building Code of Australia (BCA) that would remove the need for the sprinkler system. A suitably qualified fire consultant was engaged to design an alternate solution to meet the performance requirements of the BCA.
The system would need to adequately perform in various environmental conditions, including high levels of dust from active events and varying airflow patterns resulting from the self ventilated building design as well as facilitating evacuation requirements. An analogue addressable point detection system with a combination of heat and ionisation point detectors was ultimately installed supported by extinguishers and hydrants.
The original system as designed and installed was problematic with constant nuisance alarms and maintenance faults leading to unnecessary costs to the client and the eventual unworkability and disablement of the system. The unsuitability of ionisation point detectors mounted at heights above the occupied areas of up to 18 metres virtually guaranteed the system would not meet the performance requirements of the BCA. The problematic performance of the installed detection system led to enquiries to investigate and design a more suitable fire detection system for the facility.
Mecelec Design and Management was engaged as independent consultants to carry out this investigation. The conclusion of the investigation was that the existing smoke detection system was inappropriate for this application. Recommendations for an appropriately installed aspirating smoke detection (ASD) system were presented and accepted.
Mecelec's design proposal coincided with a new ASD product being developed by Xtralis which is particularly suited to this type of environment. A suggestion was made that this would be an ideal opportunity for a field trial. Discussions were held with Xtralis and AELEC operators where a design was prepared by Xtralis for the new ASD system using the VESDA VLI (Industrial detector).
The facility's high ceiling areas were adequately addressed by VESDA VLI since the detectors were located at ground level whilst the extended pipe capability provided a concentrated level of detection coverage. VLI's Intelligent Filter, Inertial Separator, Secondary Filter and Clean Air Zero all combined to make VLI a perfectly suited solution to address the environmental challenges of this facility.
Remote monitoring requirements were also addressed thanks to VLI's BACnet over Ethernet connectivity.
Seven VESDA VLI detectors in total were installed by Dynamic Fire; a local fire company based in Tamworth, and tested using a variety of real test fires. The VESDA VLI detection was very effective, but more importantly the original problematic system issues experienced with dust had been eliminated. The VESDA VLI system has now been installed and operational since March 2011.
The installed VESDA VLI system now not only meets the regulatory performance requirements but will also continue to provide effective smoke detection in this difficult environment as well as providing for ease of maintenance and reduced total cost of ownership for its service life.
Australian Equine and Livestock Events
Centre: Operation started in 2008
Location: Tamworth, New South Wales, Australia
Industry: Cultural/Heritage
Solution: VESDA VLI (Industrial Detector)
Benefits:
* Very early warning smoke detection
* Tolerance of dusty, harsh and dirty environments
* Easy installation and maintenance </i>
For more information, contact Lauren Sher, regional sales manager, Xtralis, +27 (0) 82 446 7602 or [email protected]
Further reading:
Incorporate fire safety in the design phase
Fire & Safety
ASP Fire CEO Michael van Niekerk says companies can prevent their infrastructure project from going up in flames by incorporating fire safety in the design phase.
Read more...
---
Fire-fighting force at Vergelegen
Editor's Choice Fire & Safety Residential Estate (Industry)
Vergelegen wine estate in Somerset West, and its neighbours, are set to enjoy greater peace of mind this summer, thanks to the delivery of a brand new fire truck .
Read more...
---
Rhino103 extinguishing control panel
Technoswitch Fire Detection & Suppression Fire & Safety Products
Technoswitch has released the Rhino103 extinguishing control panel range, designed and manufactured in South Africa to comply with EN54 parts 2 and 4, and EN12094.
Read more...
---
Technoswitch partners with Ciqurix for video fire detection
Technoswitch Fire Detection & Suppression News Fire & Safety
Technoswitch is pleased to announce the signing of an exclusive distribution agreement with Ciqurix (UK), a leading supplier of video fire detection products.
Read more...
---
Fire protection for new Fuchs warehouse
Fire & Safety
The new warehouse at Fuchs Lubricants South Africa in Isando, Johannesburg, not only incorporates the latest technology but complies with stringent fire detection and prevention requirements.
Read more...
---
Fire-safety risks during load shedding
News Fire & Safety
The current load shedding implemented by electricity utility Eskom, as it faces unplanned breakdowns, poses a heightened fire risk for homeowners and their families.
Read more...
---
FlameSpec flame detectors from Technoswitch
Technoswitch Fire Detection & Suppression Fire & Safety
The FM-approved FlameSpec detectors address slow-growing fires and fast eruptions of fire while maintaining high performance and reliable detection in all weather and light conditions.
Read more...
---
Improved hydraulic performance and efficiency
Johnson Controls Global Products Fire & Safety
Tyco 5.8K LFII sprinkler from Johnson Controls Global Products brings improved hydraulic performance and efficiency to residential fire protection.
Read more...
---
One-bolt coupling
Johnson Controls Global Products Fire & Safety
The G-Fire One-Bolt Figure 579A is a grooved, rigid coupling ready for out-of-the-box, push-on installation including self-lubricating gaskets for a smooth installation experience.
Read more...
---
Ensure your generator is fire-safe
Fire & Safety
A backup power supply such as a genset is critical during loadshedding, however, it is vital that such important equipment is maintained properly and serviced regularly to be able to cope with outages.
Read more...
---